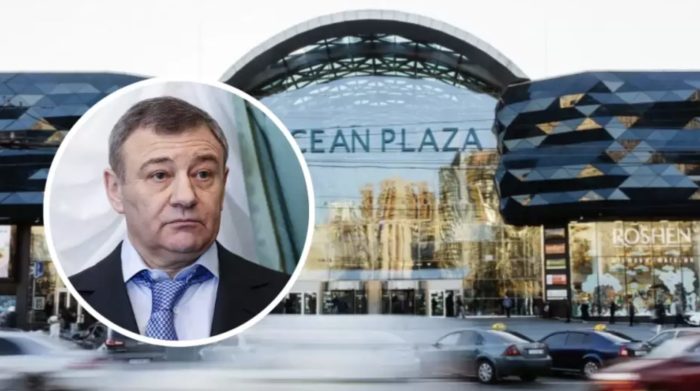 Kyiv's mall Ocean Plaza still belongs to Putin's friend, Arkady Rotenberg/ Source: collage by telegraf.com.ua 
The Ministry of Justice of Ukraine has filed a lawsuit with the High Anti-Corruption Court of Ukraine (HACC) seeking sanctions against the Russian owners of the Ocean Plaza shopping center. According to the Ministry of Justice, Rothenberg continues to control two-thirds of the mall shares through nominal Swiss owners. A Russian oligarch and close friend of Putin still owns 67% of the mall's shares, as reported by Ukrainian Telegraf, citing Trap Agressor's investigation.
In 2020, the Russian Forbes named the Rotenbergs the wealthiest family in Russia, with a net worth of $5.45 billion.
The Rotenberg family constructed Nord Stream 2, an illegal bridge across the Kerch Strait to the occupied Crimea. Additionally, he owns the opulent Putin's Palace in Gelendzhik.
Rothenberg has been subject to US and EU sanctions since 2014. Ukraine joined these sanctions in October 2022. The president imposed ten-year personal sanctions on Rotenberg.
From September 2022 to the present, only 66% of corporate rights associated with Rotenberg have been seized.
The ownership by Putin's friend and the cessation of tax payments to Ukraine are not the only aspects. It is important to note that the shopping center's profits fund the Russian military-industrial complex (MIC).
According to the Trap Aggressor's journalist investigation, the Rotenberg family funneled Ocean Plaza's profits to their bank accounts through a network of companies. The Rotenberg family acquired two ammunition factories in Russia for this sum: 48% of shares in the "Tula Cartridge Plant" and, in 2019, 50% of "The Ulyanovsk Cartridge Works." Russia awarded contracts to both factories for the production of weapons.
Moreover, according to investigators, Rotenbergs have been withdrawing millions of dollars for years via offshore companies in Cyprus. It involves tax evasion and falsifying financial statements to legalize criminal proceeds.
Read also:
Ukraine's Anti-Corruption Court transfers millions-worth mining facilities from Russian oligarch to the state
US attorney general allows first transfer of Russian oligarch's confiscated assets to Ukraine
Ukraine seizes USD 870,000 of sanctioned Russian oligarch Deripaska
Russian oligarchs moved assets before Russian invasion of Ukraine to evade sanctions – US Treasury
Tags: Russian military-industrial complex, Russian oligarchs, Russian war against Ukraine, Sanctions against Russia