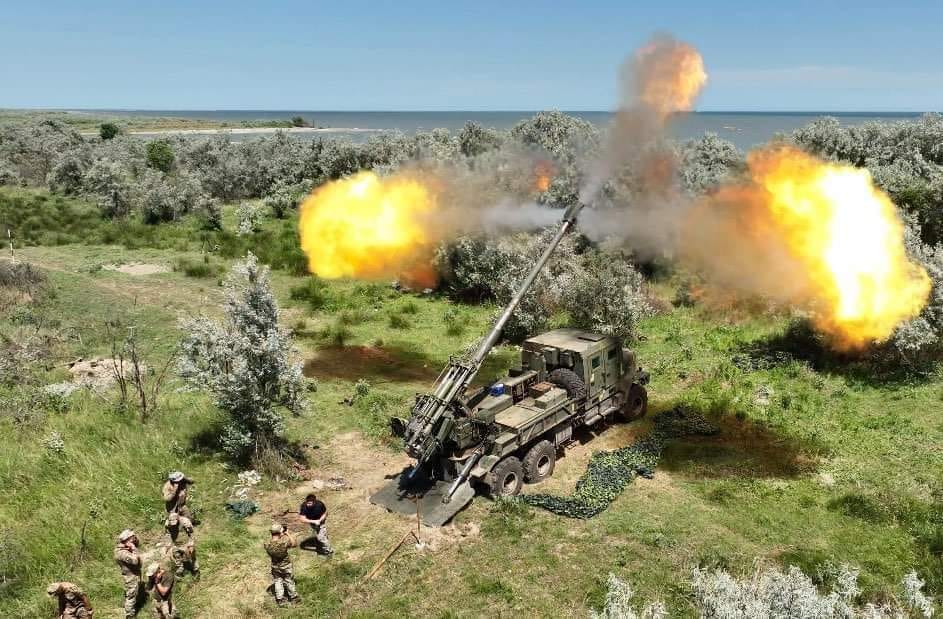 155mm SPH Bohdana firing on Russian positions on Snake Island in June 2022. Photo: mil.gov.ua
 
Ukrainian Defense Minister Oleksii Reznikov says that last spring, his ministry allocated funds for the manufacturing of the Ukrainian wheeled NATO-caliber 155mm self-propelled howitzer 2S22 Bohdana, now the Ukrainian Armed Forces are going to receive the artillery pieces in a few months.
"The photo shows the Ukrainian 155-mm self-propelled howitzer Bohdana. One such artillery system was successfully tested on the battlefield. The Ministry of Defense funded [the production of] new artillery systems in the spring of 2022. Western-made tanks, which will arrive in a few months, will be supported at the front by Ukrainian – in all senses of this word – artillery," he wrote on Facebook.
Until recently, the Bohdana existed as one prototype presented back in 2018. Preliminary firing tests took place in January 2022 shortly before Russia's full-scale invasion. In June 2022, Ukrainian troops based in mainland Ukraine reportedly used the Bohdana against Russian forces on Zmiinyi (Snake) Island, which lies some 35 km off the coast:
https://twitter.com/UAWeapons/status/1542448134411980801
Defense Express notes that "serial production of the Bohdana SPG means that the entire industrial base has moved to a different location, including machines for the production of barrels, which are unique for Ukraine. And this is really a titanic task, which was carried out under extremely difficult conditions and in a short time."
Reznikov says that the Ministry wasn't public about the fact that it didn't stop purchasing defense products from domestic manufacturers last year, and facilitated their relocations to increase production capacities.
"Also, last year, after a critical period when a significant amount of resources were directed to the defense imports, the Ministry of Defense prepared a transition so that in 2023 the maximum amount of funds were directed to Ukrainian manufacturers. This applies to all components – from uniforms, shoes, body armor, and UAVs to heavy weapons and ammunition," Reznikov wrote.
Also, the minister promised to show the first results of the drone production soon.
Read also:
Ukraine finally launches domestic ammunition production. How will this impact the war?
Tags: Bohdana SPG, UkrOboronProm