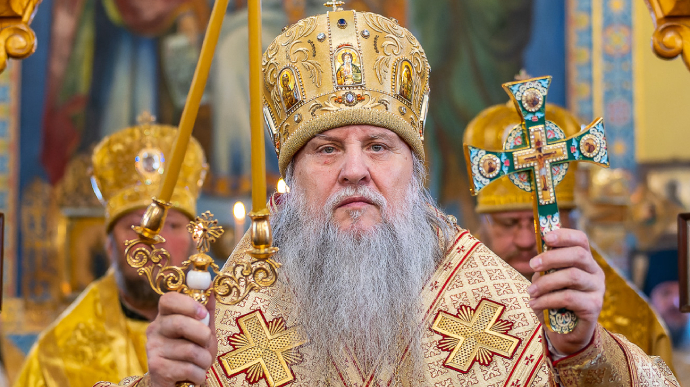 Ionofan. Photo from the diocese of the Ukrainian Orthodox Church of the Moscow Patriarchate 
Ukraine's Security Service has announced that it gathered indisputable evidence of the guilt of Ionafan, a hierarch of the Moscow-linked Ukrainian Orthodox Church in the Vinnytsia Oblast, in publicly justifying the Russian war against Ukraine.
The materials are sent to court; Ionafan could face up to 8 years in prison.
Ionafan is a metropolitan of the Ukrainian Orthodox Church, which in 2022 announced it was breaking ties with the Moscow Patriarchate, although the extent to which this actually happened is unclear. According to the investigation, he spread propaganda leaflets among the Orthodox faithful, calling to seize power and change the state border of Ukraine.
Also on one of the websites of the Russian Orthodox Church he posted publications in support of the Russian occupiers and their war crimes.
During searches at his place of residence and in religious buildings, law enforcement officers found: computer equipment and mobile phones with evidence of criminal acts, pro-Kremlin propaganda and literature.
Photos: SBU
This comes amid a spree of raids of Ukraine's Security Service on premises of the Moscow-backed Ukrainian Orthodox Church, many representatives of which are accused of backing Russia's war.
54% of Ukrainians believe it should be banned.
Ukraine edges closer to banning Moscow-backed Orthodox Church
Related: