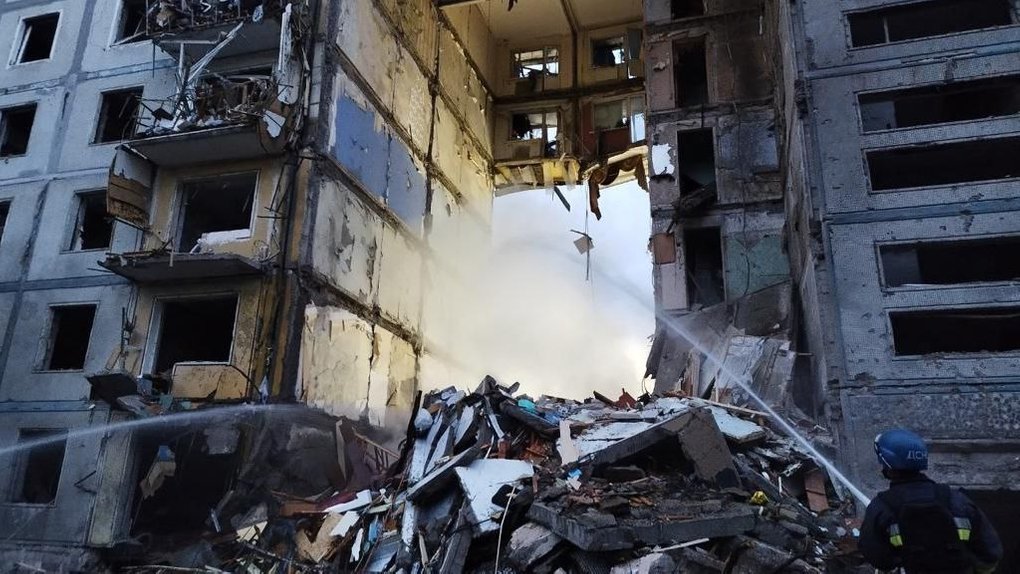 Workers of Ukraine's State Emergency Service extinguish the fire caused by a Russian missile strike on a Zaporizhzhia apartment building in the night of 9 October. Photo: State Emergency Service 
"Humankind is at a fork in the road: either keep accumulating problems and eventually get crushed under their weight, or work together to find solutions – even imperfect ones, as long as they work – that can make our world a more stable and safer place," Putin said.
Russia halted its role in the Black Sea deal on Saturday for an "indefinite term" claiming that it could not "guarantee the safety of civilian ships" traveling under the pact after an attack on its Black Sea fleet.
After first "having committed a crime in the evening, it then proposed 'talks' in the morning".
Yesterday, having again blocked global food supplies, Russia declared itself ready to negotiate with the West "on certain conditions".
"[We are] ready to talk with the West about reducing tensions, but only if there are realistic proposals based on an equal approach", Russian Foreign Minister Lavrov stressed.
According to Kremlin, Lavrov was referring to the documents that were submitted to both Brussels and Washington on 17 December 2021 demanding "security guarantees".
In my article "NATO's defining moment is now or never" I outlined the Russian demands and their potential repercussions.
The analysis was published on 27 December 2021. Russia has since further increased the pressure on Western decisions and policymakers by starting a full-scale invasion of Ukraine triggering the biggest refugee crisis in Europe since World War 2, while simultaneously escalating its ongoing Hybrid War against the West. This includes the ongoing energy war, its economic warfare, and its nuclear blackmail. Russia is also suspected of sabotaging several subsea cables and gas pipelines, demonstrating the capability to cut the transatlantic fiber cables crucial to our financial system.
The Russian aggressions in Europe – including its full-scale war in Ukraine – have resulted in a "tsunami of ripple effects", including the loss of energy and food security, increased poverty and hunger, recession, inflation, and increased costs of living; as well as the potential repercussions, including the increased risk of demonstrations, riots, extremism and social unrest at the cost of global political stability. We have already experienced shifts in the political landscape (France, Sweden, and Italy) that are likely to spread as the broader confrontation continues.
Russia's decision to step away from the grain agreement was, therefore, predictable and in line with its strategy. It is raising the stakes at a global scale, only to reiterate demands it has already made (on 17 December).
The Ukrainian attack against the Black Sea Fleet has no more relevance to Russia's decision than its counter-offensive in Kharkiv and Kherson Oblasts, its attack on the Kerch Bridge, or the sinking of the Russian flagship Moskva. Russia picked the former as an excuse to further increase its pressure on Western decisions and policymakers.
One needs to bear in mind that the grain deal became a necessity because of Russia's unprovoked and unjustified attack on Ukraine on land, from the air, and by sea. IBF Warlike Operations Areas were designated for the Sea of Azov (north of latitude 46°N), the Northern Black Sea Region, and all ports in Ukraine.
Due to the actions of the Russian Black Sea Fleet, NATO assessed the threat of collateral damage or direct hits on civilian shipping in the War Risk Area of the Black Sea area as HIGH. The threat of GPS jamming, AIS spoofing, communications jamming, electronic interference, and cyber-attacks in the area was also considered HIGH. NATO did not exclude the risk of harassment and diversion of shipping in the area.
The agreement did not stop Russia from launching Kalibr cruise missiles against Ukraine and stopping all exports/imports that fell outside the grain initiative. The maritime blockade is meant to cause the Ukrainian economy to collapse. The Russian warships engaged in warfighting against Ukraine are, therefore, legal targets according to international law. Civilian ships transporting agricultural products are not.
Commenting on Russian condition for negotiations is an immediate end to war, Oleh Nikolenko, spokesman for the Ministry for Foreign Affairs of Ukraine, stressed that "the only realistic proposal should be for Russia to immediately end the war against Ukraine and withdraw Russian troops from Ukrainian territory, beyond its borders as of 1991. He added that people who want to negotiate do not destroy the country's energy system so that its population freezes in winter; they do not engage in mass executions of civilians; do not shell residential areas; do not announce the mobilisation of an additional 300,000 military personnel; do not block grain supplies, and do not push forward any ultimatums."
He is of course right. Then again – having continuously escalated and raised the stakes for nearly 9 years – Russia is not calling for negotiations. While the term "negotiation" is being used in its strategic messaging, its actions talk of an ultimatum. Its demands are not open for discussion.
Russia is doing what NATO should have done years ago: It escalates to de-escalate.
The Institute for the Study of War assesses that"Russian President Vladimir Putin will most likely try to continue conventional military operations in Ukraine to hold currently occupied territories, gain new ground, and set conditions for the collapse of Western support for Ukraine that he likely expects to occur this winter."
It is high time for the West to prove Putin wrong: the West must demonstrate the will and ability to act according to its former strategic concept. To end the war on the terms of Ukraine and the international community. To defend international law. To protect its core values and principles.
It must re-establish the initiative to ensure Russia starts adhering to international law. It must bring back the military options on the table.
It must not enter into any negotiations before Russia has withdrawn all of its forces from Ukraine.