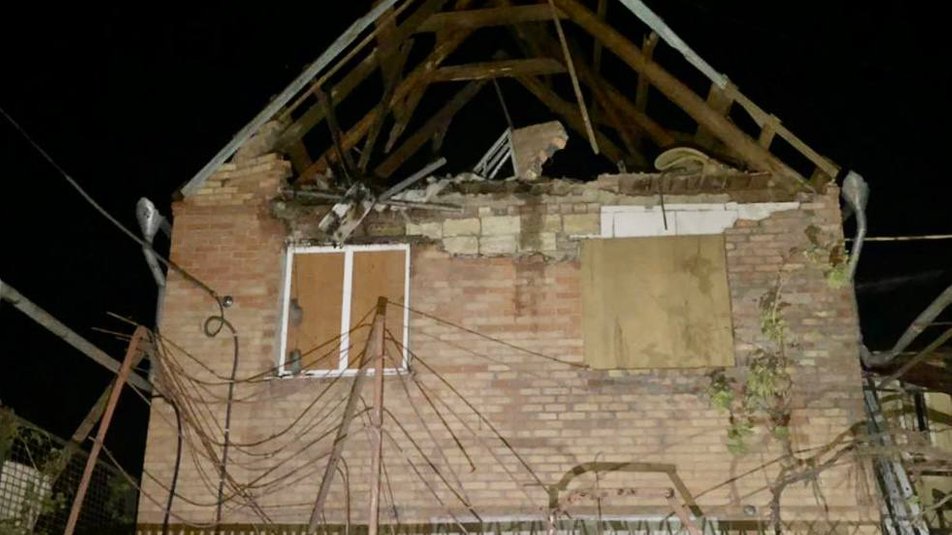 House damaged in Russian shelling attacks on Nikopol district, Dnipropetrovsk Oblast, early on 25 September 2022. Photo: Telegram/Valentyn Reznichenko
 
At about 1:25 a.m., the Russian army shelled the south-Ukrainian city of Mykolaiv, damaging residential buildings and the water supply network, according to Mykolaiv Mayor Oleksandr Sienkevych. One of the Russian rockets landed next to a five-story building, blocking two elderly people in their apartment so that the Emergency Service workers had to deblock them. The local office of the Emergency Service says that they found no dead or injured people at the scene.
This morning Russia also attacked the coastal city of Odesa in Ukraine's south using three Iranian-made loitering munitions Shahed 136:
Russia attacked central Odesa with three "kamikaze" drones – OpCommand South
The Russian military fired about 170 Grad rockets and artillery shells at three hromadas (communities) of Nikopol district in Dnipropetrovsk Oblast, Oblast Administration Head Valentyn Reznichenko reported. According to preliminary data, there were no casualties. Reznichenko says that Russian attacks damaged houses and an electric substation in Nikopol leaving more than 3,200 households without electricity. Also, the electric grid got damaged in the city of Marhanets where 3,000 families lost power supplies due to the Russian attacks. Plus, the Russian strikes left up to 500 people without electricity in Chervonohryhorivka hromada.
According to Pavlo Kyrylenko, Head of the Donetsk Oblast Military Administration, Russian September 24 shelling attacks on Donetsk Oblast cities killed two civilians in Bakhmut, injured six in Sviatohirsk, one in Krasnohorivka, and one in Donetsk's New York.