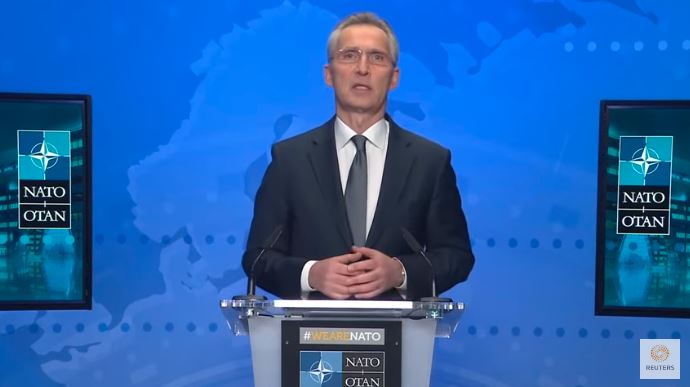 NATO Secretary General Jens Stoltenberg speaks at a press briefing after delivering a written response to Russia's demands to "Security guarantees." Screenshot from broadcast of briefing 
On 26 January, the US and NATO delivered separate written responses to Russia's demands for "security guarantees" which include NATO kicking 14 eastern member states out of the Alliance. Unsurprisingly, the demands were rejected.
Speaking at a press briefing after delivering the written response to Russia, NATO Secretary-General Jens Stoltenberg told about its brief content. It touches upon three spheres, where NATO sees space for progress in relations with Russia.
The first area is NATO-Russia relations.
"Russia has severed diplomatic relations with NATO, which has complicated our dialogue. So we need to rebuild our respective offices in Moscow and Stockholm. We also need to use our existing military channels to promote transparency and reduce risks," Stoltenberg said.
The second area concerns European security, which includes the situation around and in Ukraine.
"We are ready to listen to Russia's concerns, ready for real communication on how to strengthen the fundamental principles of European security that we have committed ourselves to since the Helsinki Accords. This includes the right of each country to choose its own security arrangements," Stoltenberg said.
He stressed that Russia must refrain from aggressive rhetoric and malicious actions, and must withdraw troops from Ukraine, Georgia, and Moldova, where they are stationed without the consent of these countries.
The third area is risk reduction, transparency, and arms control. NATO invites Russia to hold joint briefings on exercises and nuclear policy within the Russia-NATO Council.
In addition, NATO proposes to modernize the Vienna Document on Military Transparency and work to reduce space and cyber threats, as well as to consult to reduce air and sea incidents.
US Secretary of State Antony Blinken also commented on the content of Washington's response to Russia's "security demands" while speaking at the State Department. The document itself was not made public at the request of Moscow; yet, Kyiv had received a copy before it was delivered to the Kremlin and approved of its content.
"Today, the US ambassador delivered our response to Moscow. All told it sets out a serious diplomatic path forward, should Russia choose it, The document includes concerns from the United States and our allies and partners about Russia's undermining actions, a principled and pragmatic assessment of Russia's concerns, and our proposals in areas where we can find common ground," Blinken said.
According to him, in response, the United States has made it clear that it will defend its key principles.
"They include Ukraine's sovereignty and territorial integrity and the right of states to choose their own security arrangements and alliances. We considered mutual transparency measures in Ukraine's positioning, as well as confidence-building measures for military exercises and maneuvers in Europe," he added.
Blinken stressed that the United States is ready to continue dialogue with Russia on those areas in which cooperation is still possible. He expects to talk to Foreign Minister Lavrov in the coming days after Moscow gets acquainted with the US response.
Blinken said that the decision on further steps remains with Russia.
Backstory
In late December 2021, the Kremlin submitted to the US two draft agreements with the US and NATO, more resembling ultimatums than treaties in tone and style, according to Moscow Times.
Back then, Russia's demands were:
The United States should prevent NATO's further eastward expansion, denying accession to the former Soviet states;
The US should establish no military bases in ex-Soviet non-NATO states and shut down military cooperation with them;
NATO should exclude its further enlargement, including the accession of Ukraine and "other states";
the Alliance should refuse any military activity on the Ukrainian territory, as well as in "other states of Eastern Europe, Transcaucasia, and Central Asia";
No NATO forces or weapons should be deployed in countries that joined the alliance after May 1997, i.e. the Baltic states and the former Warsaw-Pact countries;
NATO should bar deployment of intermediate-range missiles in areas where they could reach the other side's territory.
These initial demands boil down to three major points:
no NATO expansion;
no US and NATO activities in territories that Russia believes are in its sphere of influence;
no NATO deployments in NATO countries near Russian borders.
In January, a series of West-Russia talks took place on the issue of Russia's demands of "security guarantees," which Ryabkov had summed up as "NATO must pack up its stuff and return to the 1997 boundaries."
On 10 January, US-Russia brought no breakthrough. Commenting on the meeting, Deputy US Secretary of State Wendy Sherman said, "We were firm… in pushing back on security proposals that are simply non-starters to the United States."
Similarly, the NATO-Russia meeting in Brussels on 12 January didn't bring any significant results too. NATO states rejected Russia's demands regarding non-expansion of NATO and the presence of the Alliance's troops on its eastern flank.
At the time, Russia had stated that it wouldn't compromise on its requirements and the Kremlin saw no reason to engage in a new round of talks with the US on security guarantees in the near future.
On 19 January, Russian Deputy Foreign Minister Sergei Ryabkov made a statement suggesting Russia was ready to downscale its demands to keeping Ukraine and Georgia out of NATO. However, on 21 January, the Russian Foreign Ministry issued a publication stating that the demands include kicking 14 currently-NATO members out of NATO.
Russia now wants NATO out of Bulgaria, Romania, and 12 other countries
Related:
Tags: Blinken, NATO, Russia, Stoltenberg, USA