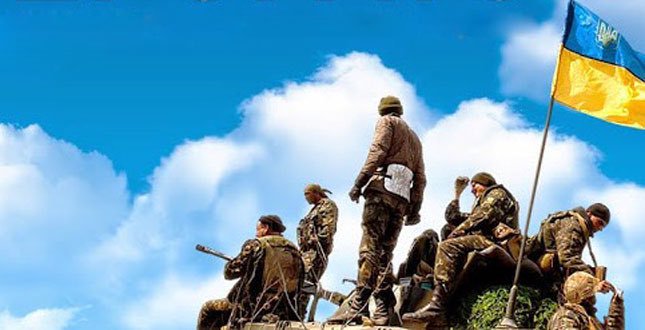 Many commentators remarking about the new law (#2045-1 "On amendments to certain legislative acts of Ukraine on providing status and social guarantees to individuals among the participants of the Anti-Terrorist Operation", (second reading on December 4, 2019-Ed) are doing so without the benefit of inside knowledge. 
I have such experience and I have the right to state my opinion. In fact, I know "both sides of the coin": three and a half years of front-line experience as a volunteer fighter (in the ranks of Pravy Sektor and the Ukrainian Volunteer Army), as well as one year of service as officer in the Armed Forces of Ukraine.
My main point is that the law is needed. It guarantees justice. I understand people who worry that it might be the result of manipulation by "some dark powers". They have only their interests in mind, often very different from what is important to us, perhaps an attempt "to bribe" volunteer fighters not to cause a scandal for the government.
Briefly, as a background to the situation: at some point in 2015, it was officially announced, and thereafter often repeated, that every volunteer military formation would be integrated into the state military structure. Western countries expected this. In reality, these unregistered volunteers remained at the front and continue to serve at the front lines today. To be sure, there are fewer of them now, and their abilities have become more restricted. Most volunteer battalions have been integrated into the official military structure, with the consequence that they lost their former cohesiveness and identity as individuals sharing a common worldview and combat experience.
Of the volunteer formations that remain, there are, first and foremost, Pravy Sektor and the Ukrainian Volunteer Army. There were smaller groups that had not been incorporated into the state military, although throughout their existence they cooperated and coordinated with it and received combat orders from officers of the regular military. These volunteer fighters did not receive regular salaries, benefits, social services they were entitled to if they had had the status of regular combatants. It took a great deal of effort to get the corresponding status for the families of fighters KIA and for maimed soldiers. As for the other non-registered front-line veterans, the government did not acknowledge their service.
In the meantime, most regional (oblast) governments had already made announcements to the effect that these volunteer soldiers would be officially classified as combatants engaged in military operations. These governments were also able to identify "military tourists" who presented false statements about their military service, and they soon developed a reliable verification system: in order to be designated at the regional (oblast) level as a war veteran, it was necessary to produce evidence from the headquarters of an appropriate battalion, with documents stating where and when you served, together with sworn notary statements by two already recognized combatants, and other evidence.
Concurrently, with the Armed Forces of Ukraine, a large number of individuals, (perhaps hundreds of thousands) legally received their status for service rendered on the second line of defence, in cities under no enemy threat, in places where they were not risking their lives. By comparison, during these war years, approximately three to four thousand individuals came through the ranks of Pravy Sektor and the Ukrainian Volunteer Army.  Why such a fuss now for such a small number? Further, a high percentage of these soldiers went on to serve in the regular armed forces and have already received their combatant status.
People who do not know the details often write comments such as the following, posted by Oleksandr Sosnytsky:
"Why is a separate law needed? What problem does it solve? If these individuals chose not to serve their country in the ranks of the regular army, what does the state owe them now? By 2015, we didn't have the problems of acceptance that we'd faced in 2014, when we spent two months knocking on the door of the general staff. By 2015, it was very easy to join the Armed Forces of Ukraine or the Ukrainian National Guard. Some legalization policies had been solved. They made a free choice not to surrender to the system, to be "free individuals", somewhat outside the system themselves and their community."
The question is why hadn't these aforementioned volunteer formations been integrated into the Armed Forces of Ukraine or the Ukrainian National Guard? It wasn't due to their "freedom of choice" or "rebelling against the system"- to whatever degree these motivations existed they weren't the main factors. In reality, the situation is much more complicated.
There is the matter of command, and the inability to find a compromise that would satisfy both sides. This is a topic for another time, as here I'm writing about the ordinary soldier. Everyone had their own reasons, but here are three main ones:
There were men who were willing to join the Armed Forces of Ukraine, though as a cohesive unit together with their brothers-in-arms whom they trusted. Such an option was a de facto impossibility. "Independent companies" of volunteer soldiers within battalions of the Armed Forces of Ukraine could occasionally be found in one scenario, that is when the battalion was at the front lines, and even then, unofficially. Officially, these soldiers were supposed to be "blended" into the battalion or brigade – they were simply assigned to available openings that best suited them- and it didn't take long before they were deployed to places and with other men with whom they had previously served. They didn't have much in common with the other soldiers, and fulfilling their duties wasn't always easy with those whose motivation for being there was quite different.
Others were not accepted as contract soldiers because of serious personal problems, especially health issues (often volunteer battalions accepted men with disabilities, who hadn't passed a medical commission, but they were great fighters), others had ongoing legal issues, or couldn't be away from their families or jobs or businesses for very long. Arrangements would be made with battalion commanders for them to serve as "commuters" (for example, serving with their battalion for two months then going home for two months. In such cases, these individuals were not ordinary foot soldiers, but highly qualified specialists).
The third reason is the central one, in my opinion. Some people, in peacetime, choose a military profession as a career; it becomes a regular job. There are also many others of different character and temperament who would never be associated with the military if it weren't for the war. These are people who enlist in order to fight for their country. They have no intention of spending six months, a year or more at a training base, repairing military hardware or practicing drills while others are fighting. Such was never the case with the volunteer battalions. In these battalions, soldiers were engaged in combat, or were training for combat, or were resting between military operations. I know of regular force members, who had been volunteer fighters, but who would transfer three or four times among brigades: no sooner would their units be withdrawn from the front lines than they would transfer to units leaving for the front, not wanting to waste their time "serving" rather than fighting the war.
Imagine sacrificing your cherished career, time with your family, or with your girlfriend, in order to be an active duty soldier at the front lines. Instead, you spend several months in the cold or in the heat, living in tents at a training base, marching to the mess hall for meals, and being reprimanded for minor discipline infractions. If you're an officer, then you additionally have lots of pointless paperwork, with nothing in return, no frontline service, no personal life, no career prospects. You might be reading this and asking yourself… Would I remain in the army under these circumstances?
With reference to my volunteer unit, which ceased to exist at the end of 2017, two thirds, and that includes me, currently serve in the Armed Forces of Ukraine, and we already have the status of participant in combat operations (учасник бойових дій – UBD-Ed). But, one third have returned to civilian life and have never received the status of UBD. These are people who fought for several years at the front lines, and in some cases, beyond the front lines. Of course, when they were fighting, they weren't thinking about their status. Time has gone by, however, and it's now a matter or righting an injustice, an inequality, and facing a responsibility.
Finally, if throughout Ukraine on a "piecemeal" basis, namely in regional (oblast) councils, there has been a recognition of the volunteer fighters, it is time for them to be recognized systematically at the national level, for the sake of our democracy and unity of our nation.
Olena Bilozerska – Ukrainian journalist, blogger and public activist. In 2014, soldier with Pravy Sektor, where she worked as a sniper, and the Ukrainian Volunteer Army. From October 2018 – officer of the Armed Forces of Ukraine.
Tags: Pravy Sektor, reforms in Ukraine, volunteer battalions