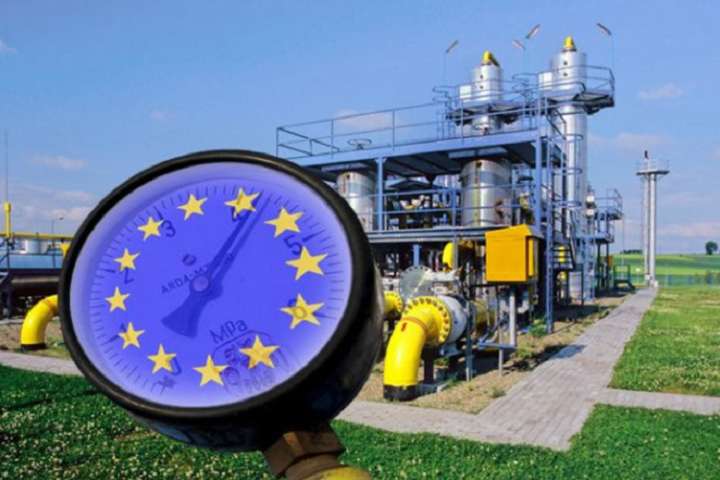 Since 2015, Ukraine imports gas only from the EU. Source: glavcom 
December is the last month of Ukraine's contract with Russia on the transit of Russian gas to the EU. It is rumored that Ukraine may restore direct gas imports from Russia and that the government plans to dismiss Andriy Koboliev, CEO of Ukrainian state-owned energy giant Naftogaz, who has done much to enhance Ukraine's energy independence from Russia in the last years.
However, a recent interview with Andriy Koboliev and his official statements suggest Ukraine isn't capitulating to Russia in the energy field just yet. At the same time, hard talks and the expected launch of the pipeline Nord Stream 2, connecting Russia directly to Germany while bypassing the Ukrainian gas transport system, require all skills and efforts of Ukrainian diplomacy to secure Ukrainian positions and finally sign a new favorable transit contract.
Will it happen, or Ukraine should prepare for the end of transit and the loss of money? There are at least three issues discussed at different talks separately that should be examined separately as well: functioning of Naftogaz as a state company, the gas transit contract, and contract on the import of gas to Ukraine.
What is Naftogaz and why it doesn't manage gas transit anymore
Prior to 2014, the Ukrainian state energy company Naftogaz was one of the most corrupt and unprofitable state companies that consumed large amounts of state subsidies. However, starting from 2014 when Koboliev became the CEO of the company, it has not only become profitable but also one of the largest taxpayers in the country.
In 2015, Naftogaz ceased buying natural gas directly from Russia. Instead, it imports gas from the EU, although some of the imported gas has Russian origin. Nonetheless, 2009 contracts were very unfavorable for Naftogaz. Under Koboliev's management, Naftogaz won the International arbitration in Stockholm. As a result, Russia's Gazprom has to pay $5.1 billion to Ukraine's Naftogaz.
Only $2.1 billion has already been paid. Subsequently, some Gazprom assets were now arrested in the EU and now can be sold to cover the debt.
Additionally, Naftogaz operated as a gas transit agent in Ukraine, which brought $3 billion annual revenues.
Naftogaz CEO Andriy Koboliev says in the interview that even if transit across Ukraine will be stop in 2020, it wouldn't affect Naftogaz negatively. Everything should be assessed in a broader context.
One should take into account that the transit system will be separated from Naftogaz into an independent company by the end of this year anyway. The EU required it for the new contract. Therefore, Koboliev says no matter if gas transit through Ukraine continues in 2020 or not, Naftogaz will no longer receive the $3 billion transit fees.
This will have a positive impact on Naftogaz. That $3 billion was a huge amount of money concentrated in one state company, which allowed national and regional gas operators to make profits on the gas price, saying: "Look, you have a lot of money anyway, we will pay you later for the consumed gas." If it was a state decision, Naftogaz had to accept it, being a state company. However, from the market logic, this was counterproductive, Koboliev says.
From 2020 Naftogaz will not make this additional profit out of transit, which will lead to strict requirements for gas consumers: payments on time, no debts, solely market prices. This will have a healing effect on the whole domestic gas market.
Moreover, Koboliev says that in the future,
"Naftogaz will produce and sell gas, both wholesale and retail. We will provide energy efficiency services and renewable energy."
This expansion of Naftogaz to other segments of the market will enable it in the mid-run to compete, for example, with such giants as Shell.
On transit: expected losses vs chances for Ukraine to reach a new agreement
Russia's $3 billion annual gas transit fee is a huge amount of money for Ukraine: it's 2% of the Ukrainians GDP, or 7% of the state budget. Therefore, this loss can be compared to the positive effect of the planned opening of the land market if it goes smoothly.
The Russian side understands this fact very well. Therefore, in the proposal sent to Naftogaz on 18 November, Gazprom tells about its readiness to sign a new transit contract.
However, the prerequisites for the contract are the refusal of both parties to all mutual claims in international arbitration and the termination of all court proceedings.
On 25 November, Naftogaz answered that it was ready to accept Russian debts not only in money but in gas equivalent and that this could be a reasonable compromise.
Koboliev commented in his interview on this issue, saying that Naftogaz is not going to give up its claims in any way. Overall, they are potentially worth $12 billion. These costs should almost entirely go to the state budget and can more or less compensate for the losses from the interrupted gas transit.
At the same time, Koboliev stressed that his team is still working on continuing the transit in the trilateral group of the EU commission, Gazprom and Naftogaz. This remains the priority. He denied rumors that the EU is leaning towards meeting Russian demands at these negotiations.
To a large extent, the final decision regarding the transit depends on the completion of Nord Stream 2. If the pipeline will be 100% functional in 2020, there are almost no chances for Ukraine to maintain transit of Russian gas.
President Trump has real leverage to impose sanctions on companies involved in the Nord Stream 2 construction and in this way interrupt its completion. Yet, he is still thinking about this possibility, despite the fact that only 60 days are left, according to Emerging Europe.
Gas import: Russia offers "discounts" for direct imports
Currently, Ukraine consumes around 32 billion cubic meters (bcm) of gas, of which it produces 21 bcm and imports 11 bcm. Although potentially Ukraine could even export its natural gas, internal production is developing far more slowly than it was planned. Thus, gas import is going to remain important for Ukraine in the nearest future.
Since 2015, Ukraine imports gas from three EU countries with no gas bought directly from Russia. It's inaccurate to claim that Ukraine buys EU gas only de-jure, while de-facto the gas is still Russian. In reality, less than 1/3 of gas in the European market comes from the Russian state-owned Gazprom and this share is falling, particularly due to the growing import of liquefied natural gas.
Therefore, Ukraine's current gas situation favors the EU over Russia and is consistent with the foreign policies of the country.
At the same time, particularly ambiguous was the late November statement by Oleksiy Orzhel, Ukrainian Minister of Energy and Environmental Protection, who said that a direct import of Russian gas is possible but only if the price is not political and tied to the European market's prices. He also stressed that a prerequisite for any direct gas import from Russia is that Gazprom pays everything that Ukraine has won in the international arbitrage.
It's unclear whether this statement was simply a diplomatic tool to point to the arbitrage payments by Gazprom after Russia proposed direct gas import to Ukraine during the negotiations in Vienna or if the minister really intends to buy gas from the aggressor country in exchange for alleged "discounts" that Russia is widely promoting not only in official meetings but also in the media.
In any case, direct gas import from Russia is dangerous for Ukraine in two ways: first, it will benefit the Russian economy much more than in the case with Ukraine buying gas in the EU. Second, it makes Ukraine vulnerable to Russian gas blackmail that has been Russia's leverage from 1993 until 2015 to achieve not only economic but rather political goals in Ukraine.
---
Read more:
Tags: EU gas, Gas transit system, Naftogaz