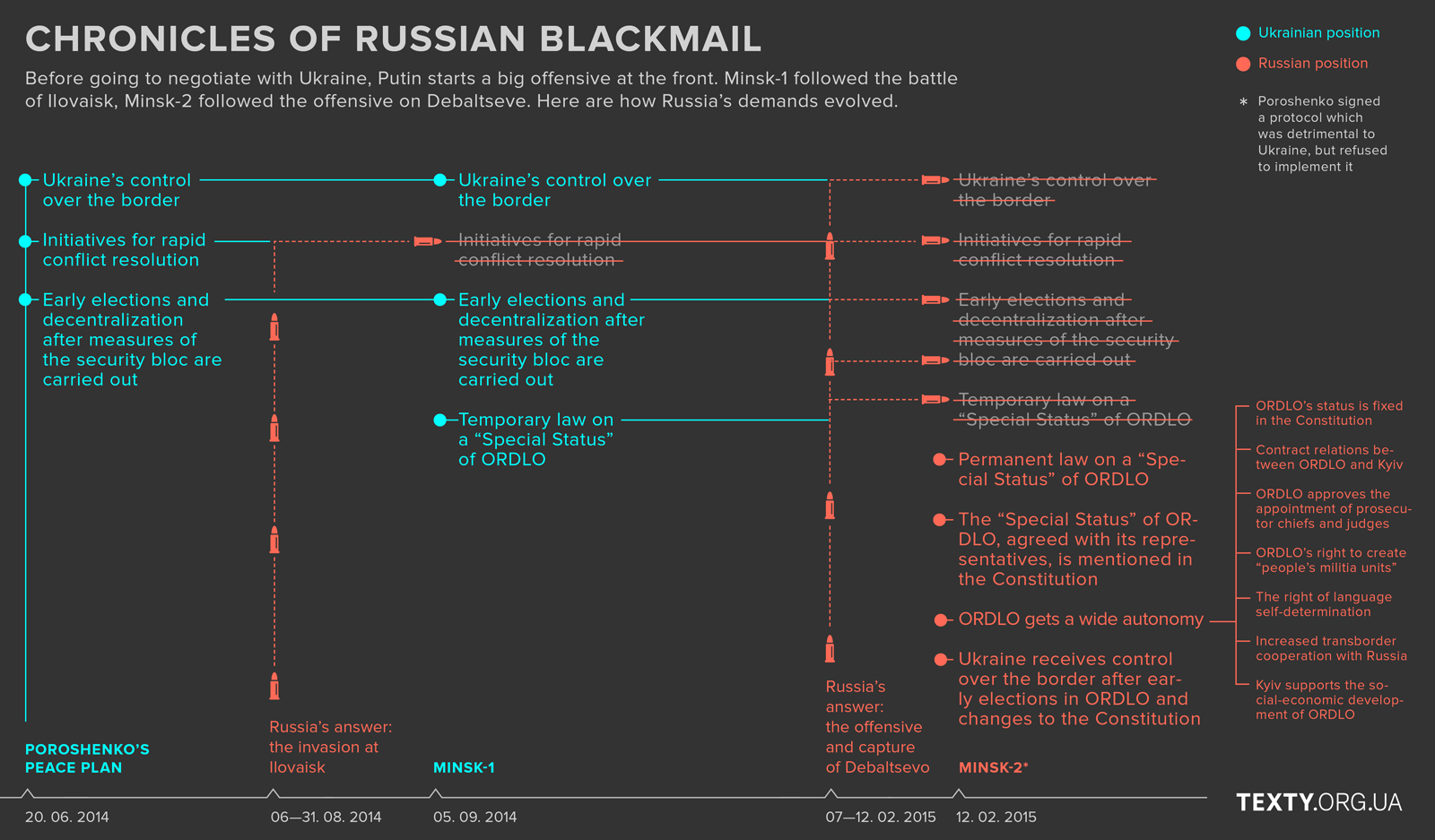 Graphics: texty.org.ua 
"Steinmeier's formula," which specifies that the Ukrainian law on the "special status" of occupied Donbas will come into force after local elections are held there, has become the hottest war-related controversy in Ukraine since October, being seen as many as state capitulation. However, the problem that this formula poses is insignificant compared to the Minsk-2 protocol, within the framework of which the formula is supposed to take place, according to the Euromaidan Press report Leaked Kremlin emails show Minsk protocol designed as path to Ukraine's capitulation.
Based on studying the leaked emails of Russian President Vladimir Putin's top advisor Vladislav Surkov, the report reconstructs the evolution of then-Ukrainian President Poroshenko's initial 2014 plan to stop the war in Donbas, which culminated in the Minsk-2 protocol. This protocol is currently seen as the only way to end the conflict between Russian-led separatists in eastern Ukraine and the Ukrainian state, and western nations have tied their sanctions against Russia to the implementation of it. However, implementing it verbatim will equal Ukraine's state capitulation to Russia. In order to avoid this, President Zelenskyy must draw conclusions from the outcome of the peace initiatives of his predecessor, which was summarized in an infographic by texty.org.ua (see featured image).
The current Minsk-2 draws its origins from Poroshenko's peace plan, which he put forward in June 2014 after being elected upon promises to quickly end the conflict in Donbas. It includes a number of initiatives that indeed intend to quickly end the conflict, the first one being to establish a buffer zone on the Ukrainian-Russian border. As well, these include a corridor for the withdrawal of Russian and Ukrainian mercenaries, the liberation of administrative buildings seized by Russian-separatist forces, the resumption of the work of the local organs of power and central TV/radio broadcasting, an amnesty for participants of the events in Donbas who had not committed heavy crimes etc. After Ukraine gained control of the territory held by Russian-separatist forces, early local elections would be held and Ukraine would undergo decentralization. Economic recovery would serve as the pinnacle of conflict resolution.
This plan was being seriously regarded as a solution to the conflict in Donbas at the time, as evidenced by a letter from the Ukrainian MFA that went through Surkov's office in August 2014. It contains a detailed timeline of steps to be taken by Ukraine and Russia to implement the plan.
However, immediately after this letter was received, a direct Russian invasion and massacre of Ukrainian soldiers at Ilovaisk sent Poroshenko seeking ways to end the bloodshed at all costs, and so in September 2014, Ukraine was pushed into the Minsk-1 protocol. This protocol was still based on Poroshenko's peace plan, but no longer contained the rapid conflict resolution initiatives of freeing administrative buildings and resuming the work of local organs of power and media broadcasting. Instead, a temporary law on the "Special status" of Donbas occupied by Russia's puppet "republics" (ORDLO) was to be introduced, giving Russia's puppet republics powers of wide autonomy, including contractual relations with the central authorities in Kyiv and the right to independent intensive cross-border cooperation with Russia. However, local elections and decentralization were still to be held after Ukraine gained control over the territory of ORDLO. And buffer zones were still to be created on the Ukrainian-Russian border.
It appears that Minsk-1 did satisfy Russia's goals for the Donbas conflict, which are to legitimize its "puppet republics" in Ukraine's legal field with Ukraine picking up the bill, as well as launching a federalization of Ukraine. Only Russia's desire to get a more favorable deal for itself can explain the collapse of the ceasefire mandated by Minsk-1, the offensive on the Debaltseve railroad hub with yet another Russian invasion, and Putin's blackmail of European leaders with threats to start a full-blown war.
The result of this combination of a Ukrainian military defeat, pressuring Poroshenko to once again find a solution to end the bloodshed in Donbas, and intimidation of European leaders with an idea abhorrent to them, was the Minsk-2 protocol adopted in February 2015. The document, adopted after a night of negotiations between German Chancellor Merkel, French President Hollande, Poroshenko, and Putin, was way more detrimental to Ukraine's state interests than Minsk-1. The requirement of a buffer zone on the Ukrainian-Russian border was gone. Instead, a demilitarized zone was to be created on the contact line between Ukrainian-controlled territories and ORDLO. The law on the "Special Status" of ORDLO giving it powers of wide autonomy was to become permanent. And, most importantly, Ukraine was to include a reference to the "Special status" of ORDLO in its Constitution after agreeing on it with ORDLO representatives.
Russia's puppet republics and their puppet leaders were to receive a permanent status and be absorbed into Ukraine's political field before Ukraine had a chance to conduct proper elections, giving Russia endless opportunities to meddle in Ukrainian affairs — and derail its movement toward the EU and NATO — from within. The permanent "special status" of ORDLO would likely trigger a chain reaction of other regions demanding the same status.
However, Minsk-2 was not the limit of Russia's desires. Surkov's emails reveal that in 2015, Russia tried to push through changes to Ukraine's Constitution which would give its puppet "republics" the qualities of a quasi-state, with its own mini-Parliament and Cabinet passing and implementing laws on the territory of ORDLO. However, these changes were not accepted. Poroshenko, although having signed Minsk-2, continued to insist on the Minsk-1 logic of conflict resolution: security comes first, and political regulation only later. The constitutional changes he adopted included only a fleeting reference to the temporary law on the "Special Status" of ORDLO, which was adopted for a period of three years and was prolonged thereafter. This all angered Russia, which accused Poroshenko of sabotaging the Minsk agreements, amid a ceasefire and withdrawal of arms that never was.
Poroshenko, like Zelenskyy, started out being confident that it's possible to end the war in Donbas quickly by coming to an agreement with Russia. However, his peace plan, which was relatively benign to Ukrainian state interests, was finally hammered into Minsk-2 by Russian invasions, bloodshed in Donbas, and Putin's blackmail of European leaders. As a result, Ukraine is now caught in a trap of an agreement, the verbatim implementation of which would lead to the country's capitulation to Russia. It would be prudent for President Zelenskyy to draw consequences from the five years of attempts at peacemaking of his predecessor. This would include recognizing that Russia will not stop the war unless it achieves its objectives in Ukraine — the legitimization of its Donbas puppet "republics" and the launch of a federalization of the entire country. The time is ripe to search for an alternative to Minsk-2, which would set a ticking time bomb under Ukraine's sovereignty.
Read also:
Tags: Minsk-2, Steinmeier Formula