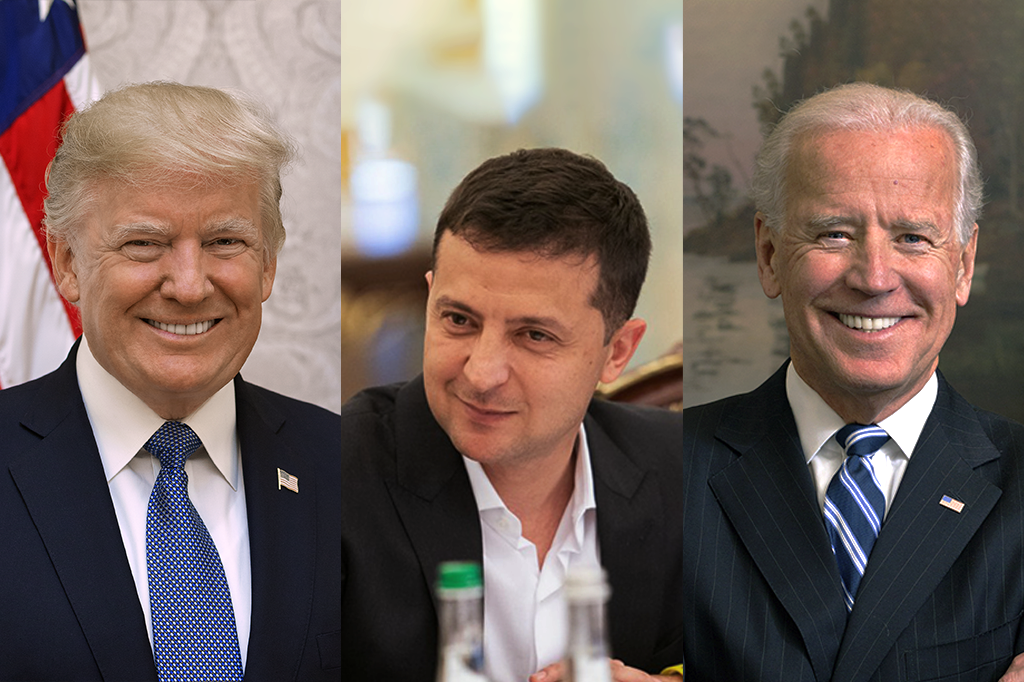 US President Donald Trump, Ukrainian president Volodymyr Zelenskyy, Trump's competitor for the 2020 election Joe Biden. Photo: public domain 
Ukrainian President Volodymyr Zelenskyy is at center stage in a political row in the US after Nancy Pelosi, Speaker of the House of Representatives, announced a formal impeachment inquiry into President Donald Trump as he faced outrage over his reported effort to target his political rival, top Democrat Joe Biden, who is seeking to defeat Trump at the 2020 presidential run. The US President could have pressed on his Ukrainian vis-à-vis for a probe of the Ukrainian gas company Burisma Holdings, where Hunter Biden, Joe Biden's son, sat on the board during his father's vice-presidency.
Trump prodded Zelenskyy to reopen the investigation of Burisma in his greeting phone call on 25 July after Zelenskyy's party won the parliamentary vote by a landslide. Before the conversation, Trump was considering to withhold military aid to Ukraine.
Earlier in May, then-Prosecutor General of Ukraine Yuriy Lutsenko stated he had no evidence of wrongdoing by either Biden. However, replying to Trump's request in the 25 July phone conversation, Zelenskyy promised him to look into the situation when the newly elected parliament would appoint a Zelenskyy's person as a new PG.
During his visit in Ukraine as US Vice President back in late 2015, Biden pressed on the Ukrainian leadership to dismiss the Ukrainian PG and succeded. However, it seems to have been rather the USA's coordinated position at the time than his private initiative. PG Shokin did oversee the Burisma Holdings case, but at the moment of his dismissal, the investigation was dormant.
In both cases, was it expressed or implied, withholding aid to warring Ukraine was a tool of pressuring.
Burisma and Hunter Biden
Shortly after the victory of the Euromaidan revolution, on 18 April 2014, Hunter Biden became a paid board member of Burisma Holdings, the top Ukrainian private gas producer. The company's founder and, reportedly, its ultimate beneficiary was MP Mykola Zlochevskyi, an ally of pro-Russian president Viktor Yanukovych, banished from the country in late February 2014. Under Yanukovych, Zlochevskyi was a deputy secretary of the Ukrainian security and defense council, as well as an ecology minister. His ministry granted his company a license for developing several gas fields, according to the data of the anti-corruption project Open registry of public actors Pep.org.ua.
Given that Hunter Biden had no experience in the oil and gas industry, his appointment could be purely political. On one hand, as a son of the US vice president, he could pose or be viewed as the company's lobbyist in the White House. Though, Hunter Biden denied using his connections to the US leadership to aid Burisma.
On the other hand, European Pravda assumes. another realistic scenario could be the case: in Ukrainian realia, big names among the managers can be an "umbrella" against pressure on the company. Thus, Hunter Biden could enter Burisma's board of directors without the consent of his father. Along with Biden, another big name was introduced as a director of Burisma, former Polish President Aleksander Kwaśniewski. And unlike Biden who remained on the board through early 2019, Kwaśniewski holds his post since 2014 until now.
The Hunters denied the
corruption allegations
made by Donald Trump. Hunter Biden
refused
any wrongdoings. For his part, Joseph Biden
said
,
"I have never spoken to my son about his overseas business dealings."
Meanwhile, USA Today points out that Hunter Biden told New Yorker in July that he spoke with his father about Burisma just once, in December 2015 before the older Biden's visit to Ukraine and, the articles quote Hunter Biden as saying, "Dad said, 'I hope you know what you're doing,' and I said, 'I do'."
Biden and PG Shokin
In December 2015, US Vice President at that time, Joseph Biden, visited Kyiv and met with Ukrainian leadership and legislators. One of the key messages of his agenda was to encourage a more aggressive fight against corruption in the country.
Joseph Biden told about his 2015 trip to Ukraine at a panel for the Council on Foreign Relations in 2018. In his words, there was a billion loan guarantee and he had gotten a commitment from then-President Petro Poroshenko and then-PM Arseniy Yatseniuk to take action against Prosecutor General Viktor Shokin, but they didn't.
"I said, 'I'm telling you, you're not getting the billion dollars.' … I looked at them and said, 'I'm leaving in six hours. If the prosecutor is not fired, you're not getting the money.' Well, son of a b*tch. He got fired. And they put in place someone who was solid at the time," said Biden.
The Parliament dismissed PG Shokin in March 2016 and appointed Yuriy Lutsenko on his post, who remained the chief prosecutor until September 2019.
The 2018 video shows Biden telling how he had pressed on Ukrainian then-president Poroshenko and then PM Yatseniuk, promising them to withhold US military aid to Ukraine if PG Shokin would not be fired.

The Ukrainian legislators, press and civil society regarded Shokin at the moment as failing to fight top corruption by slowing down and derailing investigations against Yanukovych-era officials. Biden's demand to dismiss him was hardly his personal initiative, but rather it originated from the American Embassy in Kyiv and was supported by the Obama administration. As well, Shokin didn't oversee the Burisma case at the time he was fired, since the probe was already shelved back then.
Moreover, Shokin could have played a role in unfreezing the assets of Burisma's owner Zlochevskyi in the UK.
In April 2014, the same month Hunter Biden joined the Burisma board, the UK froze Zlochevskyi's alleged bank accounts containing $23 million as a part of a money-laundering investigation. However, a British court ordered to unfreeze the funds in January 2015 after the Ukrainians prosecutors refused to provide documents the British investigators needed.
"Instead they sent letters to Zlochevskyi's attorneys attesting that there was no case against him," then-Ambassador to Ukraine Geoffrey Pyatt noted in his speech in September 2015.
This May, then-Prosecutor General Yuriy Lutsenko confirmed that neither Hunter Biden nor Burisma holdings were under investigation.
"I do not want Ukraine to again be the subject of US presidential elections," Lutsenko said, explaining that his agency had no evidence of wrongdoing by Hunter Biden. "A company can pay however much it wants to its board," he stressed and added that if there was a tax problem then it was not in Ukraine.
Trump-Zelenskyy conversation: conflict of interpretations
On 25 July US President Donald Trump called his Ukrainian counterpart Zelenskyy to congratulate the latter on the landslide victory of his party Servant of the People at the parliamentary elections. Both sides published mundane press releases following the event, However, European Pravda notes that Zelenskyy Office included a cryptic remark not mentioned in any way by the White House back then:
"Donald Trump is convinced that the new Ukrainian government will be able to quickly improve image of Ukraine, complete investigation of corruption cases, which inhibited the interaction between Ukraine and the USA," Zelenskyy Office's message reads.
On 24 September, US House Speaker Nancy Pelosi announced a formal impeachment inquiry into President Donald Trump, linking it to the 25 July call between US and Ukrainian presidents. The announcement was preceded by a formal whistleblower complaint lodged by an unnamed intelligence community inspector on 12 August, who was "deeply troubled" by the conversation of two presidents.
On the next day, the White House eventually released a declassified reconstructed transcript of the 25 July conversation of the American and Ukrainian leaders.
Trump's first request was pretty vague,
"I would like you to do us a favor though… I would like you to find out what happened with this whole situation with Ukraine, they say Crowdstrike … I guess you have one of your wealthy people… The server, they say Ukraine has it… I would like to have the Attorney General call you or your people and I would like you to ·get to the bottom of it," the transcript reads.
Zelenskyy seems to have missed the point and replies in platitudes, adding that one of his assistants had recently talked to Trump's lawyer Rudolph Guiliani and he hopes to meet with Mr. Guiliani when he arrives in Kyiv once again.
New York Times suggests that in this passage Trump actually said that US Attorney General William Barr would call Zelenskyy about the investigation into a conspiracy pushed by Giuliani that Ukraine was somehow involved in hacking the mail server of Democratic National Committee.
The Ukrainian president ended up his tirade with the words:
"I also plan to surround myself with great people and, in addition to that investigation, I guarantee as the President of Ukraine that all the investigations will be done openly and candidly… That I can assure you," says Zelenskyy.
And in his reply, Mr. Trump mentions a Ukrainian prosecutor,
"Good because I heard you had a prosecutor who was very good and he was shut down and that's really unfair. A lot of people are talking about that, the way they shut your very good prosecutor down and you had some very bad people involved."
The "prosecutor" is allegedly Viktor Shokin since he was previously "shut down" while his successor Yuriy Lutsenko was in office by that time. Though RFE/RL says that according to a complaint filed by a whistle-blower, the prosecutor in question was Yuriy Lutsenko, and interprets it as Trump's request to Zelenskyy to consider keeping Lutsenko. Zelenskyy considered dismissing Lutsenko since he became a president. However, the Verkhovna Rada dismissed Lutsenko only a month later, on 29 August. Thus, the phrase is probably referring to Shokin, therefore "some bad people" involved in his dismissal are implied to include Joseph Biden.
Trump supports Zelenskyy's idea to talk to Giuliani, which emerged due to the misunderstanding of the Ukrainian president and says: "I will ask him to call you along with the Attorney General."
Later in his reply, Trump returns to the topic of prosecution, this time making a mention of Biden, which may show that he did mean Shokin earlier:
"The other thing, there's a lot of talk about Biden's son [Hunter Biden]. that Biden stopped the prosecution and a lot of people want to find out about that so whatever you can do with the Attorney General would be great. Biden went around bragging that he stopped the prosecution so if you can look into it…" says Trump.
However, Zelenskyy once again seemingly misinterprets the entire passage and believes that Trump actually wants him not to dismiss Lutsenko. Though, he promises Trump to greenlight the probe into Burisma,
"I wanted to tell you about the prosecutor. First of all, I understand and I'm knowledgeable about the situation. Since we have won the absolute majority in our Parliament the next prosecutor general will be 100% my person, my candidate, who will be approved by the parliament and will start as a new prosecutor in September. He or she will look into the situation, specifically to the company that you mentioned in this issue," Zelenskyy assures.
Zelenskyy asks for more details on the case and Trump says that Giuliani and Barr would call and "we will get to the bottom of it."
The main issue for Ukraine is this case is that both previous and current US administrations used the withholding aid for Ukraine as a tool of pressing on the Ukrainian authorities.
No matter how much Zelenskyy admires Trump, at the moment of their conversation he knew that the US was going to withhold aid and, of course, he could hardly oppose any requests the US president was going to make.
The declassified conversation also showed that Trump and Zelenskyy agreed that the US spends more effort and time helping Ukraine than the EU countries. Trump criticized German Chancellor Angela Merkel that she doesn't do anything for Ukraine and Zelenskyy criticized both Merkel and French President Emmanuel Macron, saying that "They are not enforcing the sanctions [against Russia]."
As well, both Trump and Zelenskyy made uncomplimentary remarks on the US Ambassador to Ukraine Marie Yovanovitch, appointed earlier by Obama Administration.
Although official Berlin did comment that Germany's attude to Ukraine will not change as a result of the call, it is yet to be seen how Ukraine's relationship with Germany, France, and the EU in general will develop after Zelenskyy's unsavory remarks.
---
Read also:
Tags: Burisma Holdings, Donald Trump, Joseph Biden, Viktor Shokin, Volodymyr Zelenskyy (Zelenskyi / Zelensky / Zelenskiy)