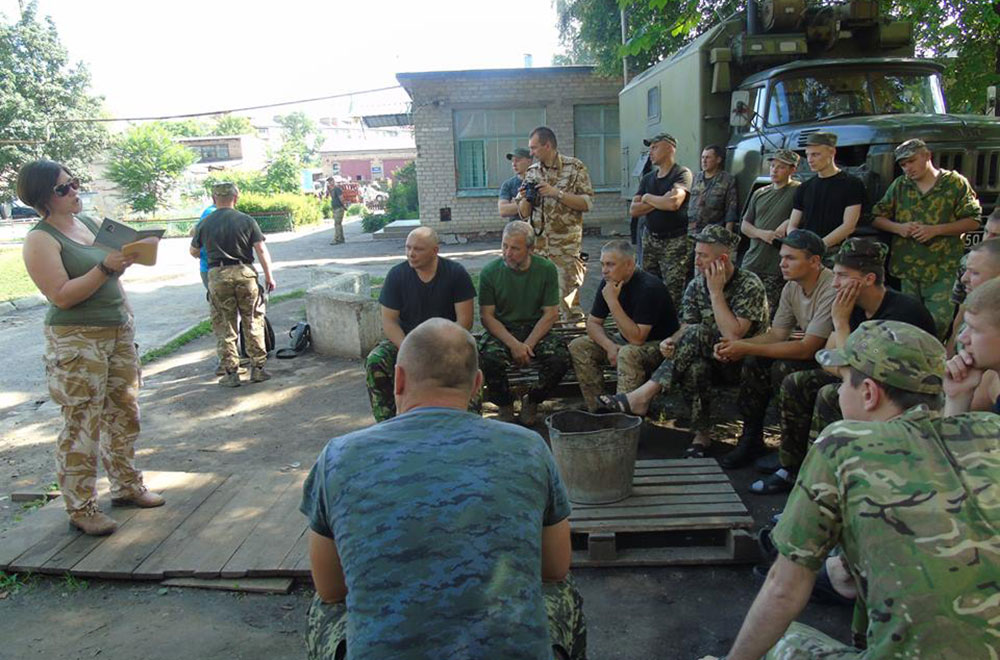 The rehabilitation of soldiers and their return to civilian life from active duty is a topic that is both current and sensitive for Ukrainian society. The charitable-artistic project, "Where Home Is", fosters the expression of one's own creative spirit as a means for healing and rehabilitation. A collection of poetry by the same name was published earlier in the summer of 2019 by the ACSA publishing house (Agency of Contemporary Specialists & Authors), with the support of the Ukrainian Cultural Fund. It is a book of 112 poems about love and war written by combat veterans and civilian volunteers, a tribute to writing as a refuge for the four fighters whose poetry has been included in this work.
"Zmiy"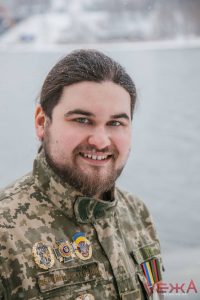 Vlad Sord is a poet and veteran with the nom de guerre "Zmiy". He is from Rudnytsia, Vinnytsia Oblast. At the age of 16, he ran away from home to Crimea and enrolled in the Yaroslav Mudry National Law University of Crimea. To support himself, he worked at several jobs, and received parliamentary and presidential stipends. He did his articling at the Crimean Verkhovna Rada. His hobbies include historical re-enactment and aikido. He established a fight club, inspired by the movie of the same name. His future was planned in a very detailed manner. Then came the revolution (Revolution of Dignity 2013-2014-Ed)… and the war.
"For many years I had a feeling that there would be a war. As a boy, I was even plagued by thoughts about how I could avoid it or hide from it. When the events on the Maidan were reaching a climax, I left for my home in Simferopol, traveling with a friend who was very sick at that time. It was there that I first saw the local "Crimean combatants" at the train station. The statue of Lady Justice at my law school had already been destroyed. When I reached my apartment there were already newcomers from Saratov, Russia waiting to move in, complete with Russian documentation that the place was officially theirs. My hopes and dreams for the future were completely ruined."
From the very beginning of the war and ever since, Vlad Sord has been a defending Ukraine on its eastern frontier. He has served with Pravy Sektor, Azov, OUN and Kholodny Yar 93rd Brigade of the Armed Forces of Ukraine. He says that his brothers-in-arms found it really annoying whenever he would start writing poetry anywhere and everywhere, on guard duty and even during battle!
"I've been writing ever since I was 11 years old, or more precisely, I want to record my dreams. As I like to say, our reality influences what and how we dream. I don't consider myself the usual kind of writer, who writes from inspiration, right? I'm more like a printer, a unique re-transmitter. I wrote during the revolution, and I even have a poem from the 18th (February 18, 2014, the bloodiest day of the Maidan protests-Ed), and on the road to Crimea, at Desna, Ilovaisk, Pisky, Butivtsia, the training base of the 93rd Separate Mechanized Brigade at Cherkaske, and at Shyrokyi Lan base, while at the 29th Checkpoint, near Krymske, and in general throughout all of Luhansk Oblast." recalls the veteran.
During active service and combat, he was certain that PTSD (post-traumatic stress disorder-Ed) was an idea fabricated by people who wanted to draw attention to themselves. That assessment was fundamentally questioned only after he was discharged from the military and returned to a civilian environment. Vlad explains that he could not bring himself to speak with anyone, even on the telephone; he avoided crowds as much as possible, even staying off the streets and away from public areas.
"There was one incident in a supermarket, on a day when there was a large crowd because of a sale. I had a panic attack. I could barely keep myself under control, maneuvering through the throng of shoppers. I ran home, placed myself in what I considered a safe space, propped myself up against a wall, and sat there reading a book."
His wife, Viktoria Hranetska, is a writer. She has been a great help to Vlad in his efforts to adapt to civilian life. He is convinced that she has saved him from the life of a town drunk, which is the unfortunate fate of hundreds of combat veterans. He speaks of her concern, support and understanding. "Zmiy" had the opportunity to attend a lecture by Frank Pucelik, a Vietnam veteran and psychologist, one of the developers of a rehabilitation system for American veterans.
Vlad Sord explains that his artistic expression is aimed at presenting authentic emotions of battle to those who are fundamentally far removed from the experience.
"The majority of people in our country ridicule the fact that we are at war, so if we can get them to examine their preconceptions, they would easily become sympathetic to combat veterans suffering from PTSD. What's the use of healing me as an individual without raising the awareness of the general population? It's more important for them to know, without exaggeration, what we are really experiencing under the surface."
"Dali"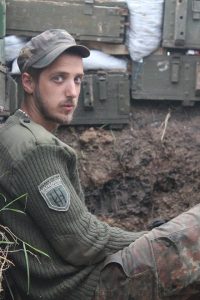 Maksym Kryvtsov is the man behind the nom de guerre "Dali". By profession, he is a designer-craftsman in the clothing industry, specializing in footwear. As a student, he worked as a waiter, in retail and as an employee of a cleaning company. The beginning of the war coincided with the beginning of his employment for which he was trained, at that time working with leather. In the fall of 2014, he joined the ranks of the Ukrainian Volunteer Corps. He took with him a small kit containing a tube of gel for his mustache, and that is where his name – "Dali" – came from.
"Dali" has a straight-forward explanation for why he went to war:
"I went, and my conscience stopped bothering me. At least temporarily. My friend enlisted earlier, and what about me? Was I a coward?"
Maksym has been writing poetry for the past five years. He has poems that were written on the cusp of battle, during active duty, or in the bunkers. However, most of his work about life at war has been produced in an urban environment.
"We would be deployed at our positions for a day, and the next day… we would rest in Avdiivka, where we needed to guard our belongings and some buildings."

I remember a unique summer day when the heat thickened the air and made it hard to breathe. We saw a woman dressed in a long jumper dress and carrying something in her hand walking an old German shepherd. We were commenting on how we had come to love the Donbas, this whole area, the mist, the winter, the sunflowers, how we ended up here on account of the war and why we were fighting. She heard our conversation, approached us, and said that if it weren't for the war, she wouldn't know what it meant to love Ukraine," recalls "Dali".
He admits that upon his return to civilian life, it was difficult for him to find meaning in something worthwhile, or even the motivation to continue on.
"The motivation is there, but it's muffled, like the feeling of a distant noise after a close explosion. For a while, I would make careful details and take pictures of everything. Now, I have enough work to keep me busy for a month, and my brain needs to rest. A break in the mountains would be good. Or a long bath," explains the fighter.
Posed the question: "What do you intend to do in the future?" he answers simply" "Live!" He might also have added: "And write poetry."
"Creativity enables speech. War is pungent with words, but for as long as they remain deep inside, it will be that much harder to open up, even if it's only to yourself."
"Fincher"
Valeriy Puzik, nom de guerre "Fincher", currently lives in Odesa. He is from Khmelnytsky Oblast. Before the war, he trained as a documentary filmmaker. He also wrote short stories, and worked as an artist. He has a varied work history: baker in a bread factory, content manager for a media outlet, designer for an advertising agency. The broad plan for his life's work has not changed over the past decade: film, literature and art. In January 2015, he arrived at the front as a volunteer fighter. He saw combat with the Ukrainian Volunteer Corps, especially at Opytne and Avdiivka. "Fincher" says that it was fear that motivated him to become an active-duty soldier:
"It was the fear that one day my children would ask me: Daddy, what did you do during the war?" and I would need to give them an answer. That was in 2014-2015. Everything has changed since then. Today, if you mention that you went as a volunteer to the front, you can lose your job. That happened to me in Odesa."
A significant number of Valeriy's poems date from 2015, when he served in the ranks of the Volunteer Ukrainian Corps Pravy Sektor.
"I was writing a lot of poems at that time, more than now; it was all war poetry. I constantly had a notebook with me, and a pen or pencil, and virtually every day I would jot something down. Today, I write more short stories."
He confesses that the experience of war helped him purge his life of everything superfluous, and taught him not to put off until tomorrow what he could accomplish today. Tomorrow might never come. And the fact remains that you must do whatever you can now, especially what is most important to you at this precise moment. Valeriy talks openly about his clash with PTSD following his return to civilian life.
"I often return to a phrase that I read at the Maidan, when in January 2015 we were new volunteer recruits who had just started our basic training. It goes like this: "Peace is war in your consciousness", meaning that ever since I was demobilized, this war has continued to create something chimeric in my consciousness, an abstraction I'm deeply afraid of, and something that, unfortunately, I'm unable to share with anyone who was never there. The exception is when I sit and have a drink with my brothers-in-arms… on the rare occasions when we get together. It's possible that all these shadows would eat me alive if not for the writing."
"Fincher" admits that writing helps him regain control. He is convinced that through a text a person can learn to ask the right questions and receive the right answers. It is a manner in which to ascertain one's experience, one's psychological state, and also to document events concisely and clearly. Most often it is this documentation that reveals the necessary answers.
"With each newly written word, I feel a cleansing, and if a text makes me feel uneasy, I know I was completely honest expressing those thoughts both on paper and with myself. When I returned from the front, it took a long time to process all the information I'd experienced there. I avoided people, and squelched any desire to interact with them. I had my text, and I would sit and write for six hours or more nonstop."
Valeriy Puzik does not intend to stop writing. In fact, his plans for the next two years include two novels and plays about ATO (Anti-Terrorist Operation-Ed).
"Shevron"
Oleksandr Lysak, nom de guerre "Shevron", has been writing poetry since his school days. He is the author of three collections of poetry, in addition to being an officer with the National Guard of Ukraine.
"Imagine a young man from a small provincial town in Kharkiv Oblast, who has just experienced a very stressful time in his life (divorce, depression, monastic life, etc.), and then travels to Donetsk. I worked there before the war for a professional cleaning company that had a contract with Donbas Arena. We prepared the stadium for special events. I was your typical workaholic, a senior specialist in a company serving its clients, and a store manager for a franchise… I lived my life, did my writing, immersed myself in family life, renovated my home, and prepared my humble dwelling for a family," he recalls about his past.
He wrote poetry whenever time would allow, when training, and when on duty at checkpoints. "Shevron" says that the best words, ideas and images are inspired by road trips, or when dressed in full uniform, "at places like Novoaidar, Shchastia, Karlivka, Sloviansk, numerous small villages with names few people are interested in – but those become the very places that embroider my poems."
Oleksandr acknowledges that his nervous system is not as strong as it once was. What's more, he feels that his PTSD is only now starting to incubate.
"I've spent a lot of time on the front lines, but I haven't yet been overcome by the unpleasantries of war, so it would be a sin to start complaining now. Any sense of civilian fatigue evaporates the moment you pass a checkpoint and see where the war zone begins, the territory for which we are responsible, the zone of our mistakes and our pain. That was the choice I made."
Poetry is like a medicine against war. He says that nothing is better to refresh the soul and mind than creativity.
"It focuses on our reflections, senses and actions, and by embodying them in words, I undergo a real sports work-out and catharsis, and it becomes a necessity. My intention is to keep writing poetry. And I also plan to live, achieve victories, become a father. We'll see, because as the saying goes, a warrior isn't without good fortune."
ABOVE ALL 
by Valeriy Puzik
She looked for him after his death,
Collected fragments from videos and photographs.
She waited for him even after he died
And honestly believed she would see him today
If only fleetingly, and in her dreams.
She knows his grave is cold at dawn
From the nights that she's fallen asleep on it.
Here, in this cemetery
Dressed in black
She'd kiss the ground and ask him:
How is it for you there, my dear boy?
Of course she knew that where he is
"There"
All are silent
Never again will she hear his voice say
"MAMA!"
He won't come back
He won't return
And the screen on her phone
Will not light up again
With his number, calling her…
What remains
Is this piece of earth
And his portrait,
A black ribbon in the corner.
Three medals in a dresser,
A flag
With his signature, a reminder
Of his days in school.
He aspired to become an architect
He dreamed of changing the country
And visiting Barcelona.
Mom, everything will be all right, he'd say
And wrote on the blue and yellow
In permanent marker:
"Ukraine above all!"
ABOVE
ALL, she'd whisper.
ABOVE
ALL,
And in her mind's eye
She'd see him smile at her.
Tags: poetry, PTSD, rehabilitation