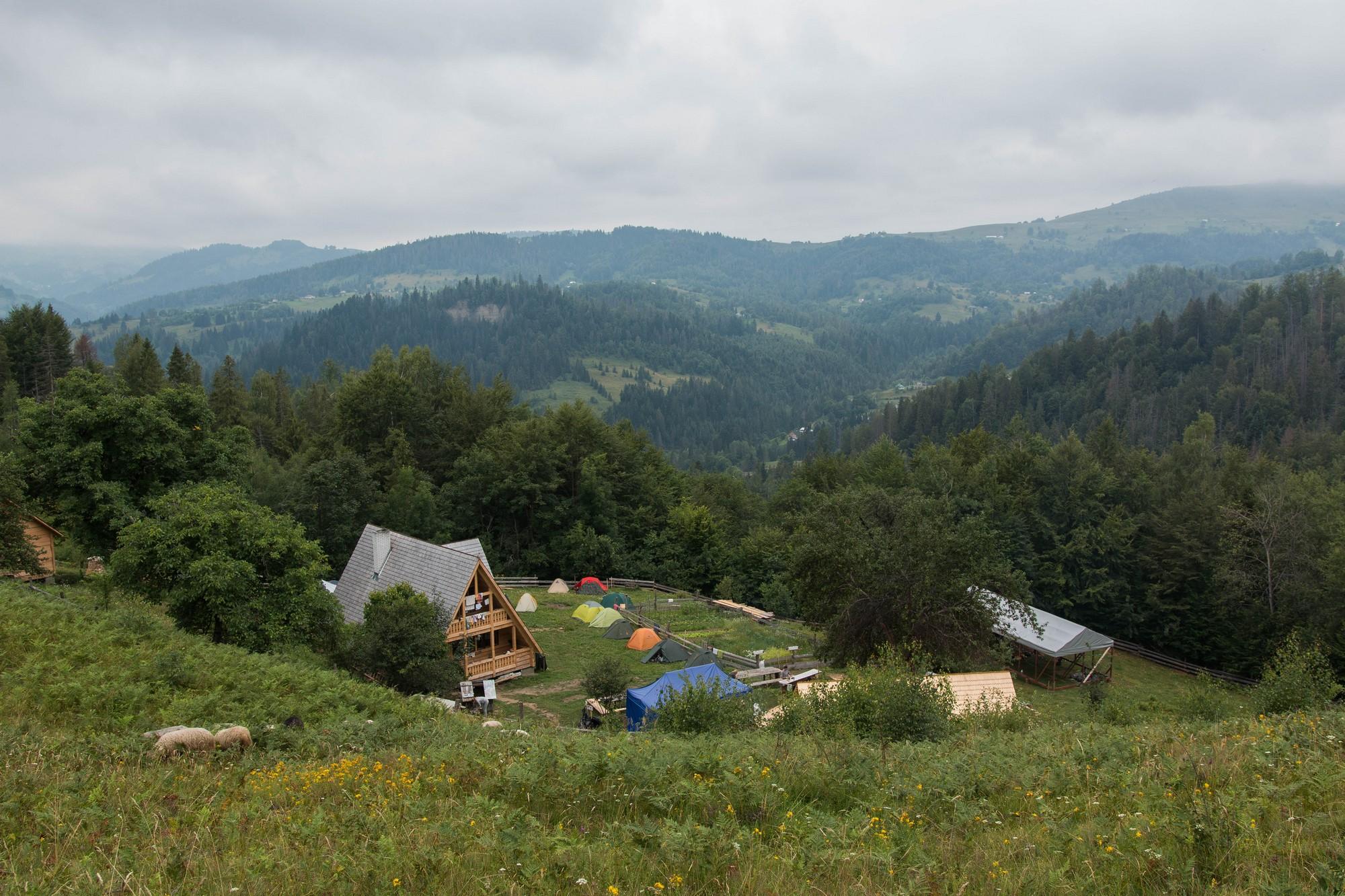 Didova Khatchyna. Source: theukrainians.org 
Shrouded in mystery, the Ukrainian Carpathians have always been a place where legends were born. One such legend appeared here in the west of Ukraine a few years ago: a unique place in the middle of nowhere far away from urban civilization. Here, there is an art residence called
Didova Khatchyna
(Grandfather's hut) where one can feel the life of Hutsuls (an ethnic group in western Ukraine and Romania) and master their local crafts, plunging into authentic Hutsul culture.
Read also: Ukrainian mosaic: five unique ethnic groups
Situated in the village of Yavoriv, Ivano-Frankivsk Oblast, the location has been turned into a place of pilgrimage for hundreds of tourists. It can be incredibly eclectic with people taking selfies with sheep, cutting wood, weaving blankets or just idling as detached onlookers.
[slb_exclude]
[/slb_exclude]
Oleh Lukaniuk, the founder of Khatchyna, inherited the plot of land from his grandfather, which explains the origin of the art residence's name. Together with his friends, he decided to start the inspiring social project.
Ukrainer's short presentation of the Ukrainian Carpathians (with English subtitles).
"We wanted to create a space where everyone could live, work and create for some time," says Daryna Furmanyuk, one of the co-founders of Didova Khatchyna.
Ukrainian traveler Alina Tupaylo, who was the resident of Didova Khatchyna, talked about her experience in Didova Khatchyna to Euromaidan Press,
"Once I was driving through Yavoriv and I saw some lizhnyks [traditional Hutsul hand-made blankets] that were peacefully hanging on the fences. I knew that Yavoriv was the capital of lizhnyk-making and carving so I thought it would be fantastic to stay here for a while. Unexpectedly, my dream turned real when I heard about Didova Khatchyna, called the owners and asked whether they receive tourists. The answer was: "We don't have tourists here, we have guests."
Ukrainer's video about Hutsul's lizhnyks (with English subtitles).
The key idea of this place is a deep feeling of unity with nature and people. There are no neighbors nearby as Khatchyna is located on a mountain top. It is a real utopia for people who create something: draw, carve or create hand-made objects. This is a place of power, mesmerizing and filled with the immaculate beauty of the mountains. They have sheep and pigs.
The founders made the location a place where people live together, so they overreact when they hear about tourism. Some people want service and comfort but this house is not a hotel, explains Alina Tupaylo.
[slb_exclude]