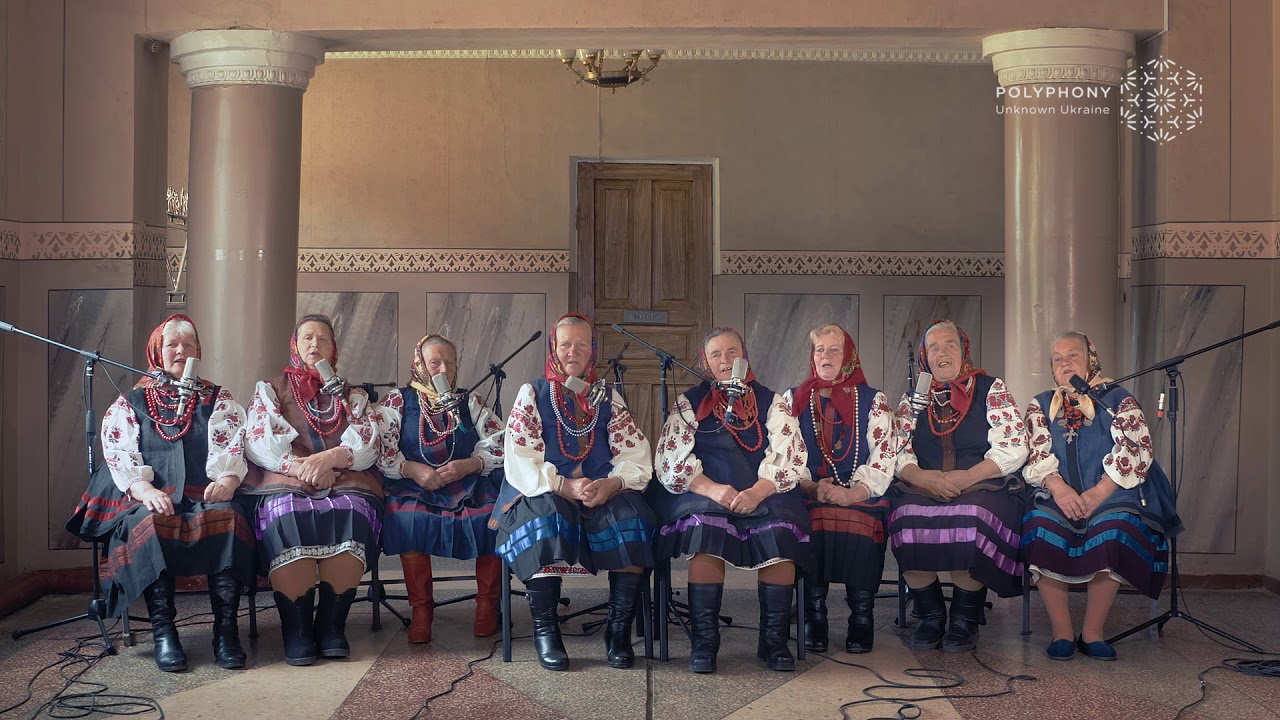 Five years of cross-country travels, 2000 unique Ukrainian songs, dozens of sold-out concerts in different European cities.
Journalist Kateryna Bachynska reports on the creation of the largest online archive of traditional Ukrainian songs – Polifoniya (Polyphony):
"This project is not just about singing nice songs or recording folk melodies. It's more about supporting ancient traditions, ideas, and it's about passing them on to future generations. It's about preserving our heritage today… because tomorrow may be too late. Songs and chants live only when they are transmitted by living voices, persons that know them and pass them on. We are not eternal. Therefore, we must act now, record as many songs as possible and pass them on to our kids."
We meet with Deputy Director of Ivan Honchar Museum Myroslava Vertiuk in her office.
"We started working on the Polyphony Project in 2014, and nobody thought that we'd achieve such fantastic results. Today, this project is an integral part of the lives of thousands of people.

Ukrainian traditional songs can become Ukraine's brand. First of all, it's high-quality culture and second, it's a unique element of our intangible spiritual and cultural heritage. After we've opened it to ourselves and to the world, we'll be able to produce a unique Ukrainian brand recognized all over the world!"
How a Hungarian musician and the EU revive Ukrainian songs
-Aren't you surprised that a Hungarian researches and preserves our Ukrainian song? And moreover, the project is financed by the EU, and not by Ukraine…? Isn't it strange… foreigners helping us to revive our heritage?
– Actually, I'm not at all surprised. Ukrainian songs are very valuable… both for Europe and the world." answers Myroslava Vertiuk.
Five years ago, Hungarian musician and ethnographer, Miklos Both began exploring Ukrainian folk songs. Subsequently, his passion turned into a concrete idea – ​​collecting ancient Ukrainian songs from all the regions of Ukraine. This was the start of the Polyphony Project. Ukrainian researchers and musicologists joined the project: the National Centre for Folk Culture – Ivan Honchar Museum became an active partner and Myroslava Vertiuk – the coordinator of Polyphony in Ukraine.
Oy zhuravko, zhuravko (Oh, crane, my crane)
Liukhcha, Rivne Oblast
Twice a year, Miklos Both and a team of specialists visit a region in Ukraine – about five weeks of expeditions, and hundreds of audio and video files. To date, Ukrainian experts have created a unique online archive of Ukrainian folk songs, where you can listen to more than 2000 songs from 100 Ukrainian villages.
After the first expeditions and tours abroad organized for the Polyphony "grannies", more and more foreign media began writing and talking about these unique vocal groups from Ukraine. In 2017, the European Union launched a special cultural program – Creative Europe – in collaboration with Ukrainian scholars and researchers. The EU program covers 57% of the project budget, thus providing Ukrainian musicologists with an opportunity to further explore Ukrainian polyphony.
Choho dub zeleny (Why is the oak tree so green)
Lehedzyne, Cherkasy Oblast
An international team of musicians joined the project, presenting the project in Poland, Hungary and France. In order to create the archive, the voice of each performer is recorded separately and then digitalised so that musicologists can listen to each voice separately.
"We set two goals: to collect high-quality recordings of Ukrainian polyphony and promote it all through the world. Then, the project became available to everyone through our online archives. And, there's an English version. We get a lot of letters on the website inviting our "grannies" to different festivals." explains Myroslava Vertiuk.
Promoted by DakhaBrakha
Ukraine's ethno-group DakhaBrakha has toured throughout Europe and North America. The band was widely acclaimed after their live show on BBC in 2015, and in 2017, they composed the soundtrack of the American film Fargo. In 2018, their soundtrack also illustrated a commercial promoting footballer David Beckham's grooming brand – House 99. As soon as they heard about the Polyphony Project, DakhaBrakha immediately agreed to collaborate with the researchers. The musicians show video clips about Polyphony expeditions at their concerts.
DakhaBrakha manager Iryna Horban says that many foreigners are interested in Ukrainian songs and folk music:
"Thanks to such projects, we can promote our music everywhere. After the concert, people come up and ask us about the songs, where they come from, what they mean… Thanks to this material from the Polyphony Project, our fans can get acquainted with the original sources and the project." adds Iryna.
DakhaBrakha plans to add a section dedicated to the Polyphony Project on their website. In addition, they will distribute leaflets and flyers about the project during their world tours.
DakhaBrakha would also like to use materials from the archive to create their own musical compositions:
"We try to revive these songs and promote traditional singing. These songs constitute our national heritage, our memory, and our national characteristic that help us to move forward. Moreover, it seems that more and more people are interested in their roots, so now they can immerse themselves in this huge polyphonic world thanks to this great project and its easy accessibility." concludes Iryna.
Preserving and recording the songs
Myroslava Vertiuk believes that the main problem is the gradual disappearance of these old Ukrainian songs. In most villages, the songs die together with their elderly performers, who do not transmit their knowledge to their children or grandchildren. Moreover, many of these village women have an inferiority complex about their singing. During the project, the "grannies" have often refused to sing as they believe that they will be laughed at:
"What in the world are you asking me to do?! No, I won't sing! What will my children or my neighbours think? They'll say I'm as crazy as a loon! Normal people don't sing like that anymore…"
Ms Verstiuk says that their team was stunned when they heard such replies.
But, such attitudes can be changed, as seen in neighbouring countries, such as Hungary, Georgia, Lithuania and Poland, where public organizations have managed to preserve, even revive and develop traditional folk songs and dances.
"Almost all Hungarian and Lithuanian schools offer courses in traditional dances, songs and instrumental music. There are many festivals and master classes in Hungary where visitors can learn to sing and dance. Popular cafes and restaurants play traditional music from different regions. It's the opposite here in Ukraine… we're so ashamed of our musical heritage. Instead of creating our own brand of cultural heritage, we prefer to close music departments at schools and universities."
Sold-out concerts all across Europe
Oy yikhav ya, yikhav teiu vulytseiu (Oh, as I rode and rode along that street)
Kosenivka, Cherkasy Oblast 
Strangely enough, Ukrainian polyphony has become very popular in Europe, as evidenced by the sold-out Polyphony Project concerts in major European cities and a growing interest expressed by different foreign cultural programs.
Several concerts have been scheduled in the summer of 2019.
"The concert halls are always filled with young people, who are really interested in this music. Moreover, it's the first time abroad for most of our "grannies". They break into tears when they see and hear how much their music and traditions are appreciated. They realize that our traditions may interest other people. People actually like listening to their songs, not only in Ukraine, but also abroad.

Unfortunately, a few of our "grannies" have passed away in these past five years, so we know that our time is very limited. Therefore, the most important thing for us now is to move forward quickly, and look for other opportunities to continue the project."
To ne lastovka v sadu shchebetala (It was not a swallow chirping in the garden)
Karylske, Chernihiv Oblast 
Photos: FB Ivan Honchar Museum, FB Dakhabrakha, FB Polyphony Project
Videos: Polyphony Project
Tags: Polyphony Project, songs, Ukrainian traditions, villages