On June 12, the court in Pavia, Italy sentenced
National Guard Vitaliy Markiv
to 24 years for  alleged complicity in the murder of Italian journalist Andrea Rocchelli near occupied Sloviansk in May 2014. For the first time ever, a Ukrainian soldier, who was just doing his duty defending Ukraine from the Russian aggressor and its minions, was sentenced in a foreign country.
The jury announced the verdict after deliberating for an hour and a half.
During the hearing, the judge gave defendant Vitaliy Markiv the opportunity to make a final statement. The soldier said that he would not go into more detail because his lawyers had explained everything in previous court hearings.
"I am an ordinary soldier and a patriot of my country. I put my trust in the Italian judicial system and await your decision."
The trial came to an end on July 5 when defense lawyers gave their closing arguments. Vitaliy Markiv was accused of complicity in the death of an Italian journalist, Andrea Rochelli and his Russian interpreter Andrei Mironov in occupied Sloviansk in May 2014.
Markiv's lawyer Donatella Rapetti asked the court to pronounce a "not guilty" verdict. According to the defense, there is absolutely no concrete evidence that Andrea Rocchelli and his Russian translator Andrei Mironov had been killed by mortars or gunfire fired from the Ukrainian side.
According to the Italian Penal Code, Vitaliy Markov could expect a sentence of up to 24 years. However, given mitigating circumstances – Markiv does not have a criminal record, and behaved well during the trial, the prosecutor asked the court to reduce the sentence to 16 years, but added another year for an alleged assassination attempt on French photographer William Roguelon, who was wounded in the crossfire on May 24, 2014, when Andrea Rocchelli and his Russian interpreter Andrei Mironov were killed.
The court also decided to file criminal proceedings against Ukrainian MP Bohdan Matkivsky, former commander of Markiv's National Guard battalion, for complicity in the death of the Italian photographer.
In order to show their ongoing support for Markiv, many members of the Ukrainian diaspora in Italy attended the final court hearings. However, part of the Ukrainian delegation was not allowed into the hall due to lack of space.
Leaving the courtroom, Vitaliy Markiv turned and shouted loudly: "Slava Ukrayini!" (Glory to Ukraine!). The hundred or so Ukrainians in the room replied in unison: "Heroyam Slava! (Glory to the Heroes!)
It is reported that, when the verdict was announced, chief defense lawyer Raffaelle Della Valle felt faint and an emergency medical team was immediately called out.
Della Valle underlined that that he did not agree with the decision, called it totally illogical and added that the defense team would file an appeal with the court of appeals. He hoped that the judge appointed to the case in the court of appeals would be "more competent".
"The verdict is politically motivated and a stain on the Italian judicial system. But, we will continue… and prepare an appeal. If an American or Russian soldier had been in Vitaliy's place, he would never have been sentenced. He would've been released. This is the first time that a foreign soldier who fought abroad has been sentenced in Italy."
The final court session was covered by all the major television channels in Italy and many Italian journalists.
The sentence sparked outrage in Ukraine, where Markiv is perceived as a hero and a victim of persecution by the Italian authorities. Activists held a spontaneous rally outside the Italian Embassy in Kyiv, stacking hundreds of empty Veterano pizza boxes at the entrance and chanting: "What is the cost of justice?" members of the General Kulchytsky Battalion joined in the protest, releasing a video entitled "I am Markiv!"
Ukraine's Minister of Internal Affairs Arsen Avakov announced that the court decision will be appealed:
"A 24-year sentence – this is indeed an unfair and shameful decision issued by an Italian court. It will be challenged. Neither our Guardsman, Vitaliy Markiv, nor Ukraine are to blame for Rocchelli's death. He was the victim of aggressive Russia, a country which was stoking the fire in Sloviansk. We are not giving up; we will continue our fight for justice!"
Who is Vitaliy Markiv?
Vitaliy Markiv was born on August 16, 1989 in Khorostkiv, Ternopil Oblast. He moved to Italy with his sister and mother in his early teens, learned the language, attended school, and got Italian citizenship. When the Maidan protests started in Kyiv at the end of 2013, Markiv returned to Ukraine to take part in the rallies and demonstrations.
In 2014, Markiv joined the National Guard of Ukraine and participated in the Battles for Sloviansk. He is a deputy platoon commander in the General Serhiy Kulchytsky Battalion of the National Guard of Ukraine.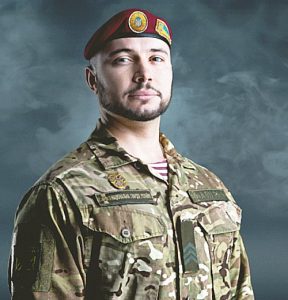 It is alleged that, stationed on Mount Karachun near Sloviansk, Markiv and other soldiers knowingly killed and wounded several reporters, using a mortar weapon.
Ukrainian servicemen, volunteers and war correspondents have stated that there were no mortars in service with the General Kulchytsky Battalion in 2014. The heaviest weapons used by the Ukrainian army at that time were anti-tank grenade launchers, which could fire no more than 600m. According to Myroslav Hai, army veteran and Markiv's brother-in-arms, there was a minimal number of Ukrainian servicemen deployed on Mount Karachun on May 24, 2014… and the National Guard of Ukraine had no mortars in 2014: they were supplied in 2016.
Vitaliy Markiv was arrested at Bologna Airport immediately after his arrival on June 30, 2017. He had come to visit his mother, Oksana Maksymchuk, who has been living and working in Italy for many years. The trial started in Pavia, Italy on July 6, 2018; the sentence – 24 years – was announced on July 12, 2019.
Italian politician involved
Italian politician Maurizio Marrone, who works closely with the "DNR" and "LNR" terrorists, was involved in Vitaliy Markiv's arrest. In fact, he is said to have written the report on Markiv's alleged "complicity" in Rocchelli's death and submitted it to the Italian police.
Maurizio Marrone is a municipal deputy in Piedmont, member of the regional parliament representing the Fratelli d'Italia political party (conservative nationalists), and coordinator of the so-called "Donetsk People's Republic" office in Turin.
Marrone visited the occupied "DNR" and "LNR" territories twice in 2016.
Sloviansk in 2014
On April 12, 2014, masked men in army fatigues and bulletproof vests armed with Kalashnikov assault rifles seized the executive committee building, the police department, and SBU office in Sloviansk.
On April 13, 2014, there were reports of fighting between unidentified masked gunmen and Ukrainian troops, with casualties on both sides. BBC's David Stern reported that the pro-Russian forces were carrying Russian weapons and resembled soldiers that took over Crimea in February-March 2014.
On May 29, 2014, a helicopter carrying fourteen soldiers, including General Serhiy Kulchytsky, head of combat and special training of the National Guard of Ukraine, crashed after being shot down by Russian-led militants near Sloviansk.
Sloviansk was held by Russia-backed militants until July 5, 2014, when the Ukrainian army launched a strong offensive and pushed them back to Donetsk city. The city and region are under the control of the Ukrainian army since July, 2014.
According to many foreign journalists, Sloviansk was a deadly war zone in 2014, so reporters or photographers venturing into the area should have been aware of the extreme danger. Moreover, they should also have realized that they could be shot and killed at any moment.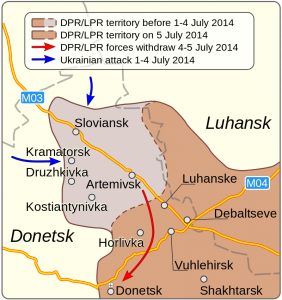 Facts and Questions
Why have the Italians systematically ignored all of Ukraine's proposals, namely:
– to establish a joint investigation team in order to investigate the circumstances of Rocchelli's death;
– to organize the arrival and expedition of Italian law enforcement officers at the place of death in Ukraine in order to conducting onsite investigations, etc. Sloviansk has been under the control of the Ukrainian Army since July 2014, so investigations could be conducted safely under close police escort;
– in the past three years, Ukraine has received no requests for legal assistance in the Rocchelli case.
Some burning questions to consider:
– The journalists and their taxi were positioned 1.5km from Mount Karachun, place of Markiv's deployment. How could Markiv, armed with a AK-74 Kalashnikov with a maximum firing range of 600m, be involved in Rochelli's death?
– How could Markiv shoot and kill Rochelli if he could not even see the journalist's exact position from his place of deployment?
– The evidence about mortars being fired from the positions deployed by Russian-backed terrorists disappeared from the criminal proceedings. Where did it go?
– One of the defense witnesses, former Ambassador of Italy to Ukraine Fabrízio Romano, outlined the geopolitical situation in Ukraine in the spring of 2014, confirmed that the war was ongoing, and that Italian citizens had been duly warned not to venture into the war zone. Why did Andrea Rocchelli ignore these warnings?
– Defense lawyer Niccolo Bertolini Clerici underlined the fact that Markiv, who spoke fluent Italian, had warned Italian reporters several times of ongoing danger in the zone, and was constantly in touch with them during the shelling. Again, why were these warnings ignored?
– The defense points to the fact that the foreign journalists were moving around in the war zone without distinctive gear and became victims of a crossfire. None of the reporters were wearing bulletproof vests or "Press" signs, and no one had accreditation from the Ukrainian authorities to circulate in the war zone (ATO zone). Were they knowingly tempting fate?
– The testimonies of journalist Ilaria Morani, who wrote a confused article about the incident in Corriere della Sera, and her colleague photographer Marcello Fauci, are full of discrepancies and contradictions. Why did the jury not take this into account?
– The testimony of French photographer William Roguelon, the only eyewitness and survivor of the incident, is highly questionable. His colleagues, French photographer Paul Gogo and Belarusian journalist Dmitry Galka, stated that Roguelon knew nothing about the situation in Ukraine, spoke no Ukrainian, Russian or English, and arrogantly insisted on going to Sloviansk despite the danger. Were the doubts expressed by these witnesses ever considered by the Pavia judge and jury?
In conclusion, perhaps the judge and jury should have kept in mind defense lawyer Rapetti's words underlining the absurdity of the charges, adding that it was impossible to confirm exactly who had fired and from where the shots had actually been fired; therefore there is no concrete evidence of Markiv's guilt:
"Nobody wanted to kill these journalists deliberately. They were victims of war, and in a war, people shoot at each other…"