Volodymyr Zelenskyy delivering his video message on July 11. Photo: screenshot from the video 
President Zelenskyy's proposal on strengthening lustration provoked mixed reactions both in Ukraine, where it was criticized by party leaders and Foreign Affairs Minister Pavlo Klimkin, and in the West. According to a draft law he submitted to parliament, the Lustration Law Act should be extended to include all high-ranking officials who held positions since 23 February 2014 through 19 May 2019. This includes former President Petro Poroshenko, Prime Minister Volodymyr Groysman, parliament speaker Andriy Parubiy, Head of the Presidential Administration Ihor Rainin, heads of the Anti-monopoly Committee and State Property Fund, heads of the State Fiscal Service and Customs Service, National Security and Defense Council Secretary, prosecutor general, SBU State Security Service chief, and all the deputies. In other words, Zelenskyy proposes practically all politicians active in 2014-2019 to be banned from state positions.
"I can't stand them anymore"
"Every day I worry about what to do with them [the officials]. Maybe I should exchange them for all our prisoners of war or make them wear the defective armor they purchased and dispatch them to the front lines? I think the least I can do is to make it impossible for them to participate in the administration of the State. Forever," Zelenskyy said in his video message, continuing the election strategy that brought him to power: eliciting hatred towards the current authorities.
The President stressed that Ukraine does not need politicians who "tell that Ukrainians eat too much," who "build roads only on Facebook and give birth to children in America," who "call citizens 'bastards,' snatch phones from their hands and promise to 'punch them all in the face.'"
"I have run out of decent words. Every day I communicate with civil servants of different grades and I understand: the ailment is hopeless. White-and-blue, red-and-white, orange, burgundy, pink; in fact, they are all of the same suit: they all don't care," added the President.
This move by Zelenskyy comes after he was accused of sabotaging the lustration efforts of Ukraine's post-Euromaidan government. After the Euromaidan Revolution ended with ex-President Viktor Yanukovych fleeing to Russia, the Verkhovna Rada passed the law "On cleansing of authorities." It was aimed to remove all politicians who contributed to Yanukovych's usurpation of power, jeopardized the national security and defense, endangered the territorial integrity of Ukraine, and participated in violating human rights and freedoms. The law also had a decommunization component: all KGB members and former officials of the Communist Party of the USSR were also subject to this law.
After being elected as president, Zelenskyy appointed lawyer Andriy Bohdan, legal advisor and lawyer of oligarch Ihor Kolomoyskyi, as Head of the President's Office. Bohdan is subject to the actual law "On cleansing of authorities." He was lustrated in 2014 for having been a member of the exiled former president Yanukovych's Administration. Paradoxically, he would also be subjected to Zelenskyy's new law, taking into account the statement of Zelenskyy's representative to the Verkhovna Rada Ruslan Stefanchuk that there will be no mercy for members of Zelenskyy's team as well – Bohdan had served as a Deputy Minister of the Cabinet of Ministers till March 2014.
When the question of Bohdan's legitimacy as Head of the President's Office was raised, Ruslan Riaboshapka, Deputy Head of the President's Office (previously termed the Presidential Administration), stated that Administration members are not public servants, therefore, Bohdan is outside the scope of the lustration law. However, the 2014 law clearly mentions that the Head of the Presidential Administration is subject to the procedure.
Therefore, the appointment of Andriy Bohdan appears to not only be contrary to the current lustration law, but to Zelenskyy's new law as well.
Who would be subject to Zelenskyy's lustration
Zelenskyy's law proposes updating the existing lustration law with new positions.
It proposes to lustrate virtually all high-standing state officials who served after the Euromaidan Revolution, including the president, speaker of Parliament and his deputies, Prime Minister and his deputies, ministers and regional administration heads, head of the National Bank and Antimonopoly Committee, head of the State Property Fund, State Broadcasting Fund and their deputies, members of national commissions regulating natural monopolies, state regulation in communication and information and financial services, the Prosecutor General, Head of the Security Service and Head of Foreign Intelligence, Head of the State Guard Department, heads of the tax authorities and their deputies, NSDC Secretary and his deputies, the Presidential Administration Head, members of the High Council of Justice and other legal departments, the Head of the Chief of Staff, as well as managers of departments in all mentioned state institutions, heads of state enterprises, and others.
Apart from state officials, Zelenskyy proposes to lustrate all MPs who held positions between 2014 and 2019. The 2014 lustration law did not apply to MPs.
Also, candidates for deputies running for Parliament and all regional, city, and village councils, presidential candidates, mayors, and village heads will be obliged to provide proof of not being subjected to the law. The law proposes barring lustrated officials from working as lawyers. The initiative will also concern judges who made a decision recognized by the European Court of Human Rights as violating the European Convention of Human Rights.
Differences from the law adopted in 2014 (which had massive drawbacks as well)
Zelenskyy's law will most likely be struck down by the Venice Commission, political scientist Kyrylo Sazonov said. The same Venice Commission had already in December 2014 harshly criticized the standing lustration law as being contrary to European standards and the rule of law due to its automatic nature and application to a too wide range of subjects, as well as violating the principle of personal responsibility. President of the Venice Commission Gianni Buquicchio had in 2016 stated that Ukraine should pause the lustration process and amend the law. However, Ukraine did not submit any amendments to the Commission. The 2014 law is now being reviewed by the Constitutional Court which has all chances to recognize it as unconstitutional.
The 2014 law, as problematic as it is, can be at least understood as being passed at a time of upheaval caused by a threat of authoritarian rule, and,
in the words
of lawyer Andriy Vyhyrynskyi, appeared because of societal demand of the period, despite violating a number of legal standards. One of the reasons for the Euromaidan Revolution was the usurpation of power and resources by Yanukovych's "family," meaning that there was some legitimacy to the claim that high-standing officials of Yanukovych's time had participated in the ex-president's abuse of power. Zelenskyy's proposed amendments to the 2014 lustration law, however, come after the democratic passage of power and appear to serve no other purpose than generating media hype and playing on the general population's vitriolic hatred of the previous administration.
Constitutional law expert Bohdan Bondarenko stressed that lustration is problematic from the legal viewpoint in any case:
"Lustration is not a legal instrument, it has a temporary character. It's an option for times when society doesn't have doubts about the criminal nature of the majority of representatives of the previous regime. Lustration should have been done in 1991 [after the fall of the USSR – Ed.], and even in 2014 it wasn't expedient."
Right now, the societal demand for such radical lustration is much smaller than in 2014, lawyers say.
A strange coincidence with proposal by former head of Yanukovych's Administration
By a strange coincidence, on July 4, Andriy Portnov, the former head of the President Yanukovych's Administration who had until 2015 been under EU sanctions on suspicion of misappropriation of budgetary resources, voiced a similar proposal to lustrate all officials during Poroshenko's presidency. He said he had already drafted a respective law and will submit it to the Parliament of the next convocation, calling it "consistent with the Constitution, European standards and sociological expectations."
Portnov had fled Ukraine following the Euromaidan revolution and returned when Zelenskyy became president. He was nearly appointed to a position of professor at the Kyiv National Taras Shevchenko University but was prevented from holding it after massive student protests.
Portnov also succeeded in having EU sanctions against him lifted. It is now unclear whether Portnov's draft law is merely a coincidence with Zelenskyy's or whether it is one and the same. The latter would mean that Zelenskyy's team cooperates with one of the most notorious actors of Yanukovych's regime.
Zelenskyy's law would affect his own team
Although Zelenskyy had reaped the power of Ukrainians' hatred towards their authorities for his election campaign, in his inauguration speech attempted to smear all officials of the previous government and negate any and all of their achievements, and continues to exploit this strategy, his own team includes officials from Poroshenko's time. The law he proposes would bar them from holding state positions.
For instance, Oleksandr Danyliuk who now serves as NSDC secretary should also be lustrated since he was the Minister of Finance in 2016-2018, as well as former Minister of Economy and Trade Aivaras Abromavičius, who Zelenskyy appointed to serve as a Member of the Supervisory Board at the state defense enterprise Ukroboronprom. Also affected would be Vadym Prystaiko, Deputy Foreign Minister of Ukraine in 2014-2017, who was appointed by President Zelenskyy as Minister of Foreign Affairs, as well as current Deputy Minister of Foreign Affairs Olena Zerkal, who has held this position since 2014.
The G-7 ambassadors have criticized Zelenskyy's move as inappropriate as far as indiscriminate bans on all participants in executive and legislative governance, backsliding on the progress and reforms made by the previous authorities can be hardly described as a democratic solution despite the praiseworthy quest for justice.
G7 Ambassadors' statement pic.twitter.com/QpFISahMOv

— G7AmbReformUA (@G7AmbReformUA) July 12, 2019
And indeed, if carried out, Zelenskyy's proposal would radically shear Ukraine's political field of virtually all experienced professionals who had not only made significant reform achievements but managed to uphold Ukraine's sovereignty amid Russian aggression.
Populist move prior to parliamentary elections
Lawyer Andriy Vyhyrynskyi believes that Zelenskyy's proposal was made to elicit a media frenzy prior to the parliamentary elections which will be held on 21 July. The current convocation of the Parliament has finished its work and the draft laws will most likely need to be resubmitted when the new convocation starts working.
Zelenskyy's party, Servant of the People, currently has the highest ratings and according to latest polls is supported by roughly 45% of decided voters.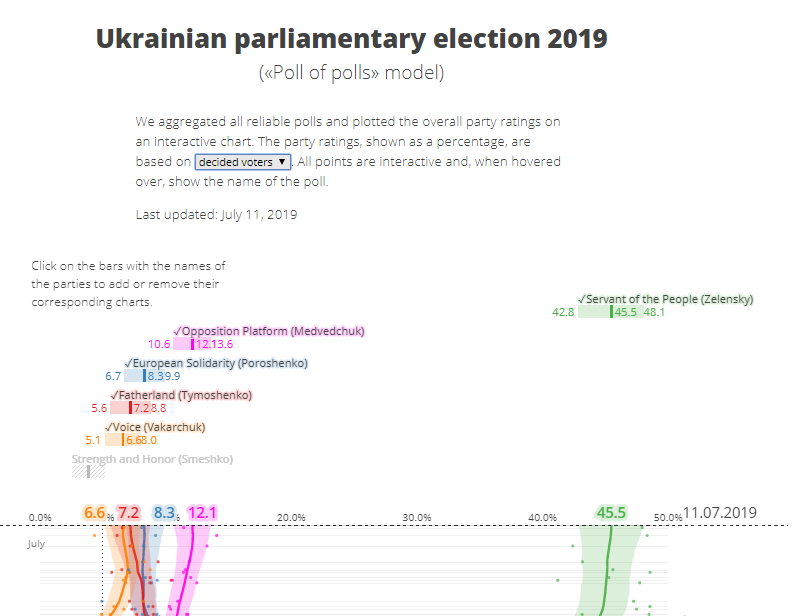 Image: poll of polls by texty.org.ua
The party's strategy continues exploiting the principles of Zelenskyy's winning presidential campaign, which was built on negating the post-Euromaidan government. The rhetoric of Servant of the People is focused not so much on creation but on rejection and hatred to the predecessors, reaching a critical point in the party slogan "Let's do them in together."
So far, it is a winning strategy: former President Poroshenko currently is the least trusted politician in Ukraine, with a poll conducted by Rating on 6-10 July finding that 83% of Ukrainians have high or moderate levels of distrust towards him.
According to Constitutional law expert Bohdan Bondarenko, the lustration topic was brought up now in order to win the favor of the protest anti-elite electorate which had supported Zelenskyy during the spring but for some reasons fell away.
Therefore, the lustration law proposal can be viewed as an attempt to get a pre-election boost for Servant of the People. However, as high as the price of popularity and high ratings may be, the price of losing professionals may turn out to be even higher for Zelenskyy.
Tags: Lustration, Petro Poroshenko, Volodymyr Zelenskyy (Zelenskyi / Zelensky / Zelenskiy)