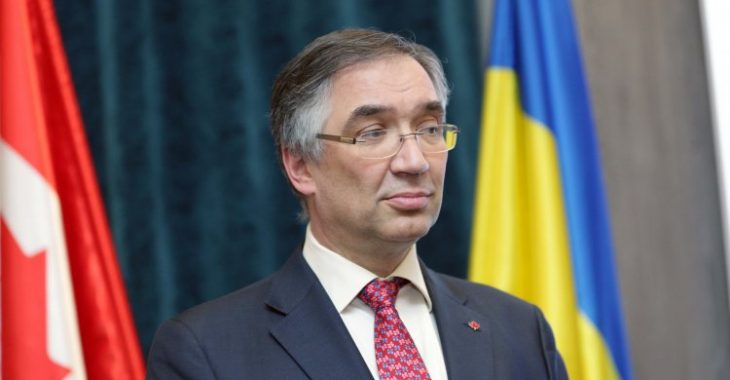 Ambassador Extraordinary and Plenipotentiary of Canada to Ukraine Roman Waschuk. Photo: Open Sources 
An important International
Conference
on Reforms in Ukraine will be held in Toronto, Canada on July 2-4. It will be a platform uniting different organizational efforts to implement democratic reforms in Ukraine. Dynamic changes in the country call for adjusting plans and time frameworks; this will be made possible through agreements between Ukrainian authorities, civil society and international partners.
Ambassador Extraordinary and Plenipotentiary of Canada to Ukraine Roman Waschuk told the Reanimation Package of Reforms how the Conference can influence reforms in Ukraine, become a platform for consensus "on betrayal and victory", as well as a great potential force for Canadian-Ukrainian cooperation.
Mr. Ambassador, in what areas of reform do you think Ukraine has achieved the greatest success over the past 3-5 years?
Let's start with the National Bank of Ukraine. The banking sector, namely liquidated banks and other suspicious financial institutions, have been cleaned up. It was a painful process for depositors, but a very positive step for Ukraine's financial system, which used to be a "big black hole" for money laundering. Working through the International Monetary Fund, Canada was a major source of financial support for this reform.
Second, Ukraine's National Police resumed routine patrols and successful reforms were launched in other police divisions. These are important, but difficult changes, so sometimes we can't help but see some backsliding or regrettable incidents. It's difficult to carry out reforms in a structure that has hundreds of thousands of employees, where the human factor plays an important role. However, we're starting to see some progress in this area.
What regrettable incidents are you talking about?
For example, the police were accused in the murder of a 5-year-old boy in Pereyaslav-Khmelnytsky. It was a terrible tragedy, but we must look beyond what people saw, as public outcry was much too emotional. People said that the entire police reform had failed because such a tragedy occurred. Each government structure has irresponsible people, but the question is how effectively can this structure withstand the consequences of such tragic events.
Let's get back to the achievements. What other key reforms have been implemented?
First and foremost, the creation of the Higher Anticorruption Court and the renewed Supreme Court.
We should also note medical reforms, in particular, the introduction of a state health insurance system using state budget revenues.
Last but not least, the New Ukrainian School is a key reform that deserves a lot of attention.
So, you've named five areas of successful reforms. But, where do changes need to be accelerated?
There have been no real changes in judiciary proceedings of the lower level, or they've been imitated. Another strategy has been chosen – top down reform. But, citizens or legal entities that are in direct contact with courts of first instance don't see any positive changes.
Reforms must be made to elements of the judicial system that citizens face directly with in daily life. This encroaches on hierarchical logic, but it is important for citizens to see effective change. For example, the Armed Forces of Ukraine managed to implement tactical, rather than strategic changes. Several key decisions came to fruition towards the end of Petro Poroshenko's term as President, for example, the separation of functions between the Ministry of Defense and the General Staff.
The International Conference on Reforms in Ukraine will be held on July 2-4 in Toronto, Canada. Civil society actors will present the Toronto Principles and briefs on the future course for key reform areas in Ukraine. The briefs will outline relevant threats for each reform area. In your opinion, what poses a threat to Ukrainian reforms?
[Initiators of the Toronto Principles actively involved in the reforms: public organizations and the Reanimation Package of Reforms Coalition – Ed.].
Leading Ukrainian media and social networks say that no qualitative reforms have been implemented. As Ukraine's partner in several security and development programs, Canada is aware of how much effort has gone into finalizing certain reforms.
If we set the bar for reforms at 100%, but are able to achieve only 80%… well, it's not so tragic. It's actually a success. Unfortunately, a discourse of "treason" prevails in Ukrainian society, and this is definitely a negative environment for implementing change.
The main reason for this attitude is the absence of justice and impunity. The ruling elite have agreed amongst themselves that criminal proceedings can be initiated, but not necessarily completed. In order to dispel this principle of impunity, a few cases should have been completed, and this process must be continued.
Canada recently officially invited the President of Ukraine Volodymyr Zelenskyy to attend the conference in Toronto. Have you heard anything from him or his team?
There have been signs that the President would like to attend this Conference. However, it's difficult to say more, because the political situation in Ukraine is rather complex and dynamic. Therefore, Volodymyr Zelenskyy's participation will depend on many factors, in particular internal ones, as he may be required to remain in Ukraine on the day of the event.
What parts of the Conference should the President pay particular attention to, and why is his presence so important?
Ukraine's international partners, Ukrainian state structures and the public sector will outline the achievements and define further steps to be taken in the area of ​​reforms.
Volodymyr Zelenskyy is in charge of his country's security, so his participation in the Conference will help build public consensus. Consensus is needed to encourage Ukraine to move forward with reforms that were outlined in the EU-Ukraine Association Agreement and in other international obligations.
Can the Toronto Conference be considered a means to facilitate consensus between the Ukrainian government and civil society?
Yes. In addition, it's important for international partners to understand that elections can change the political situation in any country, including Ukraine. The strategy that has been implemented over the past five years must be reviewed and adapted.
I'd like to underline an important point. It's a given fact that Volodymyr Zelenskyy and Ukraine should listen to international partners, but the international community should also take into account Volodymyr Zelenskyy's thoughts. Genuine partnership and cooperation depend on this.
What do you expect from the Conference? How can it affect the implementation of reforms in Ukraine?
For us, it's important to support such platforms, as they remind Ukrainians and international partners that there's a lot of potential for change and success in Ukraine. Therefore, we added a "Ukraine House format" to the official conference days, which will showcase investments, academic, IT and cultural opportunities in Ukraine.
Our goal is to acquaint international partners, journalists and society with Ukraine's achievements.
What are Canada's cooperation priorities with Ukraine over the next five years, given that not only will there be a new President in Ukraine, but also a new Parliament and Government?
First and foremost, the land-sales moratorium should be lifted in Ukraine; it will improve the daily lives of small- and medium-sized farmers and create opportunities for large agricultural holdings. This will help create a middle-class community in Ukrainian villages. During my trips across Ukraine, I saw huge areas of technological agricultural land that were totally neglected. It's not just about the land-sales moratorium, but also about wide-range agrarian reforms, an urgent need for the social inclusion of a good agricultural policy.
Ukraine should continue financial reform, such as strengthening the independence of the NBU, which received the International Central Banking Awards in the Transparency category. This practice needs to be implemented in other branches of financial business in order to increase Ukraine's investment attractiveness.
In addition, healthcare reforms and reforms related to the New Ukrainian School should be completed.
These priorities are important precisely because of their social component. Ukraine should move from macroeconomic stabilization, which has been reached to a greater extent across the country, to microeconomics. Thus, Ukrainian families will learn to trust their government, have faith in their country, and not have to travel abroad to earn their living.
An important strategic vision and care for the lower and middle class of the population… That's why reforms should be a complex phenomenon, not just implemented haphazardly among the different ministries, which are actually concerned about certain changes in areas under their responsibility.
The National Security and Defense Reform paper has started gathering briefs. This is one of the most urgent reforms for Ukraine since the start of Russian aggression in 2014. For several years, Canada has played an important role in providing security assistance to our country. Tell us more about Canada's assistance to Ukraine and further support measures.
Operation UNIFIER – the Canadian Armed Forces mission to support the Security Forces of Ukraine – has been extended to 2022, as has the Canadian police mission. Through military assistance, new training programs have been developed for the sergeant corps of the armed forces, military doctors and military engineers who, with the help of new equipment, are trained to carry out demining operations in areas of Donbas conflict zone. Our military assistance is focused on command operations, since tactical changes have already been introduced.
Command operations must be adapted to NATO standards, as announced by Ukraine. But, as long as Ukraine is not a member of the Alliance, it is impossible to approve all NATO standards, since this means delegating some command functions. The new Chief of Staff of the Armed Forces understands the importance of horizontal command integration, and I have seen some positive signs.
Ukraine is not a member of the Alliance. How actively are NATO standards being implemented in the Armed Forces of Ukraine?
NATO standards are being implemented quite actively in the Ukrainian army. Previous statements by Ukrainian leaders on Ukraine's transition to NATO standards by 2020 were rather ambitious, so a few adjustments need to be made.
In the early 1990s, Canada realized that the old command model of its Armed Forces had outlived its usefulness, and the government began building a new sergeant and officer corps. It lasted 15 years. Therefore, Ukraine shouldn't "tear its hair out" about failing to introduce such a reform in 3-4 years. The bar must be re-adjusted and cooperation with different partners must continue.
What role does the Ukrainian diaspora play in Canada's support for Ukraine? Can we say that it's one of the main factors in providing such support?
It's also related to Canada's status as an "average impact" country, and we always seek to set up partnerships with similar states. The diaspora factor comes into play a little later; it's an internal factor that we keep in mind when selecting countries for cooperation programs.
Canada participated in two World Wars and in almost all UN and NATO peacekeeping operations, so the implementation of the international rule of law is most important for us. Any breach of rules is dangerous not only for the victim country, but also for Canada. Countries that have a smaller and leaner army must value and respect international law and order. These factors largely motivated Canada's support for Ukraine.
By the way, Foreign Ministers of Canada, Germany, France, Chile and Ghana recently launched a common appeal under #MultilateralismMatters. Spanning the various continents, this initiative underlines the importance of an orderly world.
Recently, Nova Scotia – one of Canada's Maritime Provinces – allowed Maritime Launch Services (a Canadian startup) to build a spaceport, which will launch satellites with the assistance of Cyclone-4M, a Ukrainian carrier rocket. In what other fields can Canada and Ukraine enhance their cooperation?
I hope this will be an active discussion topic among members of Maritime Launch Services and the Canadian Ministry of Transport during the Ukraine House at the Toronto Conference.
This is a positive example of how Ukrainian technologies can meet certain market needs. Earlier, rockets were launched from areas near the Equator, but today, it's advisable to launch satellites in low earth orbit, i.e. in polar regions. Therefore, Canadian territories are a good place to consider as an alternative to Brazil or the United States (Florida). The Canadian business community turned its attention to the quality of technologies produced by Ukraine's Pivdenmash (manufacturer of Cyclone-4M), which has taken part in hundreds of successful launches.
There is strong cooperation between Canada and Ukraine in the IT sphere and we expect growth to accelerate further. Currently, Ukrainian software export to Canada is even higher than the export of material goods. In the IT sphere, Ukrainians are no longer just executors of technical tasks. They have complex teams that develop new ways to address the challenges faced by customers. The Ukrainian IT outsourcing industry doesn't just manage websites, but it also develops new products.
We must always keep in mind that achievements cannot be implemented "here, and at once". It's tedious work that requires strategy, vision and integrity… and also, patience.
I'm not a maximalist, so when I hear that "something failed", I understand that we must move forward more actively and also adjust the time framework. State authorities must cooperate with the business community, international partners and civil society.
It's so much easier to talk about betrayal, because it's so trendy today; it triggers more emotion and resonates with social sentiment. It's much more difficult to generate positive emotions, and paint a positive background and content when implementing any kind of change. Therefore, it's most important for Ukrainian civil society to provide complex information for reforms by creating and disseminating positive messages.
Tags: #UAreforms