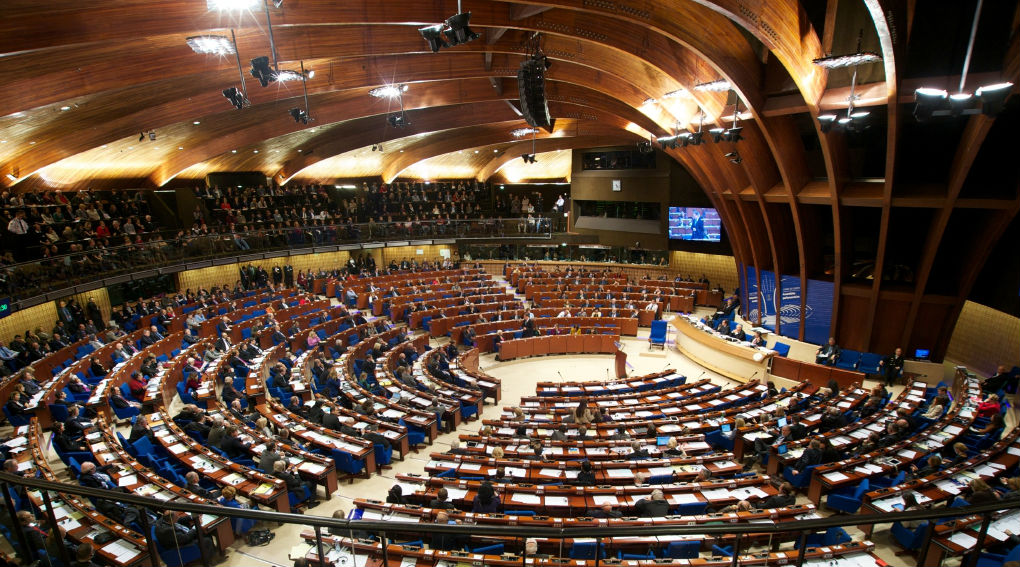 Editor's Note
An open letter, drafted by Willem Aldershoff, Former head of unit, European Commission, Analyst international affairs, Brussels and Michel Waelbroeck, Emeritus professor in European Law Université libre, Bruxelles, Emeritus member of the Institute of International Law, Brussels, implores European citizens and PACE delegates to reject Russia's attempts to unconditionally return to the Parliamentary Assembly of the Council of Europe. Signed by former and current politicians, journalists, and experts, the letter concludes that 
PACE must not abdicate the power to sanction delegations that violate the Council of Europe's basic principles.
 This article can also be found in German.
OPEN LETTER TO THE CITIZENS OF EUROPE – REJECT EFFORTS TO WEAKEN THE COUNCIL OF EUROPE'S POWER TO SANCTION COUNTRIES VIOLATING HUMAN RIGHTS, DEMOCRACY AND THE RULE OF LAW
DEAR CITIZEN OF EUROPE,
In most parts of the world, people suffering injury at the hands of their government have no possibility of obtaining redress except through the national court system. Since these courts are not necessarily independent from their government, there is generally no assurance that they will obtain satisfaction.
Thanks to the Council of Europe, we citizens of Europe enjoy the unique possibility of addressing ourselves to an international institution, the European Court of Human Rights (ECtHR), if we fail to obtain an effective remedy in our own country.
This constitutes an invaluable asset.
Recently, nationalist tendencies are threatening the continued enjoyment of these benefits. Values which the Council of Europe was established to promote and defend, such as the rule of law, the protection of human rights, the independence of courts, and the possibility to appeal to an international body against injury caused by governmental authorities, are increasingly being challenged.
Russia is without doubt at the forefront of these developments. As a condition for membership, it had to commit to several important measures. It has however failed to honour many of them.
Thus:
in clear violation of Article 46 of the European Convention On Human Rights (ECHR), it adopted a law giving its constitutional court the right to decide which judgments of the European Court will apply on its territory. No other member of the Council has adopted a similar measure;
it did not ratify the 6th Protocol to the ECHR on the abolition of the death penalty;
it annexed Ukrainian Crimea. This has led to grave human rights deteriorations. Freedom of speech and association are all but eliminated. Crimean Tatars are under particular attack. Many civic and human rights activists face huge sentences of gravely flawed charges. All these violations have been condemned by the UN General Assembly, PACE, as well as by numerous reputable human rights organisations. Also, the International Court of Justice obliged Russia to stop and revert certain human-rights violations in occupied Crimea, without Russia complying;
it continues to occupy and/or provide military assistance to breakaway regions in eastern Ukraine and Georgia. OSCE monitors have confirmed the direct Russian military engagement in eastern Ukraine, in addition to the Russian BUK that shot down MH17. The Prosecutor of the International Criminal Court in the Hague confirms "existence of an international armed conflict in eastern Ukraine."
All these actions were either supported or expressly approved by the Russian Parliament even though they were contrary to the undertakings Russia had given at the time of joining.
In 2014, the Parliamentary Assembly of the Council of Europe (PACE) reacted by deciding to strip the Russian parliamentary delegation of its voting rights. As a conciliatory gesture, it allowed the Russian delegates to continue attending meetings in the hope that they would be willing to engage in constructive discussions. However, rather than pressing their government to put an end to these violations, the Russian delegates decided no longer to participate at all in PACE.
It is worth noting that, when it examined the Crimea situation, the Committee of Ministers of the Council of Europe in 2014 limited itself to condemning the Russian aggression without taking any further action.
For the past two years, Russia has not paid its annual contribution of €33 million to the Council's budget. It is now threatening to withdraw from the Council altogether unless the voting rights of its delegation are reinstated.
It should be stressed however that membership of the Council is crucial for Russia's self-esteem, so a realisation of the threat looks doubtful.
Meanwhile, Russia continues its aggressive tactics: it closed the jointly operated Kerch Strait in violation of its international obligations and created obstacles to vessels heading to Ukrainian ports in the sea of Azov, including attacking Ukrainian ships and imprisoning and refusing to free the sailors of the ships which it illegally seized.
Recently Moscow started issuing Russian passports to Ukrainian citizens living in occupied Donbas through Russian officials in Donetsk and Luhansk without Ukraine's authorisation. This is an illegal action that can lead to de-facto recognition of the region.
PACE has responded to Russia's violations by adopting resolutions calling upon Russia to revert its aggressive actions against Ukraine, and prohibiting the lifting of sanctions before they are implemented. In particular, Resolution 2132 (2016) specifies that "only significant and measurable progress towards implementation of resolutions 1990, 2034, 2063 can lead to lifting sanctions on Russian delegation."
In view of such a background, it comes as a shock that Germany and France, two countries generally considered as among the staunchest defenders of democracy, human rights and the rule of law, have taken the initiative to pressure PACE into giving up its power to sanction national delegations that violate the Council's core principles. They claim that this is necessary to allow Russia to give up its threat to withdraw and resume sending its delegates to PACE.
Pursuant to this initiative, on 17 May 2019 the Committee of ministers proposed a procedure that would require PACE to act jointly with them before adopting any sanction. In view of the Committee of Ministers' past reluctance to sanction infringing countries such as Russia, it is evident that the need for joint action will lead to no action at all, or to action being taken too late.
At a time when the merits of democracy are increasingly being questioned, such a weakening of the Council's power to sanction countries that gravely violate its fundamental principles gives an entirely wrong signal. It will only encourage other member countries to engage in similar violations in the future.
Rather than giving in to Russian bullying, Germany and France should have proposed a suspension of Russia's membership in the Council for failure to fulfil its obligations, as it had the right to under Articles and 9 of the Council Statute. This would have constituted a truly effective sanction. It would not have deprived Russian citizens of their right to appeal to the ECtHR since Russia would have remained a member of the Council [Article 58(3) ECHR].
Against this background, we urge and expect PACE to fully assert its independence, as it has done in the past. PACE must not abdicate the power to sanction delegations that violate the Council of Europe's basic principles. European citizens will not understand any other decision.
Seventy years of constructing the Council of Europe as the crucial defender of human rights, democracy and rule of law on our continent cannot be sacrificed to allow the return of Russian parliamentarians to its Assembly under such circumstances.
IF YOU AGREE WITH THIS LETTER, PLEASE SIGN HERE.
Article drafted by:
Willem Aldershoff, Former head of unit, European Commission, Analyst international affairs, Brussels
Michel Waelbroeck, Emeritus professor in European Law Université libre, Bruxelles, Emeritus member of the Institute of International Law, Brussels.
SIGNED BY:
Toomas Hendrik Ilves, fourth president of Estonia (2006-2016)
Markus Meckel, former minister of Foreign Affairs (GDR) and former Member of Bundestag 1990-2009
Rebecca Harms, Member of the European Parliament
Philippe de Lara, professor of political science, France
Anders Aslund, Professor at the Atlantic Council
Amanda Paul, Senior Policy Analyst, European Policy Centre
James Sherr, Estonian Foreign Policy Institute/ICDS, Chatham House
Peter Pomeranzev, senior fellow at LSE
Edith Mueller, former Member of the European Parliament, The Greens
Volodymyr Ariev, MP, Verkhovna Rada of Ukraine, Ukraine
Yehor Bozhok, Deputy Minister, Ministry of Foreign Affairs, Ukraine
Galina Ackerman, University of Caen
Kamil Basaj, CEO, INFO OPS POLAND Foundation, Poland
Tim Bohse, Political Scientist, German
Sławomir Dębski, Director at The Polish Institute of International Affairs
Danilo Elia, Journalist, Rai, National Public Broadcaster of Italy, Italy
Dr. Anke Giesen, Board, Memorial Deutschland e.V., German
Paul Goble, Former US Government Specialist on the Non-Russian Peoples of the Former Soviet Space, USA
Gustav C. Gressel, Senior Policy Fellow, Wider Europe Programme, European Council on Foreign Relations (ECFR)
Ralf Fuecks, Centre for Liberal Modernity, Berlin
Wojciech Jakóbik, editor in chief, BiznesAlert.pl, Polish
Walter Kaufmann, Department Head, Boell Foundation, Germany
Jacek Kucharczyk, Institute of Public Affairs, Poland
Serhii Tereshko, diplomat, Mission of Ukraine to the EU, Ukraine
John Lough, Chatham House
Illia Miroshkin, National project coordinator, ICDS – International Centre for Defence and Security, Ukraine
James Nixey, Chatham House, Head of Russia and Eurasia Programme
Simon Papuashvili, Programme Director at International Partnership for Human Right
Amanda Paul, Senior Policy Analyst, European Policy Centre
Peter Pomeranzev, senior fellow at LSE
Adam Reichardt, New Eastern Europe
Iwona Reichardt, New Eastern Europe
Giedrius Sakalauskas, Res Publica, Lithuania
Stefanie Schiffer, Director, European Exchange, Germany
Alya Shandra  Euromaidan Press
James Sherr, Estonian Foreign Policy Institute/ICDS, Chatham House
Gerhard Simon, historian, Germany
Kateryna Smagliy, Next Generation Leader, McCain Institute, USA
Vladimir Socor, senior analyst at the Jamestown Foundation
Alice Stollmeyer, Defending Democracy, Netherlands
Oleksandr Sushko, Executive Director, International Renaissance Foundation, Ukraine
Sergiy Sydorenko, European Pravda
Olga Tokariuk-Shelest, Head of foreign news desk, Hromadske TV, Ukraine
Eric Tosatti, Diplomat, French
Gvantsa Tsulukidze, Rule of Law Program Director, Georgian Democracy Initiative, Georgian
Andreas Umland, Senior Fellow, Institute for Euro-Atlantic Cooperation, Kyiv, German
Kataryna Wolczuk, University of Birmingham, Chatham House
Ernest Wyciszkiewicz, director, Centre for Polish-Russian Dialogue and Understanding, Polish
Volodymyr Yermolenko, UkraineWorld
ALSO SIGNED BY
Rustem Abibulaiev, Owner of Company, Ukrainian
Olena  Akkash, researcher, Ukraine
Mad Al, Human rights defender, French
Rasa Aleksaite, Guide, Freelancer, Lithuanian
Alona Aleksiichuk, Director, Mirmed, Ukrainian
Lalym Alex, Businessman, Ukraine
Helena Alexeeva, economist, house wife, Ukraine
Roth Alice, Arts curator,
Zakharenko Alla, PE,
Serhii Alpieiev, Programmer, Ukraine
Vera Ammer, translator, MEMORIAL Deutschland, German
Thomas Ammer, historian, Euromaidan NRW, German
Yefimovich Andrii, civil servant,
Marta Andriiashyk, Finance Manager, Ukrainian
Taras Andriivskyi, Ingenieuer, Privat, Germany
Pogorelyy Andriy, IT, Ukraine
Kuznetsova Ann, Musician, Ukraine
Mamika Antadze, Attache, MFA, Georgian
Artem Antsyferov, Engineer, Ukraine
Tetyanna Armasar, Accounter, Ukrainian
Kęsik Artur, Student, Polish
Smith Athena, Leader, Private, Ukraine
Smith Athena, Leader, Private, Ukraine
Natalia Babalyk, Senior Fellow, Lviv National Art Gallery, Ukrainian
Andrii Babukh, doing bussines, Ukrainian
Iryna Bagnyuk, manager, Ukrainian
Rita Bahdonaite, Teacher, Lithuania
Svitlana Bakardzhieva, Translator,
Anna Balaban,  Ingener, Ukrainian
Valdas Balciunas, Director, Laua, Lithuania
Ivanna Balda, counter, GALNAFTOGAZ, Ukrain
Andrius Balsevičius, Surveyor, Lithuanian
Oxana  Banz, Ärztin, Ukraina
Serhii Bar, administrative, The Museum Of Jewish Peoplehood, Israeli/Ukrainian
Sebastian Bartsch, Consultant, Herr, Germany
Olha Batatina, accountant, UA
Svitlana Batozhna, Teacher, School, Ukrainian
Eugene Baturin, Citizen, Ukrainian
Luka Bedoshvili, Student, University College Roosevelt, Georgian
Pierre Béguin, Microbiologist, Retired, Swiss
Marta Belkina, teacher,
Inna  Belova, Designer, vision, Owl House, Ukrainian
Don Bendikas, Auditor, Lithuanian
Werner Berchner, Engineer (Thermodynamics), Private, German
Oksana Berezhna, EL teacher, freelance, Ukrainian
Heiko Bertram, Employee, Privat, German
Oleksandr Bevz, engineer, private, Ukraine
Mariia Bialaia, psychotherapist, psychiatrist, NGO Psychological crysis service, Ukraine
Antonina Bilinkevych, CS representative, Ukraine
Oleksandr Bilyi, technical writer, Ukrainian
Liliia Blazheieva, Military Linguist, Ukrainian
Stanislav  Bobrov, 3D artist, Ukraine
Vladislav Bogushinskiy, individual entrepreneur,
Jörg Bohmfalk, Real estate manager, Deutsch
Nicolas Bokov, écrivain, Editions de la Caverne, apatrid réfugié ex-soviétique
Yuliya Bondarenko, artist designer, work at home, Ukrainian
Dmytro Bondarenko, Self-Employed, -, Ukraine
CW Boogaart, publicist, Netherlands
Jos Boonstra, Researcher, Netherlands
Bolodymyr Borovyk, pensioner, Ukraina
Vasyl Boryshchuk, Deputy of the head of the division, National Bank of Ukraine, Ukrainian
Bogdan Braga, director, ukrainian
Meinardas Brazaitis, Audio engineer, Lithuania
Marco Bronckers, Professor of Law, Leiden University, Netherlands
Olha Bryzhatiuk, eсonomist  manager, Ukraine
Igor Buinyi, Doctor, Ukraine
Tina  Burjaliani, Lawyer, Georgian
Valeriia Byba, Expert, Institute of intellectual property, Ukrainian
Olha Bykanova, Teacher, Ukraine
Berhane CAHSAI, Professor of International Relations, None (retired), French
Joanna Carle, Teacher, German
Knut  Carlsen, Retired, Norwegian
Antoine Cassan, Civil servant, France
Torvaldas Cesnulevicius, Manager, Lithuanian
Yuriy Chaban, data scientist,
Oleksandra Chambers, Physisist, Retired, United Kingdom
Peter Chambers, Marine engineer, Retired, United Kingdom
Leonid Chashnikov, Software Engineer, Ukraine
Evgeniy Chechel, Lawyer,
Yuriy Chernetskiy, Professor, The "Ukraine" University, Ukrainian
Liudmyla Chernyshevska, Freelance translator,
Iryna Chernyshova, Housewife, -, Ukrainian
Tilmann Chladek, Retired, –, German
Svitlana Chorna, Lawyer, Private practice, Ukraine
Maksym Chornyi, Summer Research Intern, Jane Street, New York, Ukraine
Tetiana Chukhno, project manager, Ukraine
Vitalii Chupryna, Sales manager, Ukraine
Anton Chykolai, Self-employed, Ukrainian
Natasha Cottle,, Ukrainian
Nadiia Danylenko, citizen, Ukraine
Eric DAVID, Prof. em., Belgian
Dale Davies, Mechanic, Retired, Canadian
Leonid Davydenko, Associate professor, Odesa National University of Law, Ukraine
lucette defalque, Honorary member of the Brussels Bar and former professor, Brussels Bar and Free University of Brussels, belgian
Ludmila Dehnich, nurse, Ukraine
Estelle Delavennat, linguist, French
Antonina Demenko, Retired, Non-working, Ukrainian
Barladian Denys, Seaman, Ukraine
Alexis DESWAEF, Avocat au Barreau de Bruxelles, BELGIUM
Iryna  Deyneka, Sales Consultant,
Olena Diduh,  teacher, Ukrainian
Karolin Dietrich, Administrative Assistant, German
Loz Dmytro, Dire, Fop, Ukr
Prykhoda Dmytro, Consultant, Self-employed, Ukraine
Iryna Dmytrychyn, Professor, Inalco, Française
Petro Dmytryk, Lawyer, Ukraine
Mykola Dolynskyi, Full stack web/desktop developer, Self employed, Ukrainian
Evgen Doroshenko, CEO, Broadcast Media Centre NSCDU, Ukraine
Oleksii Dorozhkin, architect, Ukraine
Irina Dovgenko, Accountant, ukrainian
Oleksiy Dovhanych, E.M, West Ukrainian Fashion Industry Cluster, Ukraine
Andreas Dr. Dubois, Geschäftsführer, German
Oleh Drebot, Economist, Non government, Ukraine
Pierre Druez, Cognitiviste,
Sergiy Dubil, economist, Ukraine
Volodymyr  Dubovyk, Director, Center for International Studies, Odesa Mechnikov university, Ukraine
Oleksandr  Dubrov, Engineer, Essity, Ukrainian
Anna Duhliy, video editing engineer, tv chanel M1, Ukraine
Irina Dunay, accountant, private enterprise, Ukraine
Yuriy Dushko, Owner, Odesa e.K., Ukraine
Oleksandr Dushko, Engineer, Ukrainian
IEVGEN DUTCHAK, IT developer, Ukraine
Olga Dziuba, manager, UKR
V. Edvardas, Worker,
Michail Efremov, Director,
Irmantas Eidukaitis, Investigator,
Natalia Elsukova, Housewife, Ukrainian
Nino Eremashvili, PR Manager, Georgian Democracy Initiative, Georgian
Tobias Friedrich Ernst, Patent engineer, German
Maryna Fadieieva, pensioner, Ukrainian
Vlad Falk, Engineer,
Alina Fediai-Zyrianska, Reasercher, Ukrainian
Sergii  Fedorov, Manager,
Audrius Feigelovicius, CEo, Lithuanian
Oleksii Fesenko, Business process automation, programmer, Ukraine
Tetyana Feshchenko,  director, "Svit dytynstva" publishing house, Ukrain
Iryna Feshchenko, pharmacist, Ukrainian
André Fesiak, Independent Researcher, France
Yaroslav Filonenko, Attorney at law, Pekkaniska LLC, Ukraine
Mariia Firsova, Journalist,
Oksana Foltyn, Interpreter/Translator, Retired, USA
Oleksandr Foyevtsov, Research Associate, Ukraine
pierre GAIRRET, retraité, france
Martynas Galadauskas, Marketing director, Lithuanian
Marina Galetskaya, Engineer, Ukrainian
Rabush Galina, Historian,
karin Ganssauge, Cityplanner, deutsch
Vitalis Garalis, worker, Lithuanian
Juozas Garla, Pensionist, Lituania
Petro Garmish, Doctor, Ukrainian
Daviti Garsevanishvili, IT Officer, Georgian
Kogan Gennadii, Sales director, Netbox, Ukraine
Alvydas Genys, Ekskavatorininkas,
Kashperko George, IT professional, Ukraine
Iasynskyi Georgiy, Finance, Business, phd, Ukraine
Köster Gerald, Meditrans Gehe, deutsch
Olga Gershanik, OpsEngineer, RevJet, Ukraine
Viselgiene  Gintare, Editor, Lithuania
Yuriy Glazko, Bilder,
Richard Gledhill, Security Officer, Airport Security Team Isle of Man, British
Paul Glibauskas, self employed, Lithuania
Nina Gogokhia, CEO, Georgian Psycho-Oncology Association, Georgian
Vyacheslav  Gorbanyov, Manager, Ukraine
Galyna Gordina, lawyer, Verkhovna Rada of Ukraine, Ukraine
Vlad Gorodetsky, DBA, Ukrainian
Liudmyla Grakova, Accountant, Non organization, Ukrainian
olga grayvoronska sharpe, translator / interpreter,
Vitaliy Grinchenko, Manager,
Andrii Gumeniuk, quality assurance  data manager, Ukrainian
Iryna Gumeniuk, Ceo, Ukraine
Viktor Guroma, Renewable energy, Ukraine
Tetiana Gut, Teacher, Ukrainian
Manfried Hammer, retired/ student, German
Ulrich Hammerschmidt, Entrepreneur, Austria
Melody Hart, Naturopath, USA
Hauke Haubrock, Webentwickler, Germany
Pavlo Havrin, IT enginer, Ukraine
Karas Hellen, director, Private Entrepreneur, Ukraine
Boiko Hennadii, Engineer, Ukrainian
Valentyna Herasymenko, Teacher, Citizen, Ukraine
Berta Herrero, MEP Advisor, European Parliament, Spain
Bogdan Hev, Freelancer, Ukraine
Wolfgang  Höffer, Veterinarian, German
Thorgeir Holm, translator, Norwegian
Larisa Homyakova, doctor,
Svitlana Horbach, CEO, Ukrainian
iryna horbenko, translator, ukrainian
Yuliia Hordzey, musician, Ukraine
Iryna Hornostay, Retired engineer, Ukraine
Hanna Horobynska, Student,
Viacheslav Horshkov, PHD student, Ukrainian
Serhij Hrytsenko, Chief Accountant, Ukrainian
Yurij Husnay, entrepreneur,
Vladyslav Hyryk, Developer (game industry), Ukrainian
Hamilton  Ian, Developer, Humanity's Federation, British
Oleksii Iermakov, Storeroom Leader, P&G Ukraine, Ukrainian
Iuliia Ierygina, lawyer, Ukraine
Rozkladai Igor, media lawyer, Ukraine
Oleksandr Ilchenko, Engineer, Ukraine
Oksana Iliuk, Analyst, Internews-Ukraine, Ukrainian
PARFENIUK INNA, Students, Other, Ukrainian
Anna Intelehator, Teacher and manager, Closer to the Dream School of Foreign Languages, Ukraine
Tamara  Ishchenko, Manager, National paralimpic committee, Ukraine
Vitalii Ishchuk, Engineer, Ukraine
Korniichuk Iuliia, Docent,
Andrii Ivaniuk, Engineer, Ukrainian
Oleksandr Ivanov, private entrepreneur, Ukraine
Igor Ivanov, Engineer, Germany
Andrii Ivanytskyi, marketing director, Promarmatura, Ukraine
VOLODYMYR IVASIUK, advocate, Ukrain
Iryna Ivchenko, Translator, Person, Ukrainian
Yurii Ivliev, Self-Employed, Ukrainian
Volodymyr Ivshyn, Specialist, UKRAINE
Taras Izmailov, CEO, Freelance, Ukraine
Pasteels Jacques, Em Professor ULB, Belgium
Anastasia Japaridze, Student, Georgian
Helen Jensen, Teacher, German
Thomas Jeschner, Film producer, german
Oksana Jevsieieva, Homeworker, Ukraine
Jenia Jitsev, Researcher, German
Giedrius Jocius, CEO, Lithuanian
Dane Johnson, Librarian, Canada
Vyshnyvetska Juliia,  private entrepreneur, Ukraine
Vytautas Juozapaitis, Engineer, Lithuanian
Ignas Jurciukonis, School teacher, VGTU lyceum of engineering, Lithuanian
Kostiantyn Kalachikov, self employed, Ukraine
Tania Kalashnyk, Retired, Ukrainian
Jakub Kalenský, Analyst,
Sebastian KAMYSHENKO, Human, USA
Olena Kanalrska, entrepreneur, Ukraine
Natalia Kantovich, Chief legal adviser on the Russian Law, Russian and British
Ihor Kantur, Engineer, Kharkiv, Ukraine 🇺🇦
Marine Kapanadze, Lawyer, Georgian
Maria Kaplenko, Lawyer, Ukraine
Nazariy Kapral, Automatisation, Ukraine
Dmytro Karmazin, founder, Ukraine
Oleg Karpiuk, IT-engineering, Ukraine
Anton Kashcheyev, Researcher, Institute of Radio Astronomy, Ukraine
Wasilios Katsioulis, Invaliditypensioner, European Parliament, German
Vytautas Kazlauskas, director, Shield House Solutions ltd., Lithuania
Svitlana Kemblowski, Branch Supervisor,
Oleg Kharchev, Manager, Ukrainian
Ivan Khodakivskyi, Engineer, Ukraine
Anna Khokhlova, PhD student of Marine Ecology, University of the Balearic Islands, Ukrainian
Ruslan Khorishchenko, Finance Manager, Ukraine
Iryna Khrapun, leader of laboratory, Ukraine
Maryna  Khromova, Manager, Ukraine
Vitalii Kiiko, Military, Ukraine
Sofia Kikoshvili, Lawyer, Georgia
Tetiana Kinshchak, Sales Manager, Medisana, Ukraine
Viktor Kirilko, SysAdmin, Ukraine
Olena Kirkicha, Linguist, Ukraine
Olena Kirklen, Student, SDCE, Ukrainian
Lino Klevesath, Political Scientist, German
Liliia Klonova, lawyer, Ukrainе
Rainhard Kloucek, secretary general, Paneuropabewegung Österreich, Austria
Marina Klymenko, IT, Ukraine
Oleksii Klymov, IT specialist, Ukraine
Iryna Knyzhnyk, entrepreneur, Ukraine
Olena Kochenko, Teacher, Ukrainian
Yurii Kolach, Graphic Designer, Ukraine
Petr Kolar, Chairman, Občané pro (Citizens for), Czech
Maryna Kolchanova, entrepreneur, entrepreneur, Ukraine
Aleksandr  Kolesnikov, Scientist, USA
Olesia Kolesnyk, Не працюю, Ukraine
Iryna Koliubinska, Lawyer, UKRAINIAN
Peter Koller, Self Employed, German
Hanna Kolodnic, Consultant, Ukraine
Hanna Kolodnic, Consultant, Ukraine
Yaroslava Kolomiets, manager,
Bogdan Komarenko, Engineer, Bank, Ukraine
Halyna Konovalenko, Editor, Ukrainian
Denys Kopievsky, Internal support, GEZE, Kopievsky
Olena Kornilova, Student, Ukraine
Evgen Korol, motion designer, Ukraine
Olha Korotkova, Bookkeeper, Ukrainian
Oksana Korsun, Psychology, Ukraina
Mykola Korsun, private business, Ukraine
Viktoria  Korsun, Psychologist, Ukraine
Hanna Kosenko, Scientist, Ukrainian
Viktoriya Koshelenko, HR,
Ivanauskas Kostas, Director, Saugus žmogus, Lithuanian
Iryna Kostenko, Manager,
LILIYA KOSTYUKEVICH, retiree,  Ukrainian
Anna Kovalchuk, Architect,
Oleg Kovpak, software developer, Ukrainian
Oleksandr Kovyzhenko, radio engineer, Ukrainian
Serhiy Kozak, Yes, Ukraine
Oksana Kozlova, self-employment, ukrainian
Vladyslav Kozlovskyy, programmer, SOHO, Ukrainian
Nataliia Kozyr, Finance,
Michèle Krakowski, Retraitée, Française
Niklas Kramer, Public Policy Expert, German
Mariana Krasna, business woman, Ukrainian
Igor Krasnov, marketer, Self-employed, Ukrainian
NataliiA Krasota, Cheesemaker, Ukraine
Vytautas Kratulis, CEO, Lithuanian
Rimanta Kraunaityte, civil servant, Lithuanian
Viktors Kravčenko, project coordinator, Latvian
Majya Kravchenko, Manager, Ukraine
Olena Kravchenko, retiree, Ukraine
tanja kravchenko, accountant, ukraine
Svitlana Kravchuk, Teacher, Ukrainian
Volodymyr Kravchuk, Pensioner, Ukrainian
Mykhailo  KRAVCHUK, Welder, Ukraine
Lyudmila Kremena, Medical doctor, Ukraine
Tomáš  Kriššák, Project manager, OSF, Slovak
Peter Heinrich Krone, Pensionaer Polizei, Deutscher in Ukraine
Artem Krsheminsky, programmer, PKF Vybor, ukrainian
Nataliya  Kruhlikova, Coach, Ukraine
Saulius Krušna, Designer, Lithuanian
Sergii  Kryvytskyi, Sale assistant, Ukraine
Suprun Kseniya, дизайнер, citizen of Ukraine
Kateryna Kuchmarenko, Architect, Ukraine
Edgaras Kučinskas, Autošaltkalvis, Lietuva
Vladyslav Kudryk, Journalist,
Roman Kuibida, lawyer, Ukraine
Kateryna  Kulchytska, Analyst, NGO "Europe without barriers", Ukraine
Dušan Kulka, Partner, Berman Group s.r.o., Czech Republic
Stefan  Kunterding, Teacher politics/Germany high school, Deutsch
Anna Kurach, Citizen, Ukraine
Alina Kurbatova, speech therapist, Ukrainian
Oleksandr Kurman, engineer,
Daria Kusakina, QA engineer, Soft serve inc, Ukraine
Yaroslav Kut, IT-manager, Private, Ukraine
Mykola Kutsij, Manager, Ukraine
Olena Kuzmenko, Accountant, Ukrainian
Ihor Kuzmenko, docent, Kyiv polytechnical institute, Ukraine
Irisha  Kvitochka, Pensioner,
Iryna Kylymnyk, Manager, Insurance compani, Ukraine
Oleg Kyselov, Scholar,
Torsten Lange, Driver, Herr, deutsch
Myroslava Lapii, physician, Ukraine
Kirichenkova Larisa,  Chief editor of the electronic edition,  Ltd. BALANCE CLUB, Ukraine
Phedyna Larisa, Doctor, Ukrainian
Stalsberg Lars, Senior Engineer, Norwegian
Yurchuk Larysa, Doctor, Medical, Ukrainian
Yuliya Lasarenko, Translator, Self-employed, Ukraine
Rustem Latypov, Angestellte, Ukraine
Andrii Lavreniuk, Correspondent in France, Ukrinform, Ukraine
Tetiana Leheida, Content Marketer, MacPaw, Ukrainian
Yaroslav LEK, Programmer, private entrepreneur, Ukraine
Oleksandr Lemeshko, professor, Kharkiv National University of Radio Electronics, Ukraine
Vitaliy Leonov, CFO, Ukraine
Olena Levenko, Economist, Ukrainian
Hrechukh Lidiia, Ecologist,
Khatskevich Lidija, Programmer, Ukraine
Jesper Lindholt, CEO, Livatek A/S, Danish
Irina Lipnitska, Mother & Grandmother who cares, Ukraine
Oleksandr Lipnytskyy, Senior Consultant, Ukrainian Association of Logistics Experts, Ukraine
irina lipukhina, manager,
Anastasia Lisova, student, Taras Shevtchenko National University, Ukrainian
Kateryna Lisova, -, Ukraine
Iryna Lisyana, German teacher, Ukraine
Juri  Litvin, Softwaredeveloper, german/ukraine
Taras LITVINCHUK, Driver, CEAR, Ukrainian
Stanislav Litvyn, Guitar builder, Ukraine
Iaroslav Liubchenko, Legal Specialist, USAID Health Reform Support, Ukrainian
Gula Liubov, appraiser,
Dubinska liudmyla, psychologist, pensioner, Ukraina
Inga LORRE, Professeur, Franche
Volodymyr Lsovyi, Teacher, Technical College, Ukrainian
Patrick Lucas, attorney, USA
Martyanova Ludmila, Deseñiadora de macinas agricultores, Харьковский машиностроительний техникум, Ucrania
Raimundas Lumbis, Selfemployd, Lithuanian
Anastasiia Lunova, Pharmacist, Ukrainian
Volodymyr Lushchiy, Marketing Manager,
Volodymyr Lutcenko,  entrepreneur, Ukreine
Bohdan Lychacz, Radiologist, St. Joseph's Health Centre, Canadian
Ihor Lysyi, Executive director, Lviv Public Organization "Ukrainian Scientists  Association "E.E.S.", Ukraine
Irina Lyubchenko, weigher, SOE "mine "Komsomolets of Donbas", Ukraine
Larisa Lyubonko, IT, Ukraine
Mykhailova Lyudmils, Architecture, Ukraine
Anna Lyukas, housewife, Ukraine
Volodymyr Madiianskiy, It manager, Self employed, Ukrainian
Yevhen Mahda, analyst, IWP, Ukraine
GIgineishvili Maia, Lawyer, IDSD, Georgia
Michal Majzner, Project engineer, Společně to dáme, Czech republice
Nataliia Makarenko, Project manager, SIA ltd, Ukraine
Serhii Makarenko, Rentner, Ukraine
Kateryna Makeieva, English language tutor, Ukrainian
Nataliia  Malinina, Accountant, Fineline Global Ukraine, Ukrainian
Jean-Gilles Malliarakis, éditeur, française
Anya Mamenko, Linguist, Ukraine
Maya Mamenko, Tourist guide, Ukraine
Semianiv Mariana, Hotel and restaurant manager, Ukraine
Pavlenko Mariya, teacher, Ukrainian
Artem Markov, Consultant, PE, Ukraine
Vadym Markov, Scientist, Ukraine
Olena Martynenko, self-employed, Ukraine
Sparynska Masha, Student, Belgian
Iryna Mashlai, Web designer,
Marina Matevosian, programmer, Ukraine
Daria Matova, HR Business Partner, Ukrainian
Yevhen Matsykov, pensioner, Ukrainian
Raimondas Matulionis, MD, EU
Max Matveyev, Software developer, Kromtech, Ukrainian
Helmut Mauch, Associate, German
Olga Melnyk, pensioner, pensioner, Ukrainian
Olena Melnyk, HR manager,
Viktoriia  Merlych, Student, Search Results Knowledge result Petro Mohyla Black Sea National University, Ukrainian
shorena Mezurnishvili, Lawyer, Georgian
Kęstutis  Milius, Builder, Irish
Rasa Miliūtė, Nurse/Manager, Lithuanian
Darius Miniotas, Filmmaker, Lithuanian
Oleksandr Minkov, Engineer, Ukrainian
rcheulishvili mirian, Freelancer, Georgia
Svitlana Mirianova, Brand manager, Ukraine
Oleksii Mishchenko, Photographer, Ukrainian
Johanna Moehring, Senior Fellow, The Institute for Statecraft,
Alex Moisiienko, Student, Bohdan Khmelnytsky National University of Cherkasy, Ukraine
Mike Mord, Businessman, Floridian
Marina Morgun, housewife, Ukrainian
Vilius Morkūnas, Salesmen, JSC Guolmeta, Lithuanian
Andrii Moroz, Web Developer, Ukrainian
Ludmila Moroziuk, Business, Ukrainian
Aleksandr Motev, musician, Ukraine
Gytis Motiejunas, technical designer, Lithuanian
Vasyl Moysiyenko, First vice-rector, Bohdan Khmelnytsky National University of Cherkasy, Ukraine
Giorgi Mshvenieradze, Lawyer, Gerogian
Nino Mumladze, Software Engineer, Sir, Greek
Viktor Muravskyi, Quant, Ukrainian
Switlana Mygowycz, Manager, Ukraina
DMYTRO MYKHAILOV, N/A, N/A, Ukrainian
Orest Mykhalchyshyn, Expert, Safege, Ukraine
Oleksandr Mykhaylov, Civil engineer, Ukraine
Kostiantin Myronenko, entrepreneur, ukrainian
Iryna Myshchenko, Teacher, Ukraine
Yutiy Mysiv, student, Ukraine
Inna Nabokova, UI/UX Designer, Ukraine
Shkrobot Nadiia, Doctor, Tyvriv central hospital, Ukrainian
Revaz Nadiradze, ჟურნალისტი, Herr,
Fedorova Natalia, self employed, Офисній центр Ірва., Ukrainian
Zaitseva Natalia, Pensioner, Ukrain
Bondarets Nataliia, banking specialist, Ukraine
Alieksandrova Nataliya, accountant,
Tkachuk  Nataliya, Teacher, Ukrainisch
Polina Navrotska, manager, Ukraine
Dmytro Nazarchuk, Manager, Ukraine
Mykhailo Nazarenko, associate professor, Taras Shevchenko National University of Kyiv, Ukraine
Victoria Nazarenko, Editor, Ukraine
Vitaliy Nedyalkov, manager, Ukraina
Tamara Neimet, Translator,
Orischechko NEJFELD TATJANA, Bibliotekarin, Ukrainisch
Olena  Nemyrovska, Lawyer, Ukrainian
Oksana Nesterenko, Designer, HLR, Ukraine
Yurii Nikitchenko, Dentist, Ukrainian
Irina Nikolaenko, Pensioner,
Olha Nikolaienko, editor,
Gviniashvili Nikolo, Progect Assistant, NGO "Equality Movement", Georgian
Mykola Nikulin, Translator, Ukraine
Valérie Noël, Juriste, Belgian
dijana norkiene, SCLT, Brooklyn College, Lietuve
Paulius Norkus, Manager, Solutio Medica, Lithuania
Victoria Nosikovska, Teacher, Kyiv, school  29, Ukraine
Hanna Nosova, translator, self employed, USA
Tatishvili Nugzar, Chef, TWC Transgender Women Center in Georgia, Georgia
Anatolii  Nykoniuk, Biotechnolog,
Vadym Ocheretiany, worker, ukrainian
Bernhard Oehler, Photographer, German
Serhii Okhrimenko, Builder,
Tyshchenko Oksana, musician,
Shmigelsky Oksana, Real Estate Sales, Canada
Oksana  Oksana, Economists,
Barannykov Oleksandr, lawer, Aleksgarantmarket, Ukraina
Makarenko Oleksandr, Chemistry,
Logvinenko Oleksandr, Ouvrier, Ukrainien
Dolynyak Oleksandr, winegrower, ukrainian
Borsuk Oleksandr, Programmer, Ukraine
Cherkashyn Oleksii, Software developer, Ukrainian
Perevertova Olena, Economist, Ukraine
Ignate Olena, A teacher,
Vienko Olena, pensioner, Ukraine
Litvinova Olena, engineer, private person, Ukrainian
Marchenko Olga, Manager, Self-employed, Ukraine
Savanzha Olha, Nurse, Ukrainian
Vitali Olijnik, project manager, private, Ukrainian
Peter Oliver, Visiting Professor, Université Libre de Bruxelles, British
Natalia  Onischenko, Veterinary, Ukrainian
Vitalii Onisimchuk, Software Engineer, Ukrainian
Michael Onyskiw, Engineer, United Kingdom
Yurij Opyr, Retired, Ukrainian
Vitalie Osadciuc, Builder, Romania
Iryna Osis, stock market specialist, Ukrainian
Volodymyr Ostapchuk, citizen of Ukraine, Ukrainian
Peter Osten, Richter i.R., Deutsch
Lyubov Ostrenko, Pensioner, Ukraine
Anatoliy Ostrenko, Pensioner, Ukraine
Nataliia Ostriianina, Travel manager, UKRAINE
Andrii Ovcharenko, Programmer, Ukrainian
Svetlana  Ovchinnikova, psychologist, Ukraine
Georgii Ozerianskyi, Senior Business Analyst, UBS Poland, Ukraine
Oksana  Ozgenc, Banker, Ukrainian
Oxana Pachlovska, professor, University of Rome "Sapienza", Ukraine/Italy
Milda Palubinskas, Assistant Director, Columbia University, Lithuanian
Andriy Panasenko, Self employed, Ukraine
Nataliia Panchenko, Chairwoman of the board, "Euromaidan-Warsaw" foundation, Ukraine
Svitlana Panchenko, Purchasing manager, Ukraine
Kristin Panse, Teacher, German
Oleksiy Panych, philosopher, translator, "Spirit and Letter" Publishing House, Ukraine
Aleksei Parnowski, Senior researcher, Space Research Institute, Ukraine
Pavlo Pasichnyi, Manager, Monomakh, Ukrainian
Theo Pauthonier, Student, France
Inna Pavlova, Economist, Ukraine
Yaroslav Pavlysh, economist, Ukraine
Oleg Pedai, Recruitment Coordinator, Ukraine
Bjarne Kim Pedersen, writer, Danish
Vitalii Peichev, First Secretary, Ministry of Foreign Affairs, Ukraine
Tetiana Pelletier, Artist, Carnaval de Québec, Ukrainian
Lothar Penning, freier Journalist, privat, deutsch
Nataliya Penning, Wirtschaftsinformatikerin, privat, deutsch
Yevhen Perepelytsia, Artist, Freelancer, Ukraine
Andrius Petrauskas, Businessman, Lithuanian
Natalia Petrenko, biologist,
Dmytro Petrenko, IT Specialist, Ukraine
Vaidotas Petronis, Director, Project Management and Training Center, Lithuanian
Daryna Petryshyn, Activist, Vidsich, Ukrainian
Christian Pieper, Prosecutor, german
Iryna Pieper, Philologist, Ukrainan
Lada Pimenova, engineer, Ukraine
Oleksii Pinkovskii, Engіneеr, Ukraine
Svetlana Pisareva, financial analyst,
Iuliia Pischanska, Director, Historical museum, Ukraine
Jens Piske, Webdesigner, Deutsch
Oleksandr Plias, Software Developer, Ukraine
Tatyana Plyusnina, Head of HR, Bank, Ukraine
Anton Pokhyla, Combat veteran/corporate business, Ukrainian
Oleksandr  Poleiko, Student, Ukraine
Julia Polibina, engineering,
Nataliia Polishchuk, Head of department,
Oleh Poloz, translator, writer, Ukrainian
Lidiya Polshchuk, Mom, Ukrainian
Lena Poltoradnya, assistant to CEO, German
Oleh Poludnenko, IT, Ukraine
Maksym Poluliakh, IT Engineer, Ukraine
Olga Polynska, acountant, Ukraine
Andrii Ponochvnyi, head, home, ukrainian
Iryna Popova, Artist of orcestra, Ukraine
Bohdana  Porada, Comptable, Ukrainienne
Pavlo Postnikov, Manager, Ukrainian
Olha Posunko, Historіаn, Ukraine
Anna Povazhna, teacher, Ukraine
Ganna Pozdniakova, businesswomen,
Anzhela Prazdnichnykh, Medical doctor, Ukrainian
Roman Pribaten, Microbiologist, Ukraine
Alla Priimak, Doctor, Ukraine
Jurko Prochasko, researcher, publicist, Ivan Franko Institute of AS Ukraine, Ukraine
Sergiy Proshchenko, electronics technician, USA
Alla Provotorova, Project manager, Ukraine
Olha Prykhodko, English & German teacher, Sumy secondary school #18, Ukraine
Oleh  Prystupa, Art Director /Advertising, BBDO, Ukrainian
Theodor  Quendler, regional development pnning, privat, Austria
Milen Radev, Self employed, Germany
Galyna Radkw, hotel receptionist, American
Mrozin  Raia, Psychologist,
Artem Rassokhin, Manager, Self employed, Ukraine
Konstantin Rayhert, philosopher, Ukrainian
Natalija  Reifenstein, Teacher, ukrainerin
Antje Rempe, president /teacher, Partnerschaftsverein Charkiw-Nürnberg, German
Volodymyr Renom, IT Engineer, Ukraine
Oleg Repetylo, IT Project Manager, Ukraine
Andrius Repsys, Graphic Artist, Photographer, Lithuanian
Igor Reshetnyak, Researcher, EPFL, France
Wolf Reyscher, police officer, Home Office of NRW / Germany, Germany
Natalia Riabchenko, Seniour Researcher, Institute for Nuclear Research, National Academy of sciences, Ukraine
Robert Richter, Forensic Support Specialist, Peerstar LLC, United Atates of America
Gediminas Rimkevičius, building engineering and economy, EU citizen, Lithuanian
Kulnickaite Rita, Manager, Private company, Lithuanian
Witold Rodkiewicz, University lecturer, Centre for East European Studies, University of Warsaw, Polish
Tamulis Rokas, Designer, Lithuanian
Oleksandr Ruchka, Manager, Ukraine
Robert Rudolph, Geograf und Stadtplaner, Herr, Deutschland
Zelenkov Ruslan, .Net Developer, Ukrainian
Lakhmanyuk Ruslana, Nurse, Ukrainian
Yuliya Ruzhenko, engineer designer,
Liudmyla Rybalka, Lecture, University, Ukraine
Paul Rybchenko, IT, UA
Iryna Rybytva, Employee, Ukrainian
Petro Sachuk, Procurement, Finance, Ukrainian
Anna Saienko, Unemployed, Ukrainian
Michèle Santucci, Professeur de russe, Education Nationale, France
Gediminass Šapkauskas, Privat business, Lithuanian
Volodymyr Sauliak, IT ingeneer, Ukraine
Nadiia Savchenko, Student,
Olaf Saxegaard, Consultant, Poltava Consult, Norwegian
Dr.Dagmar Schatz, LtCol Medical Service German Armed Forces (ret), Ms, German
Babette Scheuplein, Selfemployed, German
Jesper Dennis  Schliemann, Self imploring, Denmark
Elen Schlosser, Interpreter, Freelancer, Germany
Jonas Schmidt, Teacher, German
Winfried Schneider-Deters, retired, German
Oleksandr Semenchenko, Director, Ukraine
Olena Serdiuk, economist, Ukrainian
Stoiniak Serhii, Lawyer,
Bondarenko Serhiy, Self-employed, Ukrainian
alla servetnyk, agree, ukranian
Dmytro Shabanov, proffesor, V.N.Karazin Kharkiv National University, Ukraine
Lesia Shafranska, interpreter, entrepreneur, ukraine
Oleksii Shamrai, Software developer, Ukraine
Inesa Shapovalova, Manager, Ukraine
Nataliia Shatalova, Admin Assistant, Peace Corps Ukraine, Ukrainian
DMYTRO SHCHERBINA, business analyst, PE  SHCHERBINA D.V., Ukraine
Tetiana Sheliakina, Business Analyst, IT, Ukrainian
Evgenii Sherbyna, Infectionist, Ukrainian
Ihor Shevchenko, Lawer, Ukrainian
Bogdan Shevchuk, self employed, ukrainian
Mykola Shevchuk, engineer, Ukrainian
Natalia Shevchuk, Musician, Ukraine
Martislav Shliaha, IT eng., UA
Oksana Shpak, accountant,  Ukraine
Inna Shtovba, HRD, Ukrainian
Denys Shtyliuk, Glass fuser, Ukraine
Serghiy Shtyrov, Retiree, Ukraine
Igor Shugurov, Self employed,
Viktor Shumskyi, Lead leacher, Ilanguage, Ukraine
Borys Shumyatskyi, programmer, Ukraine
Oksana Shutenko, accounted, Ukraine
Natalia Shylova, project manager, Ukraine
Konstantin Sigov, Chief Editor, Publishing House "Spirit and the letter"/Dukh i litera, Ukraine
Oleh Sikalo, manager, LLC Lileya, Ukraine
Tobias  Sikora, Administrative Assistant, Austria
Nadja Simon, Konferenzdolmetscherin, Freiberuflerin, Deutsch
Sarunas Siugzda, -, -, Lithuanian
Oleksandr  Skarboviichuk, Business,
Natalia Sklyarska, Project head, Social Capital NGO, Ukraine
Uliana Slaba, rheumatologist, Ternopil national medical university, Ukraine
Maryna Slashchova, Doctor,
Maria Slesazeck, Projektleiterin Konfliktnachsorge Osteuropa, german
Anatolii Sliusariev, QA engineer, Ukrainian
Linda Solomiia, quilter, ukrainian
Hanna Spikhtarenko, Designer, Ukraine
Dmytro Spivak, senior lecturer, INTERNATIONAL ALLIANCE FOR FREEDOM OF UKRAINIAN POLITICAL PRISONERS -, Ukrainian
Veiko Spolitis, Associate scholar, Latvian Institute of International Affairs, Latvian
Tetyana Stadnyk, Content Manager, Ukrainian
Sheliakin Stanislav, Independent contractor, Ukraine
Zhelezkov  Stanislav, Doctor, Homeopatic konsultashion, Ukraine
Anastasia Stasiuk, Psychologist, Own business, Ukrainian
Viktor Stepanenko, Motorman, Ukraine
Max Stepaniuk, Tech coach, Ukrainian
Susan Stewart, Senior Associate, Stiftung Wissenschaft und Politik, USA
Svitlana  Stognii, Economist,
Tetyana Strazhnyk, Director, Ukraine
Oleksandr  Strielnik, Customs officer, Ukrainian
Ilona Strumickiene, Researcher, Lithuanua
Mykhaylo Stryykiv, Doctor, Ukrainian
Olena Stupak, Psychology, Ukraine
Valentin Sudeikin, IT, Ukraine
Artur Sumarokov, Cinema critic, Rezhisseur.org, Ukrainian
Yuliia Sushko, Lawyer, Ukraine
Oleksandr  Sushko, Executive Director, International Renaissance Foundation, Ukraine
Oleksandr Suvorov, Software Engineer, Toradex AG, Ukrainian
Darius Sveikauskas, CEO, Lithuanian
Korotkova Svitlana, Economist, Ukraine
Ronchkovska Svitlana,  engineer, Ukraina
Bundyk Svitlana, Accountant, Ukraine
Köster Switlana, Altenpflegerin, ukraine
Marina Sych, teacher, Ukraine
Yanina Synenko, designer, Ukrainian
Oksana Synytsya, Teacher, Ukrainian
Valerii Sysoiev, Information Security Manager, Deloitte, Ukraine
Joanna Szostek, university lecturer, University of Glasgow, British
Julius Tamaševičius, Project manager, Lithuanian
OLEKSII TARAN, Chairman of the Board of the Public Organization, UKRAINE
Chubai Taras, Musician, Ukraine
Olena Tarasenko, nurse, Regional Hospital of War Veterans My answer, Ukrainian
Igor Tatarenko, Student, National law University, Ukrainian
Vlad Taushan, IT specialist, Ukraine
Wolfgang Templin, Publizist, Deutsch
Maarten Tengbergen, translator, Dutch
Olga Terenina, librarian, Ukrainian
Viktor Tereshchenko, Manufacturer, Ukraine
Sparynska Tetyana, teacher, Ukrainien
Urs Thomann, Co-founder / Urban Planner, CANactions School for Urban Studies, Switzerland
Alexander Tikhonov, Director (&Owner), Taktum LLC, Ukrainian
Alla Titova, teacher, vocational school, Ukraine
Oleksandr Titsa, Priwat persone, Ukraina
Alla Tiunova, Self employed, Ukraine
Olha Tkachenko, Attorney at law, ukrainian
Yuri Tkachenko, Former Judge. Attorney at Law., Ukraine
Yevheniia Todorenko, Business analyst, Ukrainian
Serhii Tokar, Call center operator, Med-magazin.ua, Ukrainian
Oksana Tokarchuk, Economist, Ukraine
Dovilė Tonkūnaitė, Manager, Lithuanian
Olena Tormysheva, Teacher, Ukrainian
Olga Travleieva, pensioner, Ukrainian
Olena Tretiak, Bookkeeper, Ukraine
Vasyl Tretiakov, Banker,
Nataliia Tretiakova, designer, Ukraine
Yuri Tretyak, governance consultant, Ukrainian
Gerhard Treutlein, Pensionär, Herr, deutsch
Filipp  Trigub, Student, German
Natalya Tsarenkova, mathematician, Ukrainian
Natalia Tsaruk, Doctor, Ukrainian
Giorgi Tsotskolauri, Graphic Designer, Georgia
Nona Tsotsoria, Expert,
Anton Turchanenko, Software developer, Ukraine
GEORGES TURKEWICZ, LINGUISTE, CERCLE  CHAPOVAL, FRENCH
Оksana Tyshchenko, Senior Research Fellow, IUL NASU,  Ukraine
Natalia Ukrainets, Brand manager, Crystal group, Ukrainian
Ukshini Ukshini, Journalist, Kosovo
Tsvietkova Ulyana, engineer,
Aidas Urmanavičius, Architect, lithuanian
Ivan  Usikov, Engineer, Ukrainian
Evelina Ustinavičiūtė, Freelancer, Lithuania
Zhanna Ustyuhova, As. Prof., TNU, Ua
Sovetchenko Vadym, Coach, Ukraine
Raimundas Vaišvilas, Owner, RLDK UNITED, Lithuanian
Michael Válek, Financial analyst, Czech Republic
Zakovorotna Valentina, Manager, Ukr
Zavertailo  Valentyna, Teacher, Ukraine
Myroslav Valigunda, Manager, Canadien
Vira Vardanian, Teacher, Ukrainian
Volodymyr Varenyk, PhD, Cherkasy National University, Ukrainian
Mariia Varfolomeieva, HR, Ukraine
elsa vasseur, none, french
Svitlana Vasylyeva, Meneging director, Ukrainian
alla vaysband, Chairman, europa grenzenlos e.V., Germany
alla vaysband, Vereisvorsitzende, europa grenzenlos e.V., Germany
Oleksiy Verbitskiy, Mechanic, Ukrainian
KIRA VERESHCHAGINA, Translator, Freelance, Ukrainian
Eddy Verhaeghe, economist, self-employed, Belgian
Nosikovska Veronica, Student, KNLU, Kyiv, Ukraine
Bohdan Veselovskyi, Analyst,
Yana Vestel, Translator, Publishing House 'Spirit and Letter' /Dukh i Litera, Ukraine
A.F. Veth, Technical Engineer, Dutch
pierre viart, chargé de cours honoraire, ULB Medicine, Belgian
Natalia Viatkina, Senior Scientific Researcher, Institute of Philosophy of NASU, Ukraine
Reshetnjak Victor, programmer, Ukraine
Maessen Victor, Self employed, Belgium
Olena Vinnytska, Associate professor, Bogomolets National medical university, Ukraine
Dmytro Vizir, Freelancer, None, Ukrainian
Vladich Vlad,, Ukraine
Victoria Vlasenko, journalist, Ukrainian
Jean-Pierre Vlérick, Magistrat émérite, Belgian
Uliana Voitkiv, Ekonomist, Oschadbank, Ukrainian
Oleksandr Volkov, IT Consultant, Ukrainian Society in Switzerland, Ukraine and Switzerland
Zhanna Volkova, Teacher, Ukrainian
Hennadii Volosgkevych,  university professor, Cherkasy National University, Ukrainian
Oksana Voloshchuk, accountant, Ukraine
Valentyna Volynets, teacher, Ukrainian
Kurt-Christoph von Knobelsdorff, Civil Servant, german
Tetiana Vorobets, Accountant, Ukrainian
Oleksandr Voroniuk, Teacher, Ukrainian
Oksana Voronkova, Manager, NACP, Ukrainian
Eugenijus Vosylius, Retired Colonel, Lithuanian
Andriy Voytyuk, musician, self employed/show business, Ukraine
Yurii Vyshnia, Head for logistic department, Viknaland LLC, Ukrainian
Aida Vytienė, Unemployed,
Claire Waelbroeck, Scientist, CNRS, french
Denis Waelbroeck, Professor, ULB, Belgian
Holger Weiblen, Lawyer, CDU, German
Reinhard Weißhuhn, pensioneer, deutsch
Andreas Wiemann, Consultant, German
Sally Wilton, Business person, Private individual, Uk
Thomas Winter, Supply Chain Manager, German
Norman Wiswell, retired, USA with Ukrainian ancestrey
Volodymyr Wol, Driver, Ukraine
Maryana Yablonska, General accountant, Heritage.UA Charity organization, Ukrainian
Roman Yakovets, Electrical Engineer,
Kyrylo Yakovliev, Software Developer, Ukrainian
Ivan Yancool, Head of branch, Traid Media LLC, Ukrainian
Andriy Yaniv, Manager, Ukrainian
Artem Yanko, IT Security, Ukrainian
Kateryna Yaresko, Head of Department of Management of Social Communications, Simon Kuznets Kharkiv National University of Economics, Ukraine
Yaroslav Yaroshevych, Auditor, Ukrainian
Vlada Yaroslavska, Self employed, Ukraine
Oleksa Yaroslavtsev, Journalist, NGO "Near with you", Ukrainian
Yevhen Yasinskyy, musician, Cultural and educational society "Prosvita" musician, Ukraine
Olena Yasynska, Geology, Ukraine
Konstantin Yemets, Commercial Director, Ukrainian,
Shkrobot Yevhenii, Doctor, Soussa central hospital, Ukrainian
Irina  Yoriychyk, Pensioner,
Bondarenko  Yuliya, Analytical, Delta Bank, Ukrainian
Nazimok Yurii, IT, Zorya, Ukraine
Akimov Yurii, teacher,
Husnay Yurij, entrepreneur, Ukraine
Oksana Yurina, Freelance Translator, Ukraine
Iryna Yurko, Hairdreser, Ukrainen
Oleksandr Yurov, Software developer, Ukrainian
Andrii Zablotskyi, IT, Ukraine
Johann Zajaczkowski, PhD candidate, University of Bonn, german
Lyubov Zarooma, Pharmacist, Ukrainian
Olena Zaruma, Dr, Ukraine
Oleksii Zavodov, Private entrepreneur, Private entrepreneur, Ukrainian
Tatiana Zayats, educator, Kindergarten, Ukraine
Sergiy Zheleznyak, Officer, National Police of Ukraine, Ukrainian
Kornelius Zhygurt, jeweler, ukrainian
Ina Zhyhar, Taxist, Belarus
Jörn Ziegler, Vorstand, German
Tetyana Zinkiv, Pensioner, Ukraine
Denys Zubok, Lawyer, Ukrainian
Iryna Zubrytska, web-designer, Ukrainian
Vaidas Zujevas, Heathrow excess baggage team leader, Lithuanian
Keti Zukakishvili, Lawyer, Georgia
Светлана Антонец, HR, Avgust Trade, Ukraine
Юрій Бердик, Пенсіонер, Українець
Вадим Буцик, Продавець, Українець
Волошина Ольга Волошина Ольга, Учитель, Домохозяйка, Украина
Валерій Гойчук, пенсіонер, Україна
Любомир Дзендзя,  Б/р,
Сергій Дмитриченко, головний редактор, Національний портал "Аратта. Вікно в Україну", Україна
Надія Володимирівна Забранська, вчителька математики, сш №302 м. Київ, Україна
Юрій Іваницький, фахівець,
Лариса Іллюк, фрілансер, громадянка України
Пастернак Ірина, Дизайнер, Видавництво "Дух і Літера", Україна
Andrii Каdykalo, associate professor, Lvivska Politechika, Ukraine
Юрий Капустяк, архитектор, Украина
Сергей Карпенко, Frillancer,
Дмитрий Козлов, Altenpflegeleger, Юлия GmbH, Русский
Валентина Костючок, Масажист, Домогосподарка, Україна
Попадюк Леся, Оптометрист, Оптика, Українка
Величко Наталія, Оператор контакт-центру, Українка
Пядик Олександр, наладник ЧПК,
Назаренко Олексій, businessman, business, ukrainian
Сергей Осташко, Предприниматель, UA
Сергій Папій, підприємець, Україна
Антоніна Піддубна, пенсіонерка, Україна
Людмила Попович, Менеджер, Украина
Юлія Саленко, Кухар, Україна
Макуха Сергій, Охоронець,
Ганна Солодченко, Бухгалтер, Україна
Galina Тkatchuk, Business owner, Belarus
Червоненко Тетяна, Статистик,
Хайкова Тетяна, пенсіонерка, Україна
Оксана Чебанова, Пенсионер, Украина
Олексій Шевчук, Інженер,
Віталій Шкробатюк, Пенсіонер, Україна
IF YOU AGREE WITH THIS LETTER, PLEASE SIGN HERE.
Read also: