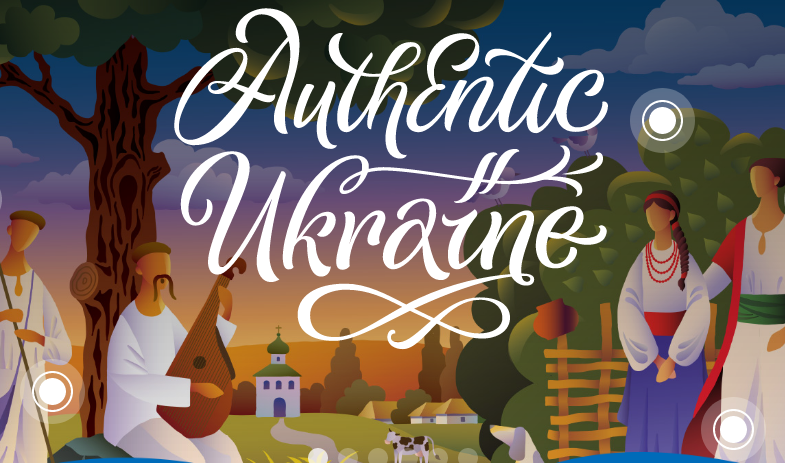 While traveling around the world (in reality or on the Internet) we, first of all, learn about the culture of the people living in various countries, their spiritual values. We try to understand the souls of the nations. The key to such understanding lies in the deepest layers of folk culture, preserved in the intangible cultural heritage of each nation. An interactive web source created in 2019 may help you explore Authentic Ukraine and its heritage.
Intangible Cultural Heritage, as defined by UNESCO, is transmitted and perceived by living people, so it remains alive for centuries. Protection of the Intangible Cultural Heritage contributes to the enrichment of cultural diversity and stimulates creativity. The list of Intangible Cultural Heritage of UNESCO includes such Ukrainian objects as Petrykivka painting and Kozak songs of Dnipro Oblast. Yet, much more are presented in the platform "Authentic Ukraine," including performing arts, customs, rites, celebrations, knowledge, and practice concerning nature and the universe, traditional crafts, oral traditions, stories, and legends. You can listen to some Dumas, Kozak songs performed exclusively by bandura's players. To explore all that go to https://authenticukraine.com.ua/en.
Presented heritage includes these pieces of art and folk culture:
And also many particular and interesting examples of Ukrainian culture and modern reconstructions.
While not yet being able to write and read, every child hears lullabies, fairy tales, and legends from his parents and grandparents, searches for answers to riddles, learns Christmas carols and shchedrivki (ritual songs) on winter holidays, finds out about the majestic events of national history and speaks the first words in his native language.
The very calendar ceremony is the oldest one, closely related to the agrarian way of life, with its roots in the pagan beliefs of the Slavs, our ancestors.
Virtual tours
As a bonus, it is possible to enjoy virtual tours that can be just as much exciting, as the real journeys. Technologies allow digital traveling through visiting the open-air museums, exploring the unique architecture of wooden churches, or taking a look behind the scenes of opera houses of Ukraine.
Tags: songs, traditions