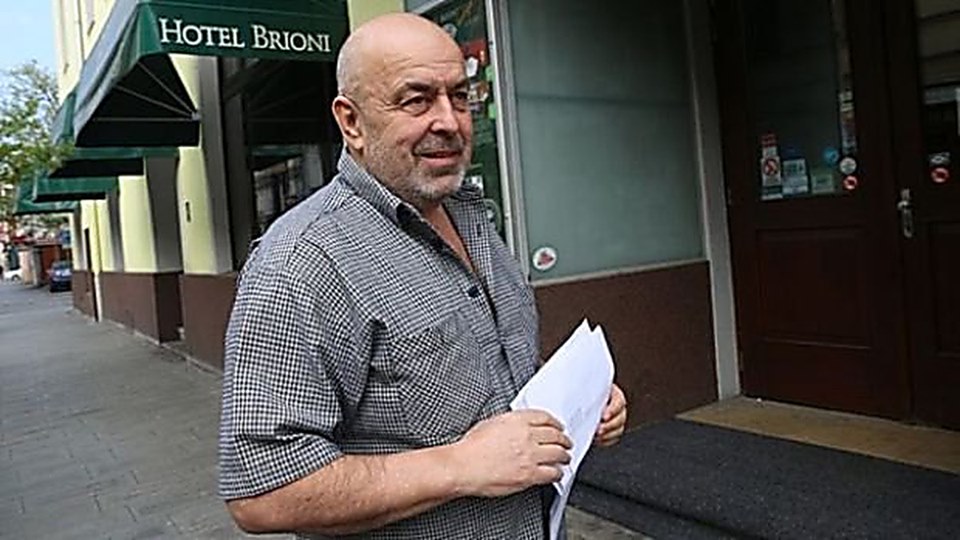 Tomáš Krčmář, owner of Brioni Boutique Hotel in the Czech city of Ostrava.  
The Constitutional Court of the Czech Republic recently announced an extremely symbolic and significant decision that directly concerns Ukraine.
Tomáš Krčmář, owner of Brioni Boutique Hotel, works and lives in the Czech city of Ostrava. Five years ago, he decided to bar Russian citizens from his establishment as an act of protest against Moscow's invasion and occupation of Ukraine's Crimean Peninsula and out of frustration at what he considers the EU's and the Czech Republic's weak response to the move. On March 24, 2014, he posted an announcement stating Russian citizens would not be allowed to stay in his hotel. A few days later, however, he changed the text: Russian citizens would be accommodated only if they wrote a short memo condemning the occupation of Crimea.
The Czech Trade Inspection then declared that such an approach was discriminatory and fined Tomáš Krčmář 50,000 crowns (approximately 2,000 euros). Many of his countrymen offered to pay this fine, but Tomáš decided that it was a matter of principle and that he must fight it out to the end. In his opinion, he had done nothing wrong:
"As long as Russia stops in Crimea, the EU is ready to sweep the whole thing under the rug and continue in a business-as-usual manner, so as to get rid of an uncomfortable headache.

If our memory is too short to learn lessons from what happened in 1939, then at least let's try recalling 1968 or Georgia in 2008… I considered it my civic duty. If I had an army, I would've proclaimed a state of emergency, but I don't, so I do what I can."
The court reduced Tomáš's fine to 5,000 crowns, but this did not suit him. He pointed out that even if he had to pay one crown, he would not agree with such a decision. After filing several complaints to various judicial instances, Tomáš brought the case before the Constitutional Court of the Czech Republic.
"Putin has done the same thing that Hitler did in Sudetenland… We must remind people, who haven't been taught history properly, what may happen if you fail to pay attention to certain things. The Russians have been here before. I don't want to see them here again… ever again, neither for myself nor for my children."
On April 30, 2019, the Constitutional Court ruled that there was no act of discrimination in this case. The judges rejected the Supreme Administrative Court's decision that it was an issue related to national intolerance, and, on the contrary, recognized the hotel owner's rational behaviour.
Referring to the unequivocal position taken by international organizations, as well as the Ministry of Foreign Affairs of the Czech Republic, the Constitutional Court stated that Russia's annexation of Crimea contravened the fundamental principles of international law. The Czech Constitutional Court underlined that the country's public authorities also have a different approach to a person's citizenship, which is a fundamentally different concept from a person's nationality.
If any client had been refused entry into the hotel due to his ethnic origin or religion, the court would have considered it an act of discrimination, but not from the perspective of citizenship. The case will now return to the Supreme Administrative Court, which should review its previous decision, taking into account the verdict pronounced by the Constitutional Court.
Based on a ruling of an EU-member Constitutional Court, this case constitutes an extremely important precedent, as not only does it justify Tomáš Krčmář's actions and defense of Ukraine, but it also confirms the illegality of Russia's occupation of Crimea, a territory of Ukraine.
Tags: Crimea