Today marks the 70th Anniversary of the North Atlantic Treaty Organisation. The Alliance was founded in the aftermath of the Second World War by a group of European and North American countries, united by their desire to create a lasting peace in Europe.
Much has changed in the world since 1949. Security threats are more diverse and ever-changing. NATO has grown to a soon to be 30 members and it now has partnerships with 41 countries. But the aims of the Alliance are as relevant today as they were then. And that is no accident. NATO was designed to have long lasting purpose: to promote peace, security, and stability, not just within the Alliance but also outside its borders.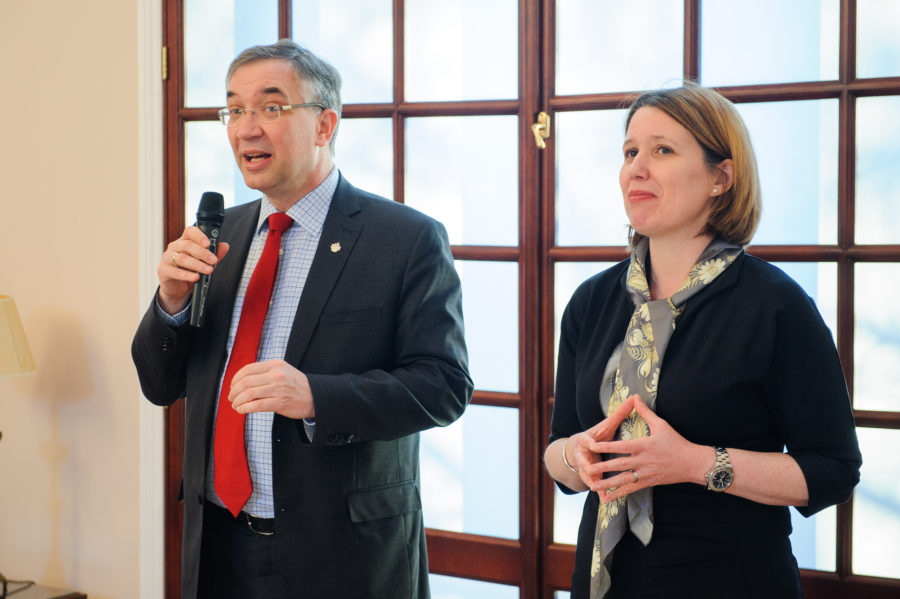 The Ukrainian people have spoken loudly about the Euro-Atlantic direction the country should travel. You have already paid a heavy price for that choice, facing down Russian aggression at every turn.
We understand the challenge of carrying out difficult and wide-ranging reforms when faced with defending the country from a foreign aggressor. And we understand that the road to NATO will be long and difficult; it will require dedication, bold leadership and sacrifice. But this journey is as important as its goal, as it will strengthen Ukraine from within and make it more stable and prosperous.
All this is why the Alliance has stood with Ukraine since you regained your independence, why we continue to develop our close and distinctive partnership, and why we continue to help you to strengthen your institutions and your armed forces. Since 2014, NATO has stepped up its practical assistance to ensure your country is better able to defend its borders and strengthen its resilience to hybrid threats.
This includes improving defense command and control structures, increasing military education and training, strengthening democratic oversight over your armed forces, and assisting in combatting constant cyber-attacks against your critical infrastructure.
Individual Allies also continue to provide substantial bilateral support. The UK- and Canada-led Orbital and Unifier Operations are proud to have provided essential military training to almost 20,000 Ukrainian personnel combined. The visits of UK and Canadian ships to Odesa in recent months are a concrete demonstration of our support and ability to flex and counter new challenges, including on maritime security. Both our countries are actively involved in Ukraine's reform agenda, as members of the G7 Ambassadors Group and of the Defence Reform Advisory Board. Many other Allies are equally active and committed to Ukraine as we understand that your security has always been and is now more than ever fundamental to European and Euro-Atlantic security.
However, there is more to NATO than defense. While the Washington Treaty's most famous Article enshrines the principle of collective defense, NATO was never envisaged as just a military alliance. At its heart, NATO is a political alliance of shared values founded on the principles of democracy, individual liberty and the rule of law. This principle extends to NATO's work in Ukraine. The Alliance continues to support the efforts of the Ukrainian government to implement wide-ranging democratic, judicial and defense reforms; the promotion of human rights, gender equality and combatting corruption; and cooperates in areas such as science and education. Progress on reform is essential for Ukraine's security and future prosperity. A reformed Ukraine, founded on respect for human rights, democracy, and rule of law, is the best way to combat Russian malign interference.
We have seen enormous progress in Ukraine since the Revolution of Dignity but if the country is truly to fulfill its potential there can be no room for complacency. There is more to be done to ensure your Euro-Atlantic aspirations can eventually be realized.
The UK and Canada will continue to stand by Ukraine as you take forward your ambitious reform agenda in challenging circumstances. As NATO Contact Point Embassies in Ukraine, our mission is to increase understanding of NATO, its policies and values, to raise awareness and increase commitment across Ukraine to the principles on which the Euro-Atlantic community is built, and to strengthen the essential relationships on which NATO-Ukraine cooperation depends.
Read also: