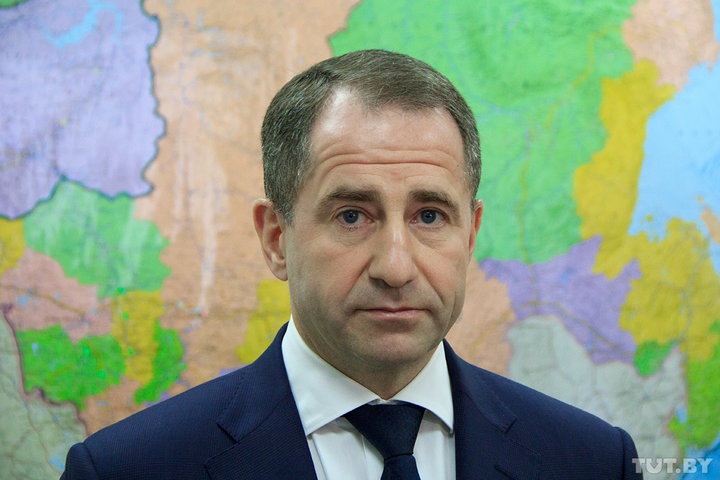 Mikhail Babich (Photo: tut.by) 
Belarusian media have focused on the ways in which Moscow's ambassador in Minsk, Mikhail Babich, has behaved in an anything but a diplomatic manner as he serves as Vladimir Putin's proconsul in Belarus. But far less attention has been given to the personnel he has assembled in the embassy, personnel who can't be described as diplomats at all.
That has now been rectified by Tut.by journalist German Pisaryev who describes the senior officials at that nominally diplomatic mission Babich has assembled, people with backgrounds in the security agencies and with biographies that include subverting Ukraine.
Babich's deputy, minister counselor Aleksey Sukhov, is a professional GRU officer (news.tut.by). He worked for Babich when the latter was presidential plenipotentiary in the Volga Federal District where Sukhov supervised internal politics of the regions and republics within the FD (kommersant.ru).
Whether coincidentally or not, Pisarev continues, Sukhov was discharged from his position by the Volga Federal District on the day his brother Vladimir, the director of Ulyanovskgosekspertiza, and his wife were arrested on suspicion of bribery and extortion.
Babich also brough to Minsk several other of his former subordinates in the Duma and the Volga FD, including Svetlana Lipey and Aleksandr Dementyev in the former and Oleg Slobodyan and Ilya Fedorov in the latter, the Belarusian journalist reports.
One of the most interesting of Babich's men is Andrey Klintsevich, son of the Russian senator, and someone who has a GRU background and supervised the military patriot clubs of the Young Guard of United Russia in the Volga region. Later he was honored by Putin for his service in Crimea during the Anschluss.
He also gained notoriety for espionage and terrorist activities in Kyiv. As a result, he was declared persona non grata and expelled.
Yet another embassy staffer, minister counselor Vladimir Andreyev gained even more notoriety by going beyond the official Moscow line in falsely attacking Crimean Tatars as Nazi collaborators, a position he maintained even after being criticized by the Russian foreign ministry (lenta.ru and interfax.com.ua).
"Klintsevich and Andreyev are not the only diplomats in the Russian embassy in Minsk who have had problems with the Ukrainian authorities," Pisarev says. Some there who came even before Babich had them as well, including Kirill Kolyuchkin who was expelled for spying and GRU officers Konstantin Gusev and Vladimir Maresev (ord-ua.com).
Read More:
Tags: Belarus, forced integration of Belarus into Russia, GRU (Russian Military Main Intelligence Directorate), Minsk, Russia, Russia-Belarus relations