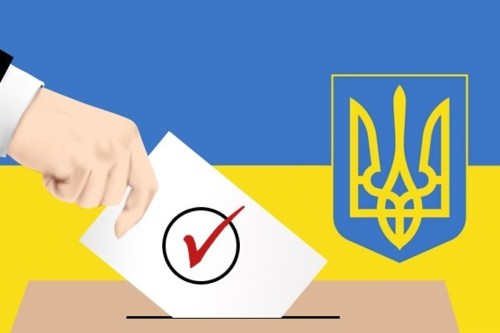 "So dirty, so cruel, with such massive falsifications and bribes…there was no such election campaign yet,
" Viktor Medvedchuk, Putin's relative and Ukrainian oligarch
said
.
Is it true? Amid the hysteria of Russian media about mass manipulations and the illegitimacy of Ukrainian elections—echoed by Ukrainian media—it's important to know the real risks for manipulations in the Ukrainian elections, and whether they can influence the results dramatically.
The fact that the objective of Russian propaganda is to delegitimize the Ukrainian presidential elections was already evident a month ago. And the proof— messages and political statements in the Russian media, as described in a previous article on Euromaidan Press.
In its recent bill submitted to the Duma for consideration and voting, Russia tries to officially "non-recognize" Ukrainian elections. The bill sets forth that it is impossible to hold an "honest and politically responsible electoral campaign in Ukraine," especially in the context of "Western sponsors encouraging anti-Russian policy."
President Poroshenko commented on the bill, saying "Their thinking is within the 'one people' framework… I have a very unpleasant message for them—Ukraine is and will be a sovereign and independent state. And the [results of the] elections will be determined by the Ukrainian people, not the Russian State Duma."
Yet, several possible methods for manipulating votes are currently being discussed in Ukrainian media and, according to the sociological research of Democratic Initiatives, only 31% of Ukrainians believe that honest elections will take place Sunday, 31 March.
What are the most common methods of manipulation? To what extent are they assured, and are they truly as imminent as Russia would like to proclaim?
"Technical candidates" for falsifications, and lots of representatives for control
The easiest way to implement any mass manipulation is through members of the district election commissions, and, especially, members of local polling stations. What causes even more concern this year is the large number of candidates. Many of them are "technical," i.e. little-known persons who never had a chance of being elected but are in the list because their presence serves the political goals of real candidates.
For instance, little-known Mr. Yuriy Tymoshenko, whose name is suspiciously similar to that of leading candidate Ms. Yuliya Tymoshenko and will be right next to her in the ballot, is sure to shave off a few decimal points from her final result. They could be decisive for her ability to pass to the second round.
Each of the candidates has a quota on the number of representatives which are allowed at the district commissions and local polling stations (one per station). Since many candidates are "technical," their commission members, in practice, will also work for other candidates.
A notorious example, revealed at the
press conference
of the Committee of Voters of Ukraine, was that of Mykola Haber. He attempted to install an inordinate number of his people into electoral commissions:
"Currently, more than 90% of the polling station commissioners have representatives of that candidate [Haber]. In his financial report he indicated zero spending on elections, yet he actively delegated his representatives to the commissions."
His actions can only mean that he sold his quota for representatives to another candidate, who, in turn, paid them for their work.
This is one way in which a candidate could place more than one representative in a polling station.
Why is that important? Having more representatives in a polling station means more opportunities to falsify results – changing lists of voters, marking ballots of absent voters, changing ballots or damaging those in favour of a rival, are all methods of voter manipulation.
However, this type of cheating is over-exaggerated. According to the Committee of Voters of Ukraine, "reports show that today the district election commission has 37 members on average, while the official number of candidates is 39." Almost all candidates have used their quota of one representative per commission. In other words, with such a close ratio, any form of manipulation will be difficult, since representatives will be able to monitor one another.
Local polling stations are also well balanced in terms of representatives. With 29,788 polling stations registered, on average, 15 representatives are allocated per polling station. The frontrunners have representatives at almost each polling station: Petro Poroshenko, has 99% covered; Yulia Tymoshenko has 97%; Oleh Liashko has 97%; Yulia Lytvynenko (possibly a technical candidate de-facto using her quota of representatives in support of another candidate) has 95%; and Anatoliy Hrytsenko has 94%.
Due to the density of Representatives, the mutual control of candidates and their representatives will be tight. Violations are expected to be minor and only in very few polling stations – as such, any potential influence should have very little effect on the final results.
But nevertheless, because the stakes are so high at these elections, there will likely be attempts at falsifications. Pamphlets named "Reminders" have already been given to representatives of certain candidates. The "reminders" encourage to cooperate with representatives of "allied" technical candidates and to falsify when possible.
Suggestions are provided as follows: each polling station has two of "our" members to cooperate (which is a violation and proves the use of technical candidates); you should persuade other members at polling stations that three of "our" representatives will form a group to attend to people who need to vote from home due to disabilities or health issues.
To reduce the chance of such a manipulation, these three representatives who leave their station to assist persons voting at home cannot be working for the same candidate. Otherwise, they would have the chance to collude and falsify results.
Overall, 900,000 voters are registered to vote at home which is approximately 2.4%. Theoretically, it would be possible to manipulate the at-home voting to influence the final results. However, once again, it would be very difficult to enact such a system due to the high density of representatives.
Bribing voters as a possible manipulation
Although technical candidates and the manipulations at polling stations appear not to be a major challenge to fair elections, as Viktor Medvedchuk and Russian media have claimed, other forms of manipulation remain a problem. These are the three most serious, as per the Committee of Voters of Ukraine: bribing voters, shadow funding of campaigns, and illegal propaganda.
The European Network of Election Monitoring Organizations (ENEMO) report provides similar conclusions, with voter-bribing among the most concerning. The SBU and police have issued reports on such schemes as "networks" and "pyramids" engaged in vote-buying. These are generally considered more pervasive during pre-election PR, but may also play into election day. No one knows definitively the real scale of "networks" and "pyramids."
Dirty job of media as the main pre-election manipulation
ENEMO also names media as falling short of the principles of justice and impartiality in covering election campaigns:
"Black PR campaigns, both in traditional media and in social networks, improper labeling of advertising, and new forms of propaganda remain causes for concern."
The Committee of Voters of Ukraine recognizes such wide-scale public manipulations as being the most insidious.
Indeed, the degree of black PR launched against Poroshenko, Tymoshenko and Zelenskyy, as leading candidates, was unprecedented in these elections. A by-product of the turmoil is reflected in the number of people who still haven't decided for whom to vote.
Fake poll results are among the top data manipulators. A new rule introduced for these elections is that data polls could be published as late as two days before the elections – previously polls were cut off at two weeks. This has enabled candidates to issue manipulated polls very late in the game and very close to election day. Moreover, it has allowed for aggressive promotion of obviously false polls almost continuously over the internet.
Overall, information manipulations and black PR-techniques are the very reason many Ukrainians are voting against certain candidates, while at the same time not being able to decide which leader they can fully trust.
An unprecedented number of international observers
These elections will have international observers at twice the rate of the 2014 elections. Russian authorities, however, were not allowed to act as observers, and many see this as their key grievance for claiming illegitimacy.
Kostiantyn Hivrenko, a spokesman of the Central Election Commission, stated that the large presence of observers this year should make the elections fully transparent: "There are currently 2,344 official observers from 19 international organizations and 17 foreign countries. This powerful international presence is a record number."
National Militia to use violence?
Other warnings have been issued about the National Militia, who have stated they will use force if they detect voting fraud. However, only 342 of them have been officially registered as election observers, which is a relatively small number for a Ukrainian NGO. Obviously, they could try to pass themselves off as journalists, for example. But, they have publicly announced to operate solely within the legal framework.
As one of their members said, "The challenge is very simple… our job is to record and to bring any violation to the attention of the police." For their part, the police announced they would "severely stop any violence in the polling stations."
Sunday, 31 March will tell all.
By this link, you can find our live stream of elections on 31 March. Follow it to find the newest updates.
---
Edited by Vidan Clube