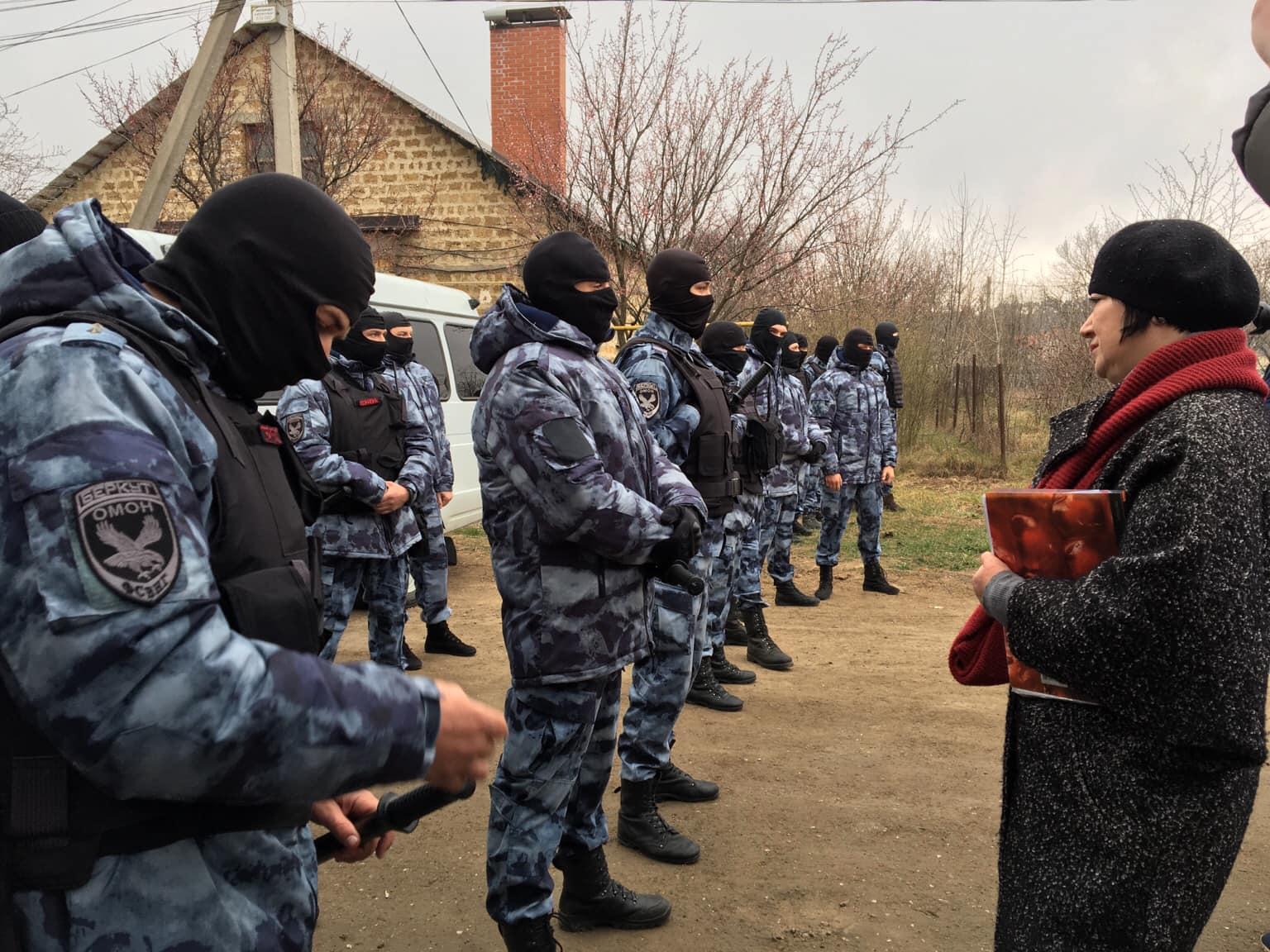 Russian law enforcement prevent lawyer Emine Avamileva from providing legal aid to the families whose houses were raided on 27 March 2018. Photo: Crimean Solidarity 
At about 6 AM on 27 March, Russian security forces raided more than 20 houses of Crimean Tatars in occupied Crimea. At least 20 men were arrested and accused of participation in the pan-Islamic organization Hizb ut-Tahrir. The next day, three more Crimean Tatars were arrested in Rostov-on-Don.
Hizb ut-Tahrir advocates for the expansion of Islam but rejects violent measures. It was criminalized by Russia in 2003 as a "terrorist group" despite none of its members ever having committed terrorist acts; it is legal in most countries, including Ukraine. After occupying Crimea, Russia enforced its criminal code on the territory in violation of the Geneva Conventions and used this ban as an excuse to persecute the Crimean Tatar ethnic minority of the peninsula. But the evidence presented as proof of the Crimean Tatars' involvement in Hizb ut-Tahrir is often falsified. The raid on 27 March was no exception.
The Crimean Solidarity association, which offers support for political prisoners and their families informed that employees of the Russian FSB, police, and Rosgvardiya searched the homes of Crimean Tatar families in the Strohgonovka and Kamenka villages near Simferopol and the Vladimirovka village in the Bilogorodka district.
As of the evening of 27 March, Shaban Umerov, Rustam Seitkhalilov, Farid Bazarov, Dzhemil Gafarov, Seiran Murtaza, Alim Karimov, Tofik Abdulgaziyev, Bilyal Adilov, Medzhit Abdurakhmanov, Rustem Sheikhaliyev, Seytveli Seitabdiyev, Yashar Mudeinov, Izet Abdulayev, Asan Yaikov, Enver Ametov, Ruslan Suleimanov, Akim Bekirov, Erfan Osmanov, Server Gaziyev, Riza Izetov – 20 men in total – were arrested and taken to the FSB HQ in Simferopol, Crimean Solidarity reported. Some of the arrested are Crimean Solidarity members.
Izetov received a protocol which says he is suspected in "keeping objects and documents testifying to the preparation of a crime." These were the brochure "Davvat practical recommendations" and the books "The Concept of Hizb ut-Tahrir," "Islamic State," "Party rally," "Al-Wai." All these books, Izetov says, were planted in his house  during the search.
Four men were not at home when the law enforcement came, but searches in the houses were made nonetheless in the presence of wives and infants early in the morning. Later, a microdistrict in Stroganovka village was completely surrounded by law enforcement officers and checkpoints with passport control were set up. FSB officers and police searched even a house where nobody was at home, trying to find four Crimean Tatars who were absent.
As usual, law enforcement operatives did not allow lawyers access and took away their mobiles and gadgets.
"When policeman put handcuffs on my husband, he asked to pray Namaz, because 6:00 is praying time. They said: only if you sign a court order. He refused. So policeman said 'No order, no Namaz.' But the children and I prayed together when the masked people were in our home," Suriya, wife of arrested Rustem Sheikhaliyev, said.
Together with her husband, she has three children – sons aged 18 and 15, and a nine-year-old daughter. Suriya said that her family was ready for such a visit because since the peninsula was annexed, the FSB come with raids to Crimean Tatars every Thursday.
"'Why do you come today? Today is Wednesday, we were not waiting for you.' But they just asked my husband to calm down, otherwise, they would stay here until evening. But they didn't tell us about the real reason for their visit," Suriya Shekhaliyeva mentions.
The teenager son of arrested Tofik Abdulgaziyev says that the law enforcement came to their home at 6 AM and at first worked without witnesses. One of the officers asked the teenager if his father is a member of Hizb ut-Tahrir and asked what would happen if prohibited literature would found in their house.
"I told them that they would not find anything, because we had nothing like that in the house," the teenager explained. "But then they went to the barn, picked up a rag, and there were two books. They were completely new books and the policeman had such a laugh right after my words. The witnesses said "extremist literature" even when I said that it wasn't ours."
By evening, the Kyiv district occupational court of Simferopol arrested Tofik Abdulgaziyev and eight more Crimean Tatars until May 15.
"My only crime is that I am a Muslim," Tofik Abdulgaziyev said at the court.
Akhtem Chiygoz, Deputy Chairman of the Crimean Tatars Mejlis, links the detention to the fact that the arrested includes activists from the Crimean Solidarity association who traveled all the way to Moscow to support the 24 Ukrainian sailors Russia arrested after attacking Ukrainian ships in November 2018.
Chiygoz himself was a political prisoner; he was also arrested in 2015 by the Russian occupation authorities and accused of organizing "mass riots," in reality – a large Crimean Tatar rally on 26 February 2014 protesting the ongoing Russian occupation of Crimea. After being released with the assistance of Ukrainian and international authorities, he now lives in Kyiv.
"They (Russian authorities – EP) simply take revenge on us. Our people had never recognized Russia in Crimea and will never do it in the future. These young families still are Ukrainian citizens, without Russian passports, and need the support of the international political community," Chyihoz stressed.
Two other Crimean Tatars who were arrested together with Chiygoz, Mustafa Dehermedzhy and Ali Asanov, are still under trial, although now under home arrest.
On 28 March, Russian law enforcement arrested three more activists of Crimean Solidarity in Rostov-on-Don: Remzi Bekirov, Osman Arifmemetov, and Vladlen Abdulkadyrov. Their houses were searched the day before.
The 23 arrested Crimean Tatars will likely the latest addition to the minimum 70 Ukrainian political prisoners of the Kremlin – Ukrainian citizens imprisoned by Russia on political motives.
Sofia Kochmar-Tymoshenko is a journalist based in Kyiv. In 2014, Sofia started working as a TV-journalist and fixer for international media. Her professional interest is religious freedom and human rights.
Read also:
Tags: #LetMyPeopleGo, Crimea, Crimean Solidarity, Crimean Tatars, Crimes of the Russian occupation regime in Crimea, Russian repressions in Crimea, Ukraine