As Ukraine enters the race for presidential elections, set to take place on 31 March 2019, it braces for several months of offline and online political manipulations. With a political culture shaped by the country's Soviet past, Ukrainian voters easily fall for populism, often vote for whoever gave out a food parcel the previous week, and have little confidence that they, or their vote, can influence the country. This culture of political nihilism means that, for many voters, elections are a chance to make a few spare bucks.
Unfortunately, rent-a-mob rallies and votes for sale were a reality for all previous Ukrainian elections. Not that these electoral manipulations influenced the results dramatically on the national scale, but they were always a shame for society, as they undermined the legitimacy of all rallies and elections. As well, they pointed to an overall low political culture, where voters are cynical enough to exchange their constitutional right for the promise of a few bucks. These politically corrupt tendencies were never countered until a huge prank took place in three large Ukrainian cities last week. The prankers summoned over 500 people who believed they would be paid 1000 UAH (US$37) for participating in a rally in support of non-existing presidential candidates, one of which was a serial killer. Everything was filmed.
Low-scale political corruption in Ukraine: rent-a-mobs and votes for sale
Rent-a-mob rallies
Not every rally in Ukraine is held by genuine supporters of a certain policy or decision. Demonstrations where participants were paid money to feign support for a candidate or idea first started in Ukraine already around independence in the 1990s. They became more widespread after the Orange Revolution in 2004 when street protests proved their efficiency and the "voice of people" became more important.
The technology is very simple. "Managers" of the planned rally post "vacancy" announcements at job search sites, find interested people in social networks or just use friends to find more and more "applicants." After standing in the street for several hours, the participants receive their cash.
The moment of receiving cash was filmed by an activist of the Automaidan movement at a rally in support of Nazar Kholodnytskyi last summer. The woman can be noticed handing out money to the rally participants. During the rally, she kept close to Illia Kiva, a police chief and organizer of the event.
https://www.facebook.com/automaidan/videos/2011762858835052/?t=0
On 17 June 2018, a demonstration supporting the dismissal of Nazar Kholodnytskyi, the head of the Specialized Anti-Corruption Prosecutor's Office who is accused of disciplinary offenses took place. Simultaneously, two demonstrations considered by Ukrainian reformers to be rent-a-mob rallies were organized: one in support of Kholodnytskyi and another against Vitaliy Shabunin, the Head of the prominent Anti Corruption Action Center. These two aimed to challenge the anti-corruption agenda.
The difference between these rallies is easily seen in the three pictures below. The first one is a real demonstration while the next two are fake, with protesters standing for money.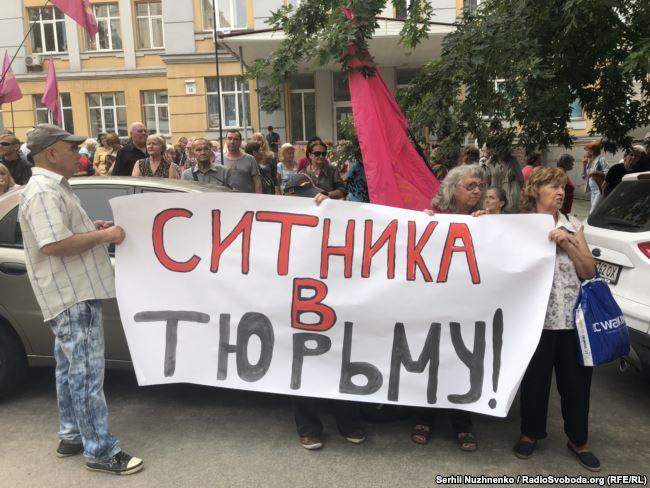 Rent-a-mob rallies are not that effective: the participants are passive, usually poor, and seniors. They can tell nonsense to journalists who ask them about the reasons for the rally. Usually, one can distinguish a rent-a-mob rally from the first glance and its media coverage is usually not as positive as the organizers wish.
Former Ukrainian president Viktor Yanukovych tried to use the practice of rent-a-mob rallies during the Euromaidan Revolution to organize an alternative street movement for his support, the Anti-Maidan. More than 10,000 people gathered in Kyiv on 14-15 December 2013. However, many of them were workers of factories in eastern Ukraine bussed to Kyiv as well as homeless people. According to Anti-Maidan participants, they were fed for free and promised a salary of 200-800 UAH (US$ 7-30) per day.
Votes for sale
Being paid for participating in rent-a-mobs isn't the only way voters try to earn on elections. Some are happy to sell their votes for 300 UAH (US$ 11). During so-called carousels, a voter takes his bulletin out of the voting room – an offense difficult to monitor – and sells it to the supervisor of the electoral manipulation, who places a checkmark next to the needed candidate. The next money-seeking "voter" submits this bulletin and takes his own bulletin outside, and so on. Such carousels, like paid demonstrations, can't influence the situation dramatically, though they're still shameful and lead to the erosion of democracy.
Prankers deal blow to rent-a-mobbers
The movement started in Odesa. Prankers used social networks to gather "a paid-for rally." The rally was supposed to be to support presidential candidate Serhiy Filatov. The fact that this candidate doesn't exist did not ward off the rally's money-seeking participants.
This is how the message was written:
"So, friends! Tomorrow at 15:00 the rally in support of presidential candidate Serhiy Filatov will be held. We gather near the Duke monument. The end is at 19:00. TV will be present and the candidate will meet with people. The salary is 1000 UAH (US$ 37). For every additional person you bring – a 70 UAH (US$ 2.30) bonus."
Several hundreds of people gathered the next day as it's depicted in the pictures below.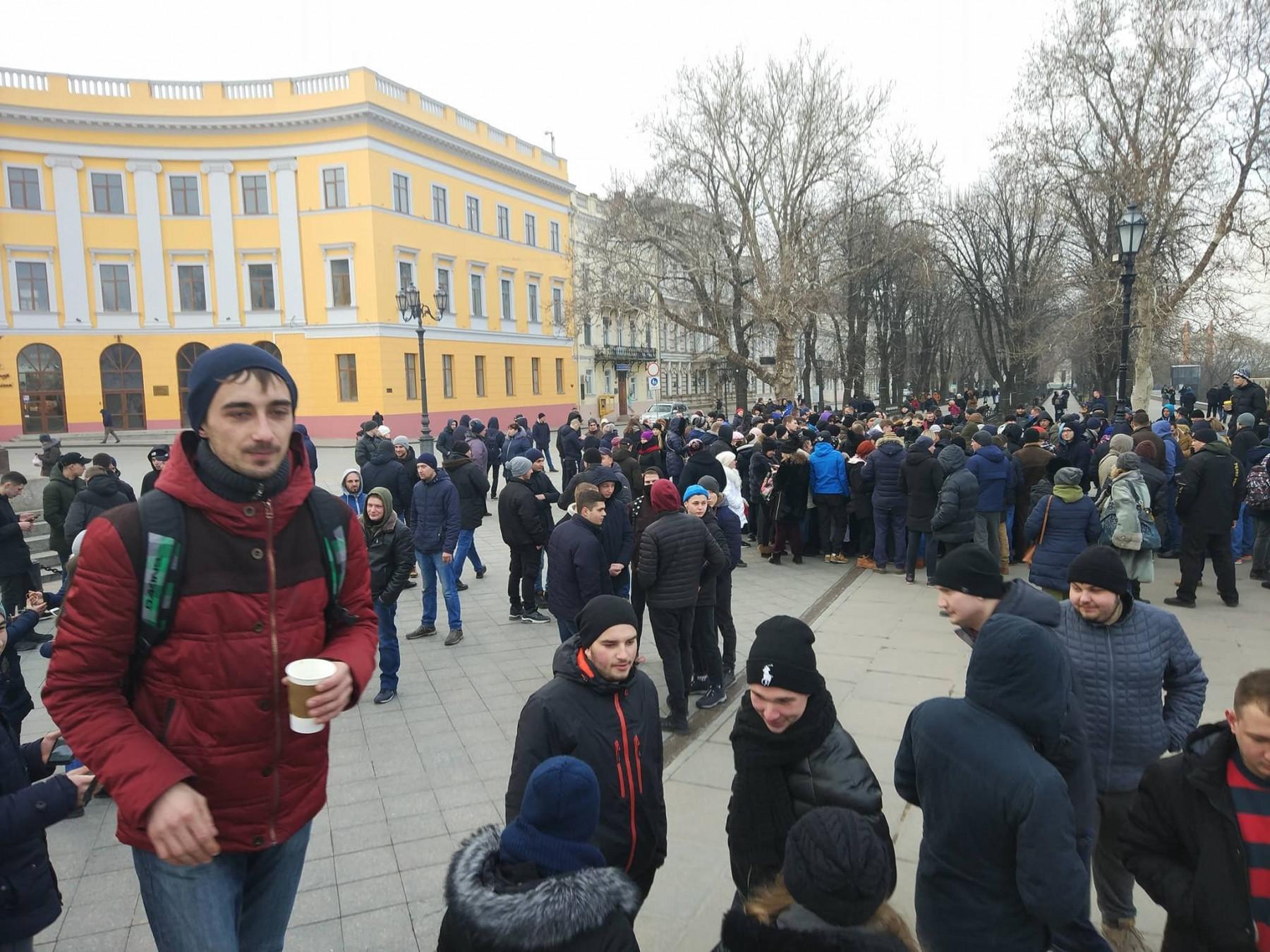 And then the organizers didn't come to the event. When the "mobbers" started writing them questions, they answered that "Serhiy Filatov fell into a manhole and died. A ceremony tomorrow will be held at 9:00."
The prankers were surprised that people could be so gullible and decided to stage the same event in Kyiv and Kharkiv with some improvements.
In Kyiv, a secret camera was installed on the balcony of the "Chornobyl-Tour" travel company. Prankers called the mobbers, saying they are running late with some TV-channels while, and instructed to shout some mottos and keep things under order until they come. The 40-minutes "film" is with the phone conversation on the background. Unfortunately, it is on Russian but in the first seconds of the video, you can see how the "activist" are crying the surname "Filatov" in support of the non-existent candidate.
Kharkiv prankers went even further and organized the event in support with the local media 057.ua, calling it a social experiment.
Two days before the fake rally, a Donbas war veteran who shared the "job" offer called the media and said: "I was inspired by the videos of the jokers who also gathered fake rallies in Odesa and Kyiv. I decided to check whether Kharkivians will swallow the bait. About 150 people called me only during the first day."
The legend was as follows: "We will meet on 13 February at 16:00 on Ploshcha Konstitutsiyi. No need to bring anything with you, just any ID for registration. The rally is held in support of the presidential candidate from people Anatoliy Onopriyenko."
None of those wanting to make easy money bothered to check who Onopriyenko is — a Ukrainian serial killer, who killed 52 people between 1989 and 1996.
This short 2-minute video shows the fake Kharkiv rally. People shouted: "Onopriyenko is our strength!" Of course, the man who was interviewed didn't know anything about Onopriyenko or his program.
"What a shame and a horror to live with such consumers in one city. Nothing they have in the soul apart from sausages for 2.20," one woman wrote in the comment to the video, accusing the rally participants of a post-Soviet mentality. In the USSR, political freedoms were traded for a guaranteed subsistence minimum like sausages for 2.20 rubles – a mindset that still lingers 27 years after the USSR's dissolution.
The success of these three rent-a-mob rallies inspired prankers for even more creative moves. On 17 February, they organized a paid rally against paid rallies! People were promised 150 UAH (US$5.60). While standing on Kontraktova Ploshcha in Kyiv, they held saying: "We don't sell ourselves." More than 1,000 people came to this demonstration, some for money, some just for fun. No one knows whether this sarcasm is the pinnacle or whether we can expect even more creativity.
This all-Ukrainian flashmob has been the first action to counter the political bribery of voters, which in the conditions of Ukraine's fragile post-Soviet democracy profanates the whole idea of democratic elections, reducing them to an opportunity for one-time profit. This state of affairs won't change overnight. Yet, after such unofficial pranks, it's unlikely that those people will come to a fake rally so easily. At least, not before they check in support of who it is.