We all know what we can do with a needle and thread – sew up a hole, darn socks, mend a button… But, can we create a masterpiece? Such masterpieces and more are designed and created by artist and designer Olesya Sakhro from Kolomyya.
Olesya says that as soon as she holds a needle in her hand and opens her thread box filled with vivid shades and colours, time seems to stop…. and she plunges into a world of fantasy and dreams.
Olesya and embroidery have been inseparable for twelve years. During this creative period, many exhibitions of her exclusive artwork have been organized in Ukraine and abroad, in particular in Canada, Paris and Great Britain.
Artwork embroidered by Olesya Sakhro can be found in many private collections, even in the homes of Karl von Hapsburg, the head of the House of Habsburg-Lorraine and the world-renowned Japanese-French designer Kenzo Takada.
What's Olesya's secret? It's a unique technique that the artist patented… a process that is both long and difficult.
"My embroidery work is truly unique. I spent months with different international organizations, studying all existing patents in different languages. It took a lot of time and effort to prove that this technique does not exist anywhere else in the world."
Looking at Olesya's handbags, you'd probably be tempted to say that it's an oil painting. And yet, these tiny bright smears of "paint" also create a "WOW" effect. There's only one big difference: it's not paint, but thread!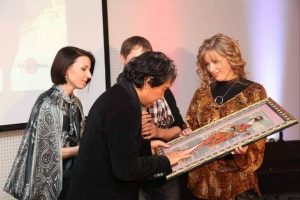 -Do you know how to paint?
-No, I love painting, but I don't paint myself.
Today, Olesya has focused all her creativity on designing handbags – her fashion line is called Sakhro bags.
"I suddenly realized that I wanted to get out of the art galleries and private collections and onto the city streets, to give the world the opportunity to enjoy these beautiful things. So, I started designing and working on handbags."
Today, the entire process is fully operational, from selecting the leather or fabric to accessories.
To create one handbag, Olesya claims that all she needs is inspiration and 250 hours, a sketch and more than 70 shades and colours of DMC cotton embroidery floss.
Each thread is magical. Depending on the light, one colour can have as many as four to five shades.
Olesya embroiders six to seven handbags per year. She sells them directly or in boutiques in Kyiv. One handbag can amount to as much as 1,500 euros or even more.
-What's your dream today?
-This may sound boring, but I dream of just sitting at home and embroidering. I don't want to be interrupted – no cooking, no vacuum cleaner, no household duties… in one word, nothing to distract me from my embroidery. Of course, there are all those trips and exhibitions that I have to attend – it's all very tiring and demanding, but it's a necessary part of my life.
-Kolomyya is my island of peace and creativity. I get up early, go for a walk near the lake, meditate and then… sit down and embroider. Happiness means having both my mother and son close to me. They support and appreciate my art and creativity.
-Sometimes, I can sit and embroider for 20 hours a day, but that's only when I get passionate or very excited about an idea. I never know what my work will look like in the end because new ideas are born during the creative process.
Olesya Sakhro underlines that for her embroidery is not a job, not a hobby, not a mere passing fancy… it's her whole life.
"I've learned to enjoy the present moment. I don't live in the past or the future. The sun's shining today – that's great! It's raining – even better. Life has taught me to accept what comes."