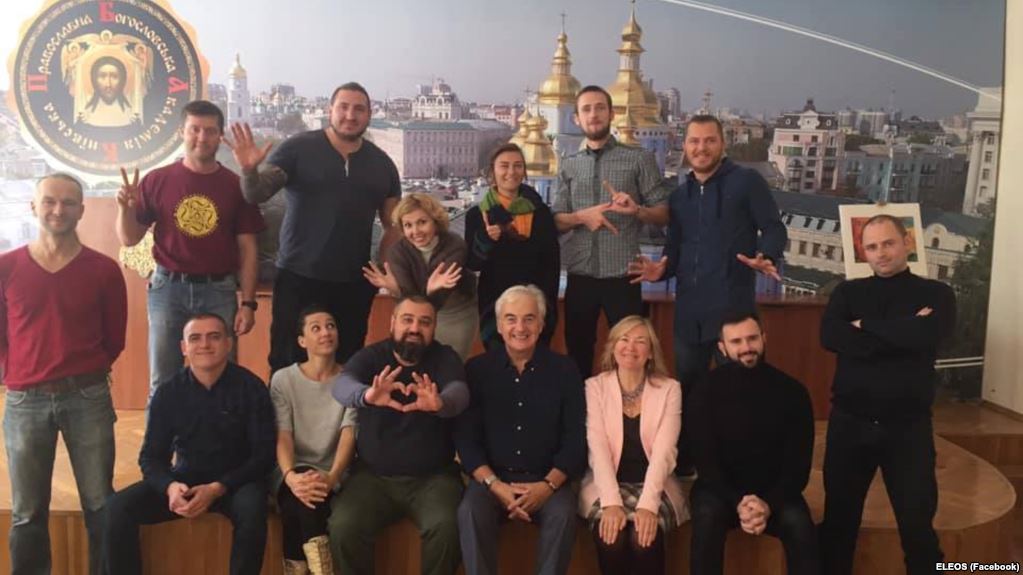 Members of the Veterano Theatre 
A unique event is scheduled in Ukrainian theatres in May, 2019 – the premiere of
Twelfth Night by William Shakespeare
. Honoured Artist of Ukraine Oleksiy Hnatkovsky (director), People's Artist of Ukraine and director of the Ivano-Frankivsk Drama Theatre Rostyslav Derzhypilsky (artistic director), as well as veterans of the war in eastern Ukraine and volunteers (actors) will participate in the staging of the play.
The production will be the first project of the English-language Veterano Theatre – Project W (Veterans, Volunteers and William) – created and launched last year. Future plans of the Veterano Theatre include tours across Ukraine, participation in international theatre festivals, etc.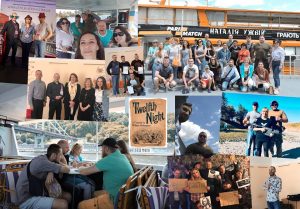 Soldier of the 81st Airborne Brigade Volodymyr Boyprav, aerial observer Yevhen Yarylo, senior soldier of the 56th Separate Motorized Infantry Brigade Serhiy Vikarchuk-Yevpatoriysky, volunteer and founder of the Veterano Service portal Larysa Mykytyon – these veterans of the ongoing Russian-directed war in Donbas, war effort volunteers and many others have joined together to take part in the Veterano Theatre. But, before they can perform on the stage, they must learn English. Not only do English language courses and participation in the production of Shakespeare's play open up new horizons for these Ukrainian veterans, but they also provide "theatre therapy" and the opportunity to communicate with like-minded people.
The initiators of the Veterano Theatre include war veteran and co-founder of English Among People Ihor Kasyan, and chaplain and head of ELEOS-Ukraine Father Serhiy Dmytriev. Veterans, businessmen, volunteers and community activists have joined the team to "create art that responds to the social challenges of our time" says Kasyan. Shakespeare's play was not a random choice – after all, the British playwright also wrote about important social and political issues.
"Our objective is to show Ukrainian society that the veterans of the ongoing war are also creative people. We want the world to see the talent and dedication of our men and women. Learning English and performing in a play – these are difficulties that veterans can overcome through work and perseverance," explained Ihor Kasyan.
Project W is supported by the UK embassy in Ukraine and Ukrainian artists, including well-known actor and director Akhtem Seitablayev. He believes this project is a great opportunity to "involve veterans in the social and cultural life of the country through art."
SOCIAL ASPECT
Father Serhiy Dmytriyev, head of the ELEOS-Ukraine charity organization underlines that for veterans, theatre is a kind of artistic rehabilitation, as well as an opportunity to reveal their creative potential. In addition, the Veterano Theatre can resolve different social problems: for example, part of the money raised during the show will be donated to social and cultural projects organized by teenagers aged 15 to 17 years and other challenges posed by modern society.
"We plan to complete the rehearsals and present Shakespeare's Twelfth Night in Kyiv and in other Ukrainian cities. Of course, I'd love to take the play abroad, participate in international theatre festivals, but those are just dreams. We don't have the money for this, so we plan to organize some fundraising events to support the play and our theatre." adds Father Serhiy Dmytriev.
After the premiere of Shakespeare's play, the members of the Veterano Theatre plan to continue studying English and staging other plays.
Tags: theatre therapy, Veterano Theatre, Volunteers, war veterans