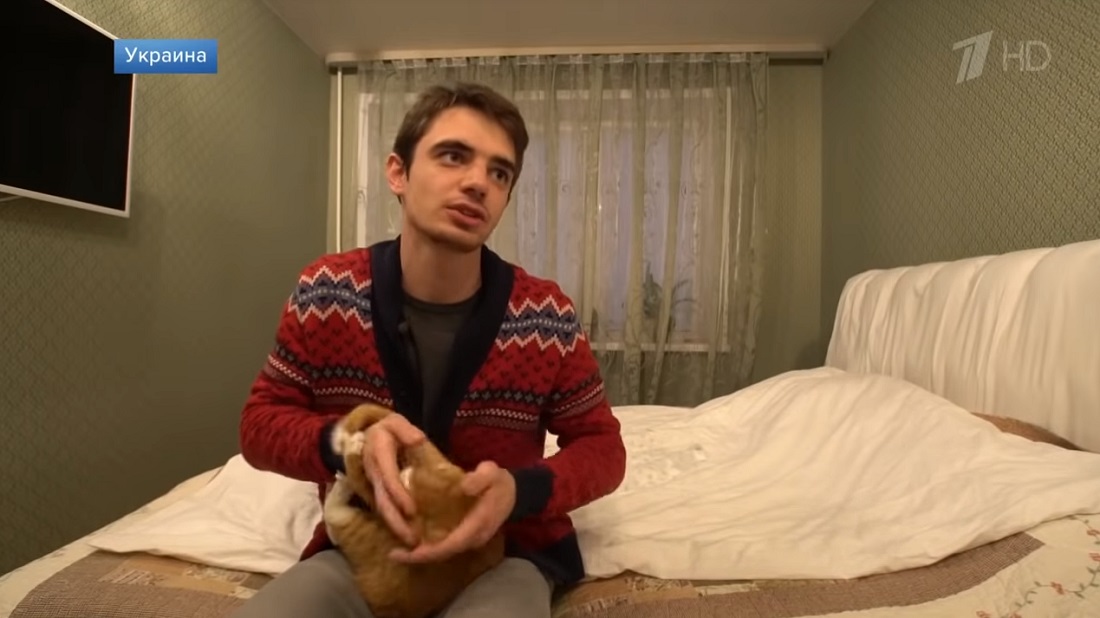 Minsker Vital Yurchanka, an intern with Belarusian company StringersHub, playing "Kyrylo Chubenko," a Ukrainian, disappointed in the Euromaidan he had reportedly took part in, is "freezing" without Russian gas in a fake segment for Russian TV. Screenshot: Russia's First Channel 
Editor's Note
After a
ban
Ukraine imposed on Russian state-funded media, their journalists stopped being able to shoot events on the ground. However, Russian TV found a workaround in order to continue spreading disinformation about Ukraine: contractors and stringers supply footage which is either staged, or manipulated later on to produce the needed effect.
Introduced as Euromaidan participant Kyrylo Chubenko, a man wearing a winter cardigan in his home is petting his cat and complaining about Ukraine's revolution of 2013-2014.
"I got nothing from the Euromaidan. Just look at where we ended up. We had to look into the future, but in our future, we ended up without heating, with expensive electricity, and it's unclear when it all will end. How can we live through the winter? How can we send children to schools?"
— sighs the freezing man in his cold apartment who, according to the narrated text, can't compensate his "physically tangible disappointment" in the Euromaidan "even with his cat's warmth."
This touching confession was the final piece of a propaganda segment
aired on Russian state-owned Pervyi Kanal
(Channel One) on 21 November, the fifth anniversary of the Euromaidan Revolution in Ukraine. As always, the show was designed to bolster the audience's belief in the anti-Ukrainian narratives of the
long-lasting propaganda campaign
.
This very segment's piece once again pushed an every-winter narrative that has already become traditional on Russian TV, dinning into the heads of their lookers-in that Ukrainians have no heating in their homes and suffer without "cheap Russian gas," deploring the Euromaidan revolution.
This time, however, the manipulation was quickly busted in the worst way possible for one of Russia's main propaganda outlets. The real-life friends of fake "Kyrylo Chubenko" identified the protagonist as Vital Yurchanka, a Belarusian from Minsk who was a full-time student in his hometown when the Revolution of Dignity unfolded in Kyiv.
They passed the information along to a popular Russian blogger who made it public.
This is a showcase revealing some of the methods Russian propaganda outlets resort to.
As the deception revealed itself, Yurchanka gave comments to a Belarusian newspaper, repenting of what he has done. However, his remorse, first of all, blanches over Pervyi Kanal and the untitled company he works with since he takes the blame upon himself and his colleagues. He calls the incident an "isolated occurrence," implying that it's not a routine practice in the company.
Moreover, he claims that there was a real video filmed in Ukraine, where a local resident told the same, but they apparently had to reshoot the footage due to the sound issues in the original clip.
What the fake Ukrainian tells
Vital Yurchanka contacted Nasha Niva newspaper himself and delivered his version of the incident. Let's take a closer look at his story.
According to him, he "worked in a Belarusian company that is an intermediary between TV channels and videographers all over the world."
"A job came from Russia's Pervyi Kanal to film a family or a man in Ukraine's Kryvyi Rih, suffering from lack of gas and expensive heating services. Such a man was found, the footage filmed and sent to us," explains Yurchenka and adds, "Later it turned out that the sound in the material from Kryvyi Rih was bad. An absolutely improper decision was made to retake the segment with the same text they had made it in Kryvyi Rih. I don't know if they used the name of the same man."
He once again stressed that it was an isolated case while admitting that worked only a few months with the company (thus, he couldn't know for sure whether it really wasn't a routine practice),
"I worked in the company for four months, professionals are working there. This case was solitary. The improper decision was made, and you see its consequences," said Yurchanka, "I was offered to play the protagonist because I worked a short time, let's say, was a new employee. I had doubts but went to the shooting. I was afraid to refuse but doubted all the time."
He assured that their customer from Pervyi Kanal "was not aware that it had so happened" and said he received no money for his work because he "was just asked to help inside the company."
Of course, Yurchenka said, "I tie myself into knots. I want to ask pardon of all who watched or didn't see it if one can at all apologize for this."
He sorrows that after the debunking he receives "the scary words" and threats, and alleges, "In the conflict between Ukraine and Russia, I don't hold anyone's position. It's an information war and I feel sorry to have become its part," Nasha Nova cited his words.
Pervyi Kanal's version
The press service of Russia's Pervyi Kanal admitted to RFE/RL that they cooperated namely with Belarusian company StringersHub and that the latter was a source of the scandal video.
This time, in the blaze of publicity surrounding the fake story, Pervyi Kanal has apologized about the incident, according to TASS, shifting the blame to "the deceitful work of stringers in Ukraine" who "filmed their acquaintance."
"The interview was filmed by stringers because journalists of the channel have no possibility to work in Ukraine," Pervyi Kanal told, "The inquiry showed that the stringers admitted they have actually filmed their acquaintance since the footage of the real interview was made with technical flaws, and the segment was due to be promptly handed over."
An important detail is different in the version by Pervyi Kanal. They state that "stringers" filmed their "acquaintance," but Yurchanka said his company, a Pervyi Kanal contractor which doesn't produce videos by itself, but finds fixers who can fulfill the orders placed by media producers, was behind the shooting.
Propaganda contractor
As Radiyo Svaboda, RFE/RL's Belarus Service found out, Vital Yurchanka's LinkedIn page earlier indicated that he worked as a business analyst for StringersHub, a Minsk-based startup that "connects professional videographers and eyewitnesses with media producers and editors who need and use video content," as their Facebook profile claims.
StringersHub was founded by Yakaw Buta, a former journalist of the Belarusian state TV and radio company Belta. The LinkedIn profile of StringersHub also listed Yurchanka as one of their employees.
Last April, Svaboda revealed that StringersHub also worked for another Russian TV channel, Gazprom Media's NTV. The fact was discovered when an interview with Vira Savchenko, who refused to give comments to Russian TV channels, surfaced on NTV. Vira is a sister of the former Kremlin prisoner, Ukrainian MP Nadiia Savchenko who was detained in Kyiv back then for plotting a coup and a terror attack on the parliament.
Vira Savchenko shared the phone numbers used to contact her and Svaboda discovered that they belonged to StringersHub. A company representative said Svaboda that a Polish producer ordered the interview with Vira for Polish audience.
Moreover, a journalist who interviewed Ms. Savchenko confirmed that she was contracted by StringersHub in Minsk. When the Russian channel broadcast the interview, she demanded an explanation on how it so happened. "I was promised that they would explain everything to Vira themselves, and that was it," the journalist added.
According to RBC, the Belarusian company StringersHub earlier shot footage for Russian state-run TV Centre, however, the cooperation wasn't linked to anti-Ukrainian propaganda.
Another contractor of propaganda outlets
In June 2017, Ukrainian freelance journalist Natalia Trofymova, an internally displaced person from Luhansk who resides in Lviv, found herself in the center of a scandal. Her reportage from the Ukraine-Poland border about the first day of visa-free travel in EU for Ukrainians
emerged on
RT
"in a distorted form."
RT lied by stating that long queues of vehicles formed on the border because
"Poland allows the passage of Ukrainians to its territory with great reluctance,"
citing the words of a Ukrainian border guard which were never spoken in the video footage Ms. Trofymovaprovided.
Another company, Simferopol-based Video Idea Production, was behind the deception.
Ms. Trofymova told Ukrainska Pravda, providing logs of her communications, that a Crimea-based representative of Video Idea Production hired her to "shoot a footage for Reuters," describing the task as filming a routine on-site video with banal questions to those crossing the border. After she turned in her finished work, she received no promised fee.
Later RT used only a part of one of her soundbites. Thr RT press office confirmed that they received her footage from Video Idea Production.
"This company regularly provides RT with segments and reportages about the situation in Crimea and Ukraine [RT considers Crimea as not a part of Ukraine – Ed.]. RT doesn't have its own offices in Ukraine," explained the RT press office.
The editor-in-chief of Video Idea Production studio confirmed to Ms. Trofymova that the person who had hired her really works for the company and explained:
"VIP (Video Idea Production) is an official partner of several Russian federal TV channels and video agencies, including Russia Today TV channel. We have no ties to the Reuters agency and have never handed over any materials there. Meanwhile, on 11 June 2017, we really received the material from Lviv Oblast you mention and sent it to Russia Today," the letter reads.
The Pervyi Kanal's fake piece featuring Yurchanka is followed by the final narration of the segment:
"In heatless Kryvyi Rih, a 'freezing riot' is ongoing [fake – Ed.] for already a week. And it's the same in several more cities. Car tires are on fire again. A usual form of protest and at least some kind of warming oneself for some time – after all, they warmed themselves the same way on Euromaidan with tires and the European dream. The smoke dissolved, the dream didn't come true," says the offscreen voice.
The narrator inculcates the same old array of narratives presenting Ukraine as a failed state which suffers without direct supplies of Russian natural gas after the Euromaidan revolution, and as a total failure in its European aspirations. And the same old manipulations, exaggerations, lies, and fakes are still in use to keep the bar of hate towards Ukraine and Ukrainians raised in Russia.
Read also:
Tags: Anti-Ukrainian propaganda, NTV, Pervyi Kanal, RT, Russian media fakes