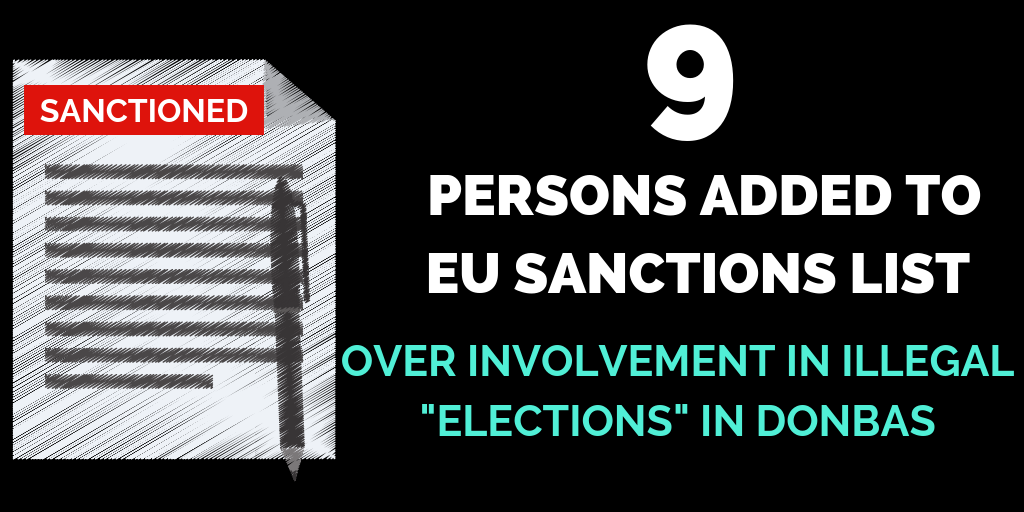 On 10 December, the EU
has added
9 persons to the sanctions list for their involvement in the
so-called "elections"
in the so-called "People's Republics" of Donetsk and Luhansk ["DNR" and "LNR" – Ed.].
Read more on the sham elections: Phony "elections" in Russia's phony "republics" in Ukraine: a legitimization of the occupation
The 9 persons are subject to EU restrictive measures, which involve a travel ban and asset freeze, because of their actions undermining or threatening the territorial integrity, sovereignty and independence of Ukraine. The decision by the Council brings the total number of persons listed by the EU to 164.
The illegal "elections" in the self-proclaimed "Donetsk People's Republic" and "Luhansk People's Republic" were staged on 11 November 2018. Neither the "republics" nor the "elections" are recognized by the international community.
The occasion featured heavily in the pro-Kremlin disinformation campaign. With fake international election observers praising democracy in Donbas and a bot-driven Twitter campaign, the disinformation campaign sought to manufacture legitimacy – both for the "election process" and for the "Republics" themselves.
Read also: Far right and left, conspiracy theorists among "foreign monitors" at Russia's sham Donbas elections: Report
Editor's Note
The list of nine consists of "LNR head" Leonid Pasechnik, "people's council chairpersons" – Vladimir Bidyovka ("DNR") and Denis Miroshnichenko ("LNR").
The other six are a chairperson, a deputy chairperson, and a secretary of an "electoral commission" in each of the two pseudo-states.
The formal reason for putting all of the new-comers on the sanctions list is the same
Acting in this capacity he or she "actively supported and implemented actions and policies which undermine the territorial integrity, sovereignty, and independence of Ukraine, and further destabilized Ukraine," the annex to the EU council decision reads.
The members of the "commissions" are also mentioned in the document as participants in the organization of the so-called 11 November "elections." However, no Russian officials sanctioned as organizers, only the local doers have been listed.
The Russian MPs, who were among the "international observers" attempting to legitimize the voting with predefined results, were not sanctioned either.
Earlier, Leonid Pasechnik wasn't under EU sanctions despite holding the post of "LNR state security minister" before the 2017 coup he took part in which overthrew previous "LNR head" Plotnitsky and brought Pasechnik to the pinnacle of local power in the Russia-occupied part of Luhansk Oblast.
The so-called "DNR head" Denis Pushilin was sanctioned earlier as a "DNR people's council chairperson" before he took the seat of previous "head" Zakharchenko who was assassinated on 31 August.
The occupied territories of the Donbas are fully controlled and supplied by Russia, and powers of the Russian-installed civilian local rulers are limited to some local issues while they are overseen by their Moscow handlers.
Read more on the influential groups in "LNR" and "DNR":
○ Who is who in the Kremlin proxy "Luhansk People's Republic"
○ Who is who in the Kremlin proxy "Donetsk People's Republic" (The article was written in 2017, a year before the death of then "DNR head" Zakharchenko, whose group lost its authority and Pushilin was assigned as a "leader". However, no structural changes took place since then)
---
Read also:
Tags: "LNR" and "DNR", Donbas elections, Minsk protocols / Minsk agreements