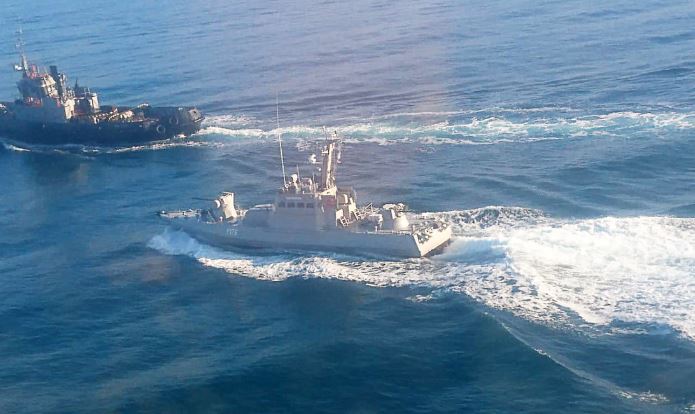 Russian border guard ships chase the Ukrainian tug Yany Kapu on 25 November. Photo: Russian FSB in Crimea 
"Russia has crossed all theoretically possible red lines," stated Pavlo Klimkin, Minister of Foreign Affairs of Ukraine, in his interview to European Pravda soon after the attack of Russian border patrol and FSB ships on three Ukrainian Navy vessels in the Black Sea on 25 November.
"First, several acts of aggression against Ukraine took place during one single day: not only cannonades and seizure but also ramming which, according to the resolution of United Nations General Assembly №3314 is an act of aggression as well.[…]

Second, until this day all acts of Russian aggression happened on our [Ukrainian] territory. And this aggression happened not only on our territory but in neutral waters – beyond the 12-mile zone. This is also important.

Third, Russian troops openly used their weapons against Ukrainian soldiers, not concealing the fact that they were shooting. And this is a new situation, this happened for the first time. Before, they at least attempted to hide.

There are no more red lines left after this situation… I expect from our partners not only statements for support of Ukraine but that they will 'communicate rigidly' with Russia for the release of our captives," Klimkin said, referring to the 24 Ukrainian sailors Russia has seized and put under trial in occupied Crimea.
Timeline of the attack: Russian attack on Ukrainian ships near Kerch Strait – full chronology
International condemnation
The Russian attack was condemned by most of the international community. As well, many appeals to release all captives were made by politicians worldwide.
In particular, during an emergency meeting convened in response to the attack, the UN Security Council refused to regard the agenda proposed by Russia, which attempted to portray the Russian attack on the Ukrainian ships from the viewpoint of "violating Russian borders." On the contrary, the United States Permanent Representative to the United Nations Nikki Haley presented the joint statement of USA, Great Britain, Netherlands, Poland, France, and Sweden. She stressed that the Russian border guards' shooting at Ukrainian ships at the Kerch Strait is a "terrible violation."
European Council President Donald Tusk condemned the Russian attack on ships and called on the Kremlin to release the Ukrainian sailors and return the military property.
I condemn Russian use of force in Azov Sea. Russian authorities must return Ukrainian sailors, vessels & refrain from further provocations.
I discussed situation with Pres. @poroshenko and will meet his representatives later today.
Europe will stay united in support of Ukraine.

— Donald Tusk (@eucopresident) November 26, 2018
As Ukrinform reported, during the special meeting of the OSCE Permanent Council convened at the request of the Ukrainian delegation, the Russian delegation was in isolation.
"All delegations participating in the discussion acted under the agenda proposed by Ukraine. Not any single delegation among 57 country-members of OSCE was to associate itself with the position brought by Russia. The discussion demonstrated an abrupt condemnation of Russian actions," announced Permanent Representative of Ukraine to International Organizations in Vienna Igor Prokopchuk.
He added that during the meeting, a precise demand was put forward to Russia – all seized ships and sailors should be brought back immediately and unconditionally.
Lithuania, Latvia, Estonia, and Poland were among the first countries which strongly condemned Russian aggression. Later France, Germany, the UK, Romania, and others expressed their strong support for Ukraine. They also demand that Russia immediately releases the captured sailors. As NATO Secretary General Jens Stoltenberg told during his press conference, "there is no justification for the use of military force against Ukrainian ships and naval personnel."
According to the statement of Michael R. Pompeo, US Secretary of State,
"Reports that Russian vessels rammed and fired on the Ukrainian ships, injuring Ukrainian crewmen, before seizing three vessels, represent a dangerous escalation and a violation of international law. The United States condemns this aggressive Russian action. We call on Russia to return to Ukraine its vessels and detained crew members, and to respect Ukraine's sovereignty and territorial integrity within its internationally recognized borders, extending to its territorial waters".
At the same time, Michael R. Pompeo says that the US call on both parties to exercise restraint and abide by their international obligations and commitments. The US urges Presidents Poroshenko and Putin to engage directly to resolve this situation. This makes unclear whether the US blame Ukraine and Russia equally or only urge both sides to find a solution without an escalation.
US President Donald Trump was initially quite moderate in his estimation of the situation, saying that "we do not like this aggression." However, this phrase is quite out of context. As The Washington Post reports, answering the question whether he thought Putin was within his rights to capture three Ukrainian ships and their crews on Sunday in the Black Sea, Trump said he was awaiting a "full report" from his national security team and "that will be very determinative. Maybe I won't even have the meeting."
A troubling ambiguity 
Poland, the Czech Republic, and Romania were quick to Ukraine's rescue, condemning Russia's use of force against Ukraine. However, the reaction of Ukraine's other Eastern European neighbors was not so clear.
Hungary did not say a word of condemnation regarding the Russian attack. The statement of Peter Szijjarto regarding the incident made no mention of Russian aggression at all; the only thing that worried him is the situation of the Hungarian minority in Ukraine's Zakarpattia Oblast.
Slovakia in its official statement expressed "grave concern" over the "increase in tensions" but made no mention of Russian aggression, only making calls to "both sides." Later, the Speaker of the Slovakian Parliament and head of the Euroskeptic nationalist party SNS Andrej Danko made a statement in which he said that Bratislava is closely following the situation, but will not rush to make any declarations. "We need to calmly sit down and review all the facts and events, but I fear that some people are playing games with us again," he said, referring to Ukraine's staged murder of Russian journalist Arkadiy Babchenko. "Don't demand us to immediately give our opinion and don't demand a million sanctions; peace between Ukraine and Russia is important," he said, European Pravda reported.
Bulgaria and Türkiye could have been key actors in providing strong real support for Ukraine, as they both are members of NATO and have a border on the Black Sea. However, Bulgarian Prime Minister Boyko Borissov wrote on his Facebook that he is alarmed over the tension between the Ukrainian and Russian navies in the Azov Sea with and always defends the idea that "relations between countries should develop pragmatically on the principles of economic benefits according to the rules of international cooperation." Türkiye, though emphasizing its deep concern to the tensions, urges "all parties to refrain from steps endangering regional peace and stability, to respect international law and to act in common sense and restraint to avoid increasing the tensions." No support for Ukraine or condemnation of Russia was made in the official Turkish statement.
Italian Minister of Foreign Affairs Enzo Moavero Milanesi also calls on "all parties to contribute by political and diplomatic means to de-escalate the situation" and avoids taking any clear position in the conflict.
Real sanctions?
Important for Ukrainian safety may be the appeal of US Senator Bob Menedez who urged President Trump to commit additional military assistance to Ukraine in response to Russian aggression near Crimea, The Hill reports. The senator said Trump should commit additional resources to Ukraine prior to his expected meeting with Russian President Vladimir Putin at the G20 summit in Argentina.
The senator was even more persuasive on Twitter:
The Kremlin only respects a strong adversary that is willing to stand up to bullies. At this precarious time, the U.S. cannot afford a weak performance by President Trump at the G20. He must show American leadership in defense of our principles and our close allies across Europe pic.twitter.com/wi5B66z331

— Senator Bob Menendez (@SenatorMenendez) November 26, 2018
However, despite the EU's unambiguous support for Ukraine, the Union is not ready to increase the sanctions pressure against Russia, European Pravda wrote. Ukraine proposed the EU to adopt additional sanctions on the day of the attack, and EU countries have started a dialogue on this possibility, but without results.
Germany and France oppose the idea of additional sanctions. At a meeting on Tuesday, diplomats of both countries declared that they prefer to "take measures to build confidence" instead of punishing the aggressor, Die Welt reported.
All in all, apart from many statements and condemnations, it's still unclear how strong the actions behind them will be. The summit of the G20 which will be held on November 30 should reveal more.
The only real help for Ukraine which can be confirmed for now is HMS Echo, a UK Royal Navy survey vessel and monitoring ship which is to be dispatched to the Black Sea. Moreover, according to the UK Plymouth Live, Britain's former top sailor has raised concerns over the decision to send HMS Echo, which specializes in survey exercises, and not a "more advanced Type 45 destroyer that can 'look after itself'."
Also, Estonian Defense Minister Yuri Luik called for new EU sanctions against Russia, saying that "sanctions are probably the most potent way to signal to Russian leadership that we are serious."
Ukrainian parliament calls for warships to Black Sea, urges to drop Nord Stream-2
Meanwhile, after the introduction of Martial Law in some parts of Ukraine, the parliament of Ukraine adopted a resolution to titled "On the appeal to the United Nations, the European Parliament, the Parliamentary Assembly of the Council of Europe, the NATO Parliamentary Assembly, the Organization for Security and Co-operation in Europe, national parliaments of the world in connection with the act of aggression of the Russian Federation against Ukraine."
In the resolution, the Parliament suggests some real actions which the aforementioned powers can take to prevent further Russian aggression. It states that Russian impunity can lead to global negative impacts and calls for an adequate reaction to the Azov attack. "The policy of appeasing the aggressor has already led to the occupation of part of Ukraine – the Autonomous Republic of Crimea, Sevastopol, and some regions of the Donetsk and Luhansk oblasts," the resolution states and proposes:
tightening sanctions up until the whole sovereignty of Ukraine is restored;
invites international organizations to send observers to the region of Black and Azov seas and the Kerch Strait;
proposes maritime states to send warships to this region in order to prevent further escalation of the tensions from Russia;
urges international and foreign partners to increase the provision of military and other assistance to Ukraine in order to protect its sovereignty and territorial integrity.
As well, it stresses that the Nord Stream-2 gas pipeline construction is a project being built not in European but Russian interests which threatens the security of the region of the Baltic and Northern Europe.
Ukrainian President Petro Poroshenko has said that one possible option for supporting Ukraine in the current situation in the waters of the Azov and Black Seas could be sending several NATO ships into the Black Sea, as Interfax Ukraine reports. Ships need to be sent "to no longer allow Russia to act aggressively."
What do Ukrainian public intellectuals say?
While Ukrainian officials implore the international community to adopt more sanctions, Ukrainian prominent public intellectuals favor diplomatic and political yet rigid actions towards Russia.
In his interview to Ukrinform, Historian Yaroslav Hrytsak compares the current events with the Ukrainian struggle for independence in 1917-1918.
"We hadn't that chance [for independence] a hundred years ago, being without foreign support, but have it now! In the Revolution which we are still passing through the political context is crucial… We can't win without foreign support. Only standing under the umbrella of large associations we can cease to be a Palestine of Eastern Europe.

Russia is a very closed country today, because of the 'TV button.' Therefore I see it useless to persuade Russia in something. The Russian Federation should be spoken to by the language of power. Our task is to bring the powers of the whole of Europe and the world behind us. Russia will concede only in that case.

I would like to remind to the world and Europe: don't have any illusions about contemporary Russia and don't forget: it's still unstable in the East of Europe. You should understand that such countries shouldn't be left without attention. This was the case after the first World War which to a great extent caused the second one. I think that now is a good chance to raise the question of the Ukrainian membership in the European Union and, particularly, in NATO, once again."
Ukrainian analyst Valeriy Pekar also says that foreign support is crucial for Ukraine.
"Ukraine's weak position on the Azov sea is nothing new, it has been discussed for over half a year. The Russian forces' goal is to at least block the ports on the Azov sea, leading to export losses for Ukraine. The chief aim is to take control of the land route to Crimea (which wasn't finished in 2014) and fully block Ukraine from the sea. This will break down our foreign trade.[…]

We can't leave this without a reaction; the absence of a reaction provokes an escalation. The presence of Ukrainian forces (even weak one) in the Azov Sea and usage of the passage allowed by international conventions is not only our right, but the responsibility of our Navy under such conditions. […]

But it will take 10 years and billions of dollars to build a navy strong enough to oppose Russia in the Black Sea. Therefore, our main weapon at this time is diplomaсу. And it's a good weapon which Ukraine knows how to use. The aggression is direct and well-documented, it's no more what is called 'proxies', it's directly the Russian Navy. […]

Will Russia deliver another blow? Certainly. Because it's already 4.5 years that the war goes on with its own logic. […] All that we can do is to be prepared."
Read also:
Tags: Azov Sea, Ukraine's Navy