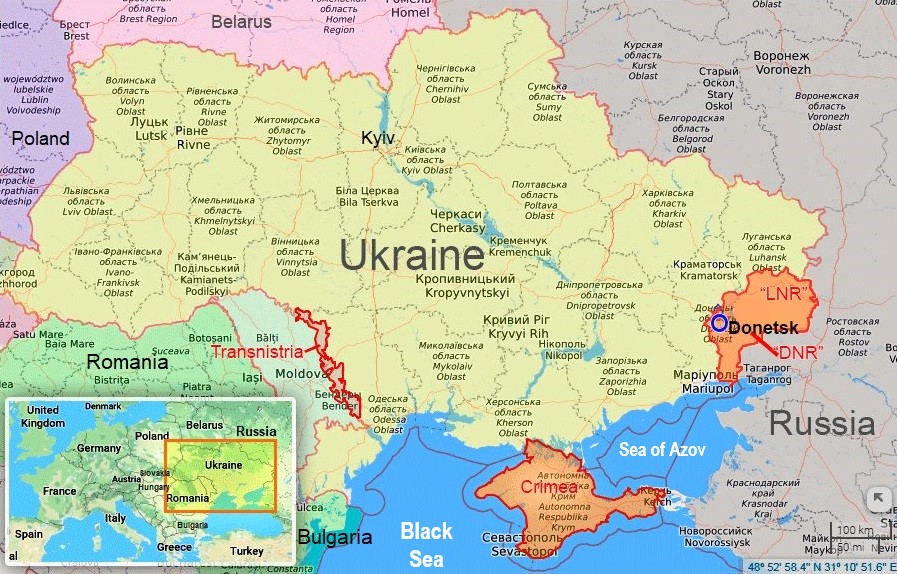 Occupied territories in Ukraine and near its western border. Map base: Google Maps, map: Euromaidan Press 
Andriy Klymenko, the editor of BlackSeaNews and a member of the Maidan of Foreign Affairs, says that Russia did not allow a single ship to pass through the Kerch Straits to Ukrainian ports between August 14 and August 21, effectively cutting of those ports from international trade.
At present, he says, there are 16 ships stopped in the straits, three of which have been there for a week; and the ports of Mariupol and Berdyansk are almost empty.
Meanwhile, Oleh Slobodyan, the spokesman for the Ukrainian State Border Service, told Kyiv's 112 Ukraina television that Russian forces have stopped "more than 150 foreign ships" in the Kerch Straits headed to or from Ukrainian ports but have allowed those headed to or from Russian ports to proceed.
If true, this pattern constitutes a blockade of Ukraine and thus yet another act of war by Russia against its neighbor.
Read More:
Tags: Donbas war (2014-present), Military analysis, Russian aggression, Russian invasion of Ukraine, Russo-Ukrainian War (2014-present), Sea of Azov, Ukraine's Navy