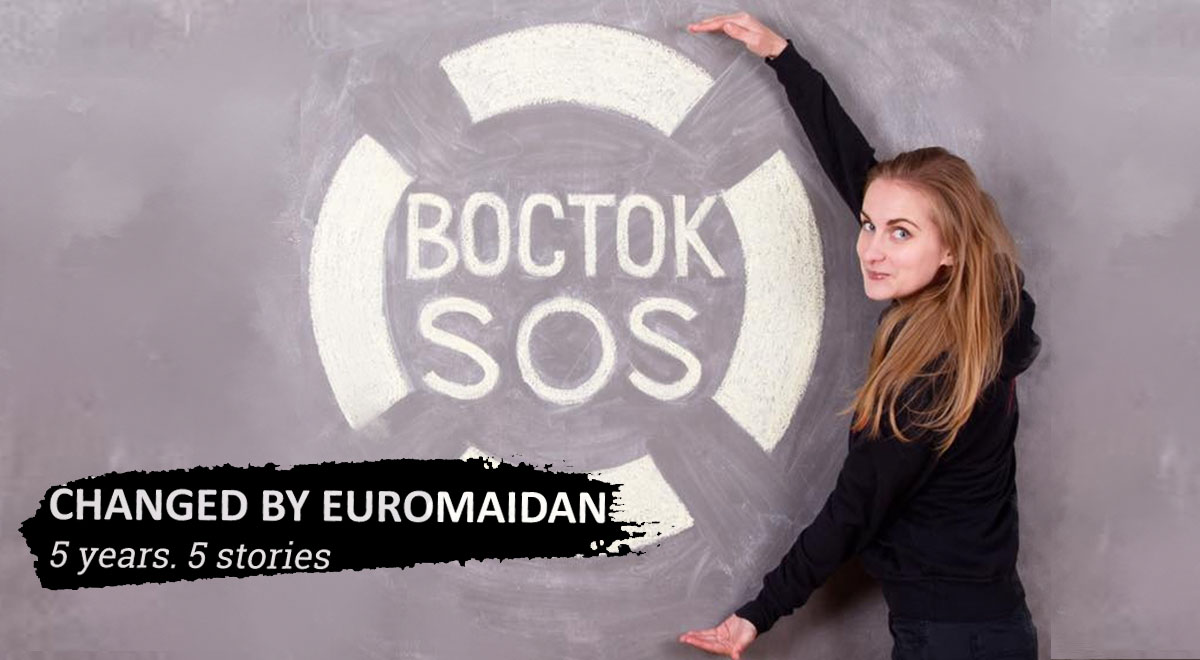 Oleksandra Dvoretska. Photo: adapted from private archive of Oleksandra Dvoretska.  
Oleksandra Dvoretska was an activist way before the Euromaidan Revolution. Still, Ukraine's public uprising of 2013-2014 changed her life dramatically. She had to leave her home in Crimea and now cannot even visit it. The same goes for her husband Kostiantyn Reutskyi with his home in Luhansk, now under control of the Russian-backed "Luhansk People's Republic" occupying a chunk of eastern Ukraine. After the revolution, the couple celebrated the birth of their first child.
The two organized a human rights NGO, Vostok SOS ["East SOS"]. During the first years of its work, the NGO focused on providing help to IDPs. Now it mostly assists people in the areas on the front line in Donbas, occupied territories of Crimea and the "republics" in eastern Ukraine, and people who went through torture and captivity.
Oleksandra recognizes that the most energy-consuming part of her work is communication with Ukrainian authorities and MPs, especially in the pre-election period.
"More and more often, we are told that something can only be done after the elections. But ordinary people do not live according to the election cycles."
The activist recounts that in 2014-2015 it was much easier to have a meeting with a public servant or politician.
"Probably they were afraid of the mass public movement. Many things used to depend on volunteers. Now the authorities got used to power and allow themselves to be rude to us."
Oleksandra says that populism and the desire to hold on to positions of power are the main obstacles to change. As well, she doesn't trust the enforcement institutions very much. Once, the security services (SBU) came to her Crimean friends who moved from the occupied peninsula to the west-Ukrainian city of Lviv and accused them of being Kremlin agents. Later it turned out the accusations were groundless.
"However, the SBU has not apologized. They never do," says the activist.
Recently, she has had to look at the question of personal safety from a different angle. After the so-called assassination of the journalist Arkady Babchenko, which turned out to be an SBU special operation, a list of people who were allegedly on the Kremlin's hit list was released. Oleksandra was on it.
"Even though I knew it was absurd, I was scared for a few weeks and even thought about  leaving the country, as I have a small child."
Nevertheless, she prefers to stay.
"I think for us displaced it is easier to stay because we have a motivation – to get back Crimea and Donbas. For those who are used to living, for example, in Kyiv it might be harder."
The activist treats those who decided to leave the country with understanding.
"People are not obliged to fight. Also, we should understand that these people are not lost for Ukraine forever. They might return. Moreover, they are our agents of support. The Ukrainian diaspora is very influential. I remember when I was in Crimea in March 2014, at the start of the Russian aggression, the Canadian delegation asked us to provide a list of people who should be put under sanctions. At that time, not all the people in Kyiv realized how serious the situation was."
Despite all the difficulties Oleksandra still values the meaning of Maidan.
"I can't imagine living in 2018 without having experienced the Maidan. Even if Crimea remained a part of Ukraine, I think we would be sitting there in Ukrainian prisons. There was only one Ukrainian school in my city Simferopol. I can't imagine what would be left by now. And to be a colony is not acceptable for me. Maidan was not in vain. It is sad that so many people have died, so many people are missing, some dying in prison. This could have been prevented. But it was not because of Maidan.

I have an excuse for myself –  the year I was born was 1990. When many important things regarding the language, the army had to be done, I was just a school girl. My parents also have an excuse – they say that they were raising me through the 1990's which was a difficult time and they had to earn money. So I have more questions for people who are 35+, who traded part of their freedom for some economic benefit. But we realized our mistake and paid our price for it. The Russians haven't."
The activist realizes that Ukrainian society gave a lot of credit to those who came to power after the revolution.
"We protected them from outside criticism so much that they started to believe people love them anyway. Now we realize that Russian propaganda doesn't care what happens in Ukraine, it won't say anything good about us anyway. Our task is to set our own agenda and not think what someone would say about us. We should prepare for a long marathon, unlike anything we have ever had."
Tags: Crimea, Donbas, EuroMaidan