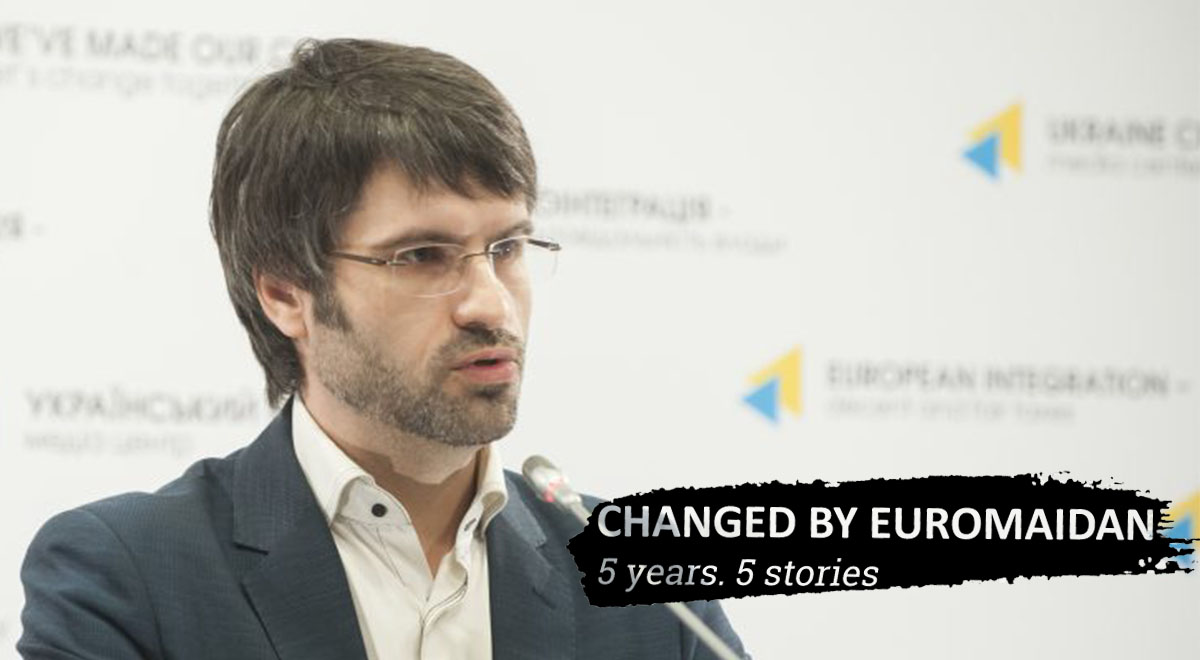 Roman Maselko. Background image: Uacrisis.org 
Five years, five stories. On the fifth anniversary of the Euromaidan Revolution, we have sought out activists who joined the protests back then and are still actively involved in building the country today. In the series "Changed by the Euromaidan: 5 stories," we asked them why they do what they do, and what they think about Ukraine's five post-revolutionary years. This is our first story, about lawyer Roman Maselko, who went from banker to judicial reform activist and advocate of the families whose family members were killed by the Berkut during the protests of 2013-2014. He says he won't stop until the judges prosecuting innocent activists of those days are brought to justice.
Before the Euromaidan Revolution, lawyer Roman Maselko used to be the head of a department of one of the international banks working in Ukraine. He was not involved in activism and even had no Facebook page. Five years later, he is fully occupied with social activities: he is a lawyer of the families of Heaven's Hundred, protesters slain during the protests, and AutoMaidan activists. As well, has been the head of the Council of the Civic Control of the National Anti-Corruption Bureau and a member of the Public Integrity Council, a public watchdog of the judicial branch. There were also attempts to deprive him of his lawyer's license for his Facebook posts criticizing judicial reform in Ukraine.
Roman joined the protests at the very first days, disagreeing with the Yanukovych government turning its back on the path of Eurointegration. He first faced injustice during the revolution when in the late evening of 29 November 2013, the Berkut riot police attacked the protester's camp for the first time. A  Berkut officer hit Roman's head with a rubber stick and threw him to the ground, despite Roman just standing with raised hands. However, this all was just the beginning.
"They were just Berkut representatives, animals. What could you expect from them, they were merely implementing orders. The real shock for me came when a judge, who has good conditions, social protection, and a good salary and has to defend people, was making unfair decisions," says Roman.
The lawyer once participated in a car protest (such movements received the name AutoMaidan) near Yanukovych's residence. He had no own car and joined three other activists. A few days after the protest, he found out that they are prosecuted by the road police. That is how he started to defend activists as a lawyer. Then, the activist also registered in Facebook to administrate the group called to provide legal help to Automaidan activists. During the worst days of Maidan, 19-21 February 2014, when dozens of protesters were killed, Roman also was there, filming what was going on.
After the revolution, Maselko decided not to leave activism until he finishes the work.
"The judges who prosecuted Maidan activists should be at least dismissed. Or in the best case scenario, punished. It's my promise to the Heaven's Hundred."
In 2016, it became impossible for Roman to combine social activity and work. So preparing a financial safety net, he left his position in the bank to be fully involved in activism. It wasn't an easy choice, with a wife and a small child. But financial losses weren't the heaviest burden.
"Now we identified clearly that back then, the judges were acting according to orders. So they weren't actually deciding anything themselves. Now, out of about 350 Maidan judges only about 50 are dismissed. And this is really frustrating," says Roman.
Comparing the current government with the Yanukovych one, Roman admits that today's rulers have not lived up to the expectations created by a public uprising where over a hundred died.
"If there was no Maidan, we would say – yes, so many things have been changed, and comparing to the times of Yanukovych, Poroshenko's government is better. However, Yanukovych came to power under other circumstances. People did not die for him. He did not promise the changes that Petro Poroshenko has promised. For me, the new government is worse in terms of the price that people paid for them coming to power and in terms of the chance they had and wasted."
Roman has also been pressured because of his activism.
"I was not attacked physically, only in legal terms, for example, there were attempts to deprive me of my lawyer's license. If they manage to do this, I will not be able to be involved in social activities as a lawyer."
Nevertheless, Roman believes that one day maybe not soon there will be justice in Ukraine.
"Giving up is the worst thing we can do now."
Read also: