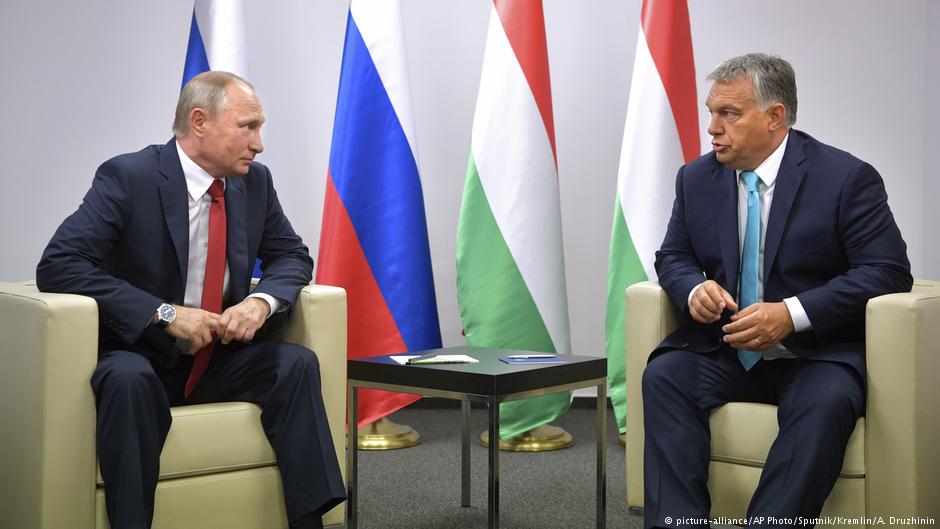 Russia's Vladimir Putin and Hungary's Victor Orban in Budapest 
We cannot and will not lose Transcarpathia in the same way we lost Crimea. Hungary is not Russia. The Hungarian army numbers 19,000 men, the Ukrainian army – more than 200,000.
As for nationalist sentiment, two trends have arisen in Hungary. They are similar to the situation in Russia, where an authoritarian, kleptocratic regime has plunged society into a dark hole. In Hungary, it is Victor Orban and his clan who reign over Hungary and project to hold the country under their power for several more decades. The tool Orban uses is as old as time itself – appealing to national sentiment is his way of mobilizing society. However, neither his people nor Orban himself are genuine nationalists. They're ordinary cynics, just like Putin.
Hungarians know very well that they are wrong. However, they continue to behave insolently and to put it more bluntly, quite indecently, stabbing us – a country at war – in the back. They're just taking advantage of the situation. Péter Szijjártó, Hungarian Minister of Foreign Affairs and Trade recently stated* that it is almost their sacred right to issue Hungarian passports to our citizens on our own soil. This is the height of political arrogance!
(*Last week Ukraine's Foreign Minister Pavlo Klimkin said he would not rule out expelling the Hungarian consul in Berehove from Ukraine after hidden camera footage showing the diplomat conducting a Hungarian citizenship oath-taking ceremony for Ukrainian citizens at the consulate appeared online.
Hungary's Foreign Minister Péter Szijjártó said that if the Ukrainian government moved to expel the Hungarian consul in Berehove, Ukraine, Hungary would retaliate by expelling a Ukrainian official. He condemned what he called "the Ukrainian leadership's attempt to intimidate the ethnic Hungarian community in Transcarpathia".
Szijjártó added that everything that happened at the Berehove consulate concerning the citizenship oath-taking ceremony is in line with Hungarian and international law and that Hungary's government would stick to its policy of blocking Ukraine's aspirations of European and NATO integration until it changed its "policy of inciting hatred towards Hungarians".-Ed.),
Transcarpathia is a very diverse region. There are two districts, Berehove and Vynohradiv, which have a large Hungarian and Hungarian-speaking population. This too must be taken into account, i.e. a distinction should be made between Hungarian and Hungarian-speaking. When Greek Catholic Hungarian-Ukrainians cannot read the Slavic scriptures in the churches built by their parents, then it is obvious that this population was forced to undergo Magyarization* at the turn of the last century.
(Magyarization – the term specifically applies to the policies that were enforced in the Hungarian part of Austria-Hungary in the 19th and early 20th century, especially after the Austro-Hungarian Compromise of 1867.
When referring to personal and geographic names, Magyarization refers to the replacement of a non-Hungarian name with a Hungarian one.
As is often the case with policies intended to forge or bolster national identity in a state, Magyarization was perceived by other ethnic groups, such as the Romanians, Slovaks, Ukrainians, Serbs, Croats, etc., as aggression or active discrimination, especially where they formed the majority of the population-Ed.)
Today's Berehove used to be called Beregszász in Hungarian. It means Saxony Coast, so it's highly likely that Germans resided here. They were also assimilated under Magyarization.
10-15% of the total population of Transcarpathia lives in these two problem areas, Berehove and Vynohradiv. The rest of Transcarpathia is populated by Ukrainians.
Therefore, there can be no question of separating Transcarpathia from Ukraine.