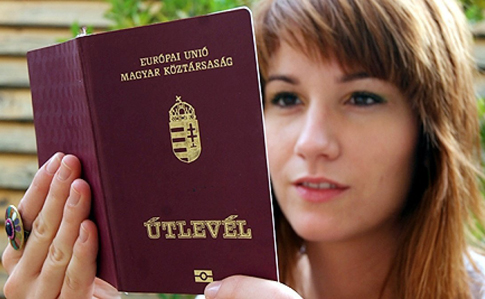 A new scandal is about after video showing Ukrainian citizens swearing allegiance to Hungary in Zakarpattia Oblast. Photo: Pravda.com.ua 
Ukraine and Hungary have entered another round of conflict escalation. A video which surfaced on 19 September showing Ukrainian citizens in the Zakarpattia Oblast swearing allegiance to Hungary has caused Ukraine to declare the Hungarian consul a persona non-grata and vow to expel him from Ukraine. The ceremony took place in the Hungarian consulate in the city of Berehove. To top it off, the consul suggested that the new dual citizens conceal the fact of receiving a Hungarian passport from the Ukrainian authorities.
In the video, Ukrainian citizens recite: "I swear to consider Hungary my motherland, I will be a faithful citizen, will serve and protect Hungary, so help me God." Then, Hungarian officials advise: "Hide the fact of receiving Hungarian citizenship from the Ukrainian authorities." Although the video does not show passports being handed out, it is obvious that the Ukrainian citizens are receiving a second, Hungarian, citizenship, which is forbidden by Ukrainian law.
Although the Ukrainian citizens on the video do not receive Hungarian passports, it is clear they are being granted Hungarian citizenship.
Ukraine's Zakarpattia Oblast, home to a sizeable Hungarian minority (95,000 as of 2017, or 7.3% of the Zakarpattia Oblast), has long been an arena for tensions between the two countries. First, Hungary's idea of a "cultural autonomy" for ethnic Hungarians made Ukrainians worry whether it was aiming to grab a part of Ukraine. Then Ukraine's new education law outlawing education in minority languages, including Hungarian, after the fourth grade caused an international scandal, with Hungary blocking Ukraine-NATO meetings and decisions. In 2018, Hungary's decision to appoint an "authorized minister responsible for the development of Zakarpattia Oblast" irked Ukrainian authorities, who succeeded in coaxing Hungary into renaming the official position into a "special representative."
Although it has been known for a long time that Hungary hands out its passports to Ukrainian citizens in Zakarpattia, outrage was sparked after this latest video. Ukraine's Foreign Minister Klimkin stressed in his video address on Facebook that Hungary handing out its passports to Ukrainian citizens in violation of Ukrainian law is nothing new.
"We knew perfectly that this is going on, we warned our Ukrainian colleagues. But this is proof. And we need to react to such proof," he explained the decision to declare the Hungarian consul a persona non-grata.
According to Dmytro Tuzhanskyi writing for European Pravda, at least 100,000 Ukrainians have been issued a Hungarian passport. The exact number is unknown. Budapest officially voiced the passportization numbers only once: as of February 2015, almost 94,000 Zakarpattia Ukrainians received Hungarian citizenship through a simplified procedure. Nobody knows how many passports Ukrainians received in the following 3.5 years, but as of August 2015, Hungary received 124,000 citizenship applications from Ukrainian citizens.
Hungary's passport exports
Ukraine isn't the only country where Hungary is seeking to recruit new citizens. According to Tuzhanskyi, after winning the parliamentary elections in 2010, Hungary's ruling Fidesz party changed the citizenship law and adopted a simplified procedure for foreign Hungarians. Since that time, the country pursues an active passportization policy in the countries of the Carpathian basin, where ethnic Hungarians are numerous from the times of the Austro-Hungarian empire. Some politicians in Hungary dream of reconstructing the country's pre-WWII borders.
These processes are most active in Romania and Serbia – over 400,000 and 114,000 of their citizens respectively have received Hungarian passports as of 2015. Last year, Budapest officially informed about the millionth oath of allegiance sworn to Hungary. Miklós Lajkó from the Serbian village of Gunaroš became the millionth foreign Hungarian to receive a Hungarian passport. Laikó's family was greeted then both by Hungarian President János Áder who officially grants Hungarian citizenship and by Prime Minister Viktor Orban, who is an avid promoter of the policy.
In Romania and Serbia, dual citizenship is legal, but in Ukraine and Slovakia it is not. And while Slovakia has directly prohibited their citizens from receiving dual citizenship and have a procedure for punishing those who have a second passport, the Ukrainian legislation is not so clear. Although the law states that a voluntary second passport is a reason for losing Ukrainian citizenship, no detailed procedure exists for that.
Although official Kyiv has signaled to Hungary that issuing Hungarian passports to Ukrainian citizens contradicts Ukrainian law, this has not brought results. Hungary argues that a dual citizenship is a European phenomenon, despite such countries as Austria and Slovakia prohibiting it, that Ukraine does not have a specific prohibition on having a passport of another country, and that Ukrainian Hungarians use the passport outside Ukraine, not within, which means they are not violating anything.
A direct conflict between Ukraine and Hungary regarding passport policies broke out only once, in 2015. Then, Ukraine's Foreign Minister Pavlo Klimkin announced that the practice of dual citizenship should be stopped and that those owning a second passport will be sanctioned. In response, Hungarian Vice Prime Minister Zsolt Semjén declared that Hungary will not aid Ukraine in identifying and punishing the "violators."
The passport question had not been raised since – until now. Hungarian Foreign Minister Péter Szijjártó has already announced that Budapest considers Ukraine's intention to expel its consul in Berehove an unfriendly act and has threatened to continue "slowing down the integration of Ukraine into European structures."
The lure of Hungarian citizenship
Although a Ukrainian passport has risen to the 28th position in the Global Passport Power Rank after the introduction of a visa-free regime with the EU, a Hungarian foreign passport offers many more benefits to its potential seekers. Along with other EU passports, it ranks fourth in the Global Passport Power Rank and allows Ukrainians visa-free trips to the USA or employment opportunities in any EU country. This makes a Hungarian passport a luring opportunity for Ukrainian youth. Plus, naturalized Hungarians can obtain official registration in Hungary and receive Hungarian social benefits and register a car with Hungarian license plates, which means considerable savings on taxes imposed by Ukraine on used foreign cars. As well, such citizens can vote in Hungarian elections, for which they are even sometimes taken from Zakarpattia to Hungary in busloads.
To obtain Hungarian citizenship, Ukrainians citizens are tested for their level of knowledge of Hungarian and must prove that they are either ethnic Hungarians or had relatives who were born or lived in the Hungarian state. This can be either the Austro-Hungarian empire before 1920 or interwar Czechoslovakia and Hungarian occupation during WWII.
Zakarpattia: a battleground between Ukraine and Hungary
Hungary's contemporary policies in Ukraine are directed at creating a critical mass of a population loyal to Budapest, as well as fostering its hostility towards the central authorities in Ukraine. For that, not only passports are used: over the years, Hungary has doubled down on its soft power in Ukraine, writes LB.ua editor Ihor Solovei. This includes crediting Hungarian businesses, Hungarian-language only education, investments into the infrastructure and social buildings such as schools and hospitals.
Why all the investments? The first thing that comes to mind, Solovei writes, is that the support of the Hungarian diaspora is a move likely to convert into electoral support for Orban's party – not only among patriotic-minded Hungarian residents but newly-passportized "foreign Hungarians" of Ukraine. Additionally, economic support for Hungarians in Ukraine makes it more likely that they will stay in Ukraine and not migrate to greener pastures in the EU. And this means that Hungary can keep asserting its right to an influence over the westernmost part of Ukraine, including by pushing the idea of a cultural autonomy for the region. The latter is in line with the imperialist phantom pains of Orban's cabinet and a yearning to resurrect a "great Hungary."
In this situation, the mass issuance of Hungarian passports to Ukrainian Hungarians clearly poses a problem and a security threat. Solovei predicts that Hungary is waiting for the Russian puppet states of the Luhansk and Donetsk "People's Republics" in the Donbas to be legalized within the Ukrainian administrative structure – by means of federalization. Afterward, the field will be open for Hungary to make its dreams of a "cultural autonomy" in Zakarpattia a reality.
Ukraine does not have many instruments to resist Hungary's approaches: the country ignores Ukraine's objections and has already made attempts to thwart Ukraine's Euroatlantic aspirations after Ukraine refused to implement its demands on the education law. Budapest has already claimed that its consul was acting legally and was doing nothing wrong in swearing in new Hungarian citizens. But it's unlikely that Ukrainians strive for Hungarian citizenship out of support for Orban's imperial dreams. Far more plausible is the explanation of elementary convenience: education and working opportunities in the EU are far better for a Ukrainian with a Hungarian passport.
So, Ukraine should not expect Hungarian passports to lose their luster until Ukrainian opportunities equal those of the EU. And until that happens, Ukraine should focus on the things it can do. According to Solovei, those are improving the dilapidated transport connections between Kyiv and Uzhhorod, giving more resources to teaching Ukrainian to ethnic Hungarians, most of whom at the moment are linguistically isolated from the rest of Ukraine, and increasing the military presence in the places of compact residence of Hungarians. All of this must make the residents of Zakarpattia stop feeling as if they are living in a linguistic, transport, or infrastructure ghetto. Then, the policies of Orban's cabinet will have a much smaller appeal to the majority of Ukrainian Hungarians.
Read also:
Tags: Hungary, International, Orban, Zakarpattia