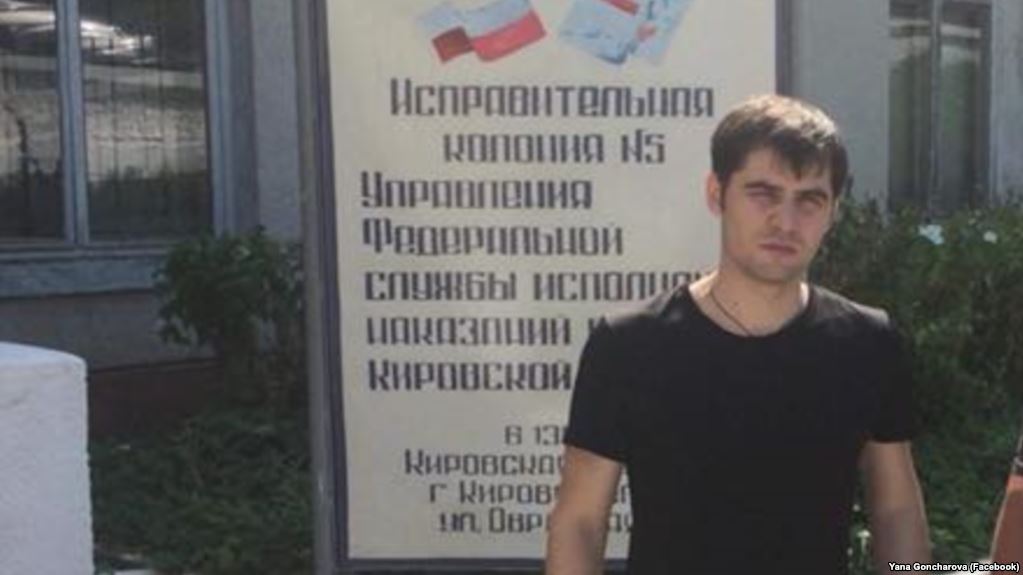 Oleksandr Kostenko after being released from his prison. Photo: krymr.org 
Oleksandr Kostenko, one of the circa 70 political prisoners of the Kremlin, has been released after spending 3 years 11 months in a Russian prison, having committed no crime. His release is due to the expiration of the prison sentence, reminding that so far there is no strategy to release the Ukrainian prisoners of the Kremlin, taken as hostages in Russia's undeclared war against Ukraine.
Below is Kostenko right after stepping out of his prison in Kirovo-Chepetsk. He is expected to arrive to Kyiv on 6-7 August and will receive temporary accommodation and hopefully, financial support.
Kostenko was arrested in February 2015. The Crimean police officer had just returned to his homeland after participating in the Euromaidan protests in Kyiv a few months ago. By that time, Russia had illegally annexed Crimea and many of his former colleagues had betrayed their oaths and turned to serve in Russia's occupation administration. One of them, a former employee of the "Berkut" Crimean Special Forces of the Ministry of Internal Affairs of Ukraine named Polienko, filed a lawsuit against Kostenko. By irony of fate, Polienko and Kostenko were on different sides of the barricades during the Euromaidan protests in Kyiv. Polienko was tasked with pacifying the protesters as part of the Berkut riot police. Kostenko was a Euromaidan activist protesting against the regime of then-president Viktor Yanukovych.
Polienko accused Kostenko of throwing a stone at him during the protests. And in the end, Kostenko was sentenced to 3 years and 11 months in jail by the Russian occupation "court" of the illegally annexed Crimea.
How was this even possible? Both Polienko and Kostenko were Ukrainian citizens at that time, so ostensibly no harm to the Russian system was done. This didn't stop the Russian occupation court from convicting Kostenko for being in the capital of Ukraine, participating in "the riots aimed at overthrowing the constitutional system" and "throwing a stone at a police officer, guided by ideological hatred for the officers of the internal affairs." During the trial, there was no evidence presented that Kostenko actually threw that stone, the accusation is based solely on the testimony of the accuser, a former Ukrainian security service worker who betrayed his oath.
There is also Kostenko's testimony, extracted through torture. After receiving access to the independent lawyer Dmitry Sotnikov, Kostenko told he was tortured and retracted his self-incriminatory testimony. That did not influence the "judge," however. From what we know, employees of the Crimean department of the FSB, after detaining Kostenko, put a package on his head which didn't allow him to breathe, pressed an unloaded gun against the head and pressed the trigger, threatened to cut off his finger and send it to his relatives, beat him on the head, and electrocuted him. With these methods, they demanded Kostenko acknowledge that he committed crimes during the Euromaidan protests in Kyiv. The next day after the arrest, they forced Oleksandr to drink 200 grams of vodka and took him to the FSB, where Oleksandr played the role of turning himself in.
During the search of Kostenko's apartment, which was conducted in violation of procedural norms, it was alleged that rifle barrels were found. However, the witnesses of the case did not confirm that they were found there, making it highly probable that the rifle barrels were tossed in by the FSB employees themselves.
Summed up, an innocent man spent nearly 4 years in jail, guilty of taking part in anti-government protests in Ukraine which made the Kremlin fear that Russians will follow suit. This is why participants of the uprising had to be punished, and Euromaidan itself – demonized.
Punishing them for Euromaidan
At least another prisoner has been sentenced for reasons identical to Kostenko's. Andriy Kolomiyets was accused of throwing Molotov cocktails at Berkut officers during Euromaidan. Like in Kostenko's case, the Berkut officers were Crimeans who later betrayed their oaths. Also like in Kostenko's case, Kolomiyets was charged with drug possession – with the drugs highly likely being planted, just like Kostenko's "rifle barrels." Kolomiyets was sentenced to 10 years.
Two other political prisoners are suffering from their allegiance to the protests against Ukraine's pro-Russian ex-president. Mykola Shyptur had come to Crimea as part of a group attempting to prevent Russia's annexation of the peninsula in March 2014. After participants of their demonstration got beaten up by Crimean militants, he fired a few shots into the ground from a Makarov gun. Afterwards, he is beaten and tortured, and sentenced to 9 years in prison. Volodymyr Balukh, the Crimean framer sentenced nominally for storing ammunition that the expertise showed he hadn't touched, but really for flying a Ukrainian flag over his house and expressing his sympathy to the revolution in Kyiv. Balukh is now over 110 days on hunger strike, protesting against his insane sentence.
Some 70 prisoners left
The expiration of Kostenko's prison term reminds us that there is no strategy for releasing the circa 70 Ukrainian political prisoners of the Kremlin, accused of fictitious crimes in order to fit Russia's political agenda. For them all, Ukrainian filmmaker Oleg Sentsov is on hunger strike from 14 May 2018. He announced he will stop it when they are freed. This makes the search for a solution especially pressing, as not all of them will live until the expiration of their prison term.
Read more about the Ukrainian political prisoners of the Kremlin on the site
Letmypeoplego
, a campaign to free them all.
Tags: #LetMyPeopleGo, Crimea, Kostenko, News, Political prisoners