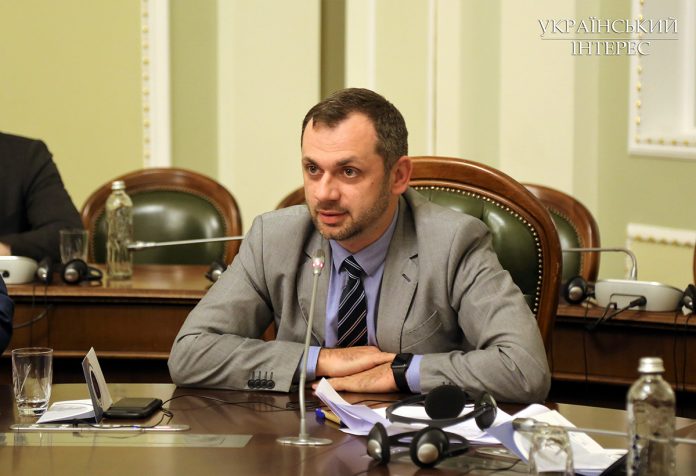 Ukrainian MP Andriy Levus. Photo: Ukrayinsky Interes/Oleksandr Bobrovsky 
It is expected that a large-scale reform of legislation that regulates the activities of intelligence and special services will soon be passed in the Verkhovna Rada of Ukraine.
The bill is awaiting approval after the second reading. It provides for fundamental changes in a number of laws relating to the activities of the SBU (Secret Service of Ukraine), military intelligence, NABU (National Anti-Corruption Bureau of Ukraine), counterintelligence, etc. The purpose of this reform is to introduce an effective mechanism for democratic civilian control over intelligence and special services.
On May 23, the Verkhovna Rada hosted a seminar with the participation of foreign partners who discussed the experience of leading countries in the field of parliamentary control over special services.
As underlined by Ukrainian MP Andriy Levus, this law is a springboard for establishing effective parliamentary control. If it is approved, it will launch a new era for the SBU, intelligence services, and other special services in Ukraine.
"It's extremely important to reform the SBU… because this service is often involved in activities that are basically alien and in opposition to its purpose – for example, business affairs. Our security service shouldn't be working in the field of economics because it should be responsible for fighting Russian agents and not investigating property and business developers. This isn't economic security, you should understand that. Today, we've drawn up a concept to reform the SBU, which implies complete openness and transparency." said Levus.
According to Andriy Levus, it is not necessary to listen to radical proposals recommending the complete dissolution of the SBU and the formation of a new structure.
"We've received some suggestions from our allies, and we should to listen to them. We must think about creating a new security structure that will promote the basic values ​​of freedom, democracy, and respect for human rights. The SBU leadership is willing to change, so the parliament must help implement these reforms. Our special services should protect Ukraine, our citizens, and our national interests, and not serve government clans."
According to David Watson, former Deputy Chief of MI-6, parliamentary control over UK's special services has existed for about thirty years:
"However, we still have to make a lot of changes. The UK special services are regulated by four laws. The most important rule is respect for human rights. When I started working, we didn't have such rigid rules. Then, everything changed. Parliament created a relevant committee that was charged with oversight of all intelligence agencies. It turned out to be beneficial for our service. When the committee understood what we were doing and why we are doing it, it often took our side. We no longer need to persuade our people and parliamentarians about the importance of our work. The committee is responsible for that."
Veiko Spolitis, MP in the Sejm of Latvia, is convinced that his country's experience will be the most useful to Ukraine. Latvia gained valuable experience during its reform process, namely that a single person should never be entrusted with complete power:
"We've always wanted to return to Europe, but for decades we were forbidden to do so. We adopted our laws on security 25 years ago; they're very similar to British laws. We've learnt to live according to these laws, and we've taught our people to respect and implement these laws."
For some time now, committees and groups have been preparing such reforms in Ukraine. Since 2016, Ukraine has been assisted by advisers from several Allied countries: Norway, the USA, Great Britain, Switzerland, Latvia, etc.
According to Andrew Cuthbert, Adviser on Parliamentary Affairs at the NATO Representation of Ukraine, this work has been very difficult because institutional changes are always complicated. Nevertheless, Ukraine's allies believe that it will be feasible to implement these changes.
However, "failure to fulfill this goal – control over special services – will be considered by the Allies as another lost opportunity for Ukraine on the path to Euro-Atlantic integration." said Andrew Cuthbert.
Tags: intelligence services, International, News, political reform in Ukraine, SBU, Ukraine, Verkhovna Rada