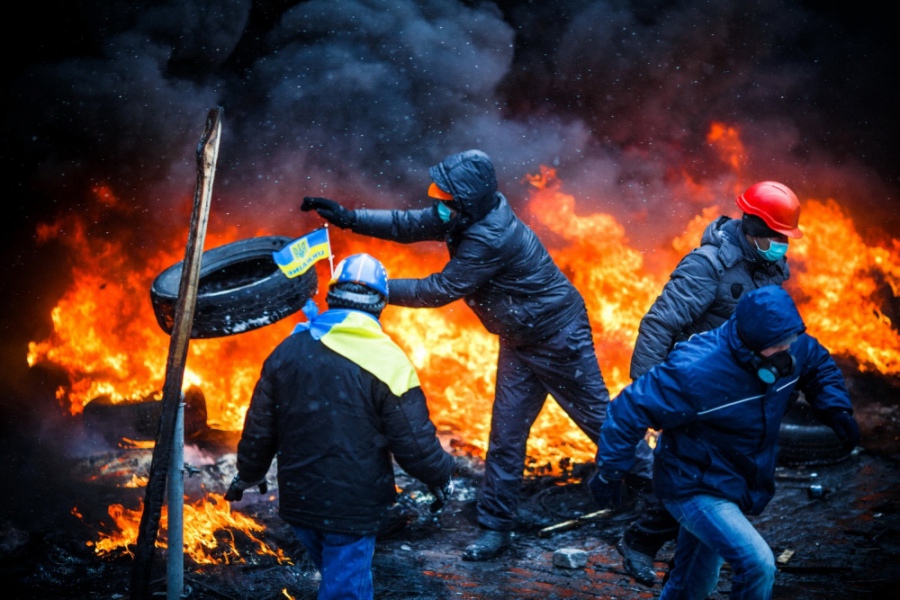 Euromaidan protesters burned tires to create a smokescreen between themselves and the Berkut police. Photo: Ukrayinska Pravda 
Before me stands an educated man—softly spoken, thoughtful and articulate. He is a well-traveled and multilingual native English speaker who has spent some months living in Ukraine.
In fact, he is an experienced journalist conducting freelance work for one of the world's most widely distributed newspapers. Each sentence is sharp and emphatic and has all the hallmarks of an original thought.
"You should not be so gullible," he says, "what is going on in Ukraine is in service to the NATO project. The 2014 revolution was a coup organized by America, sponsored by America, and is now being defended by American money."
A little research on this man shows that he has otherwise been claiming, in ordinarily respectable places, that rape accounts in Syria are fabricated to justify Western intervention.
One might say that these kinds of grubby statements are ordinarily the prerogative of Russian propaganda, but actually, even Kremlin disinformation is often much more subtle and nuanced than this. For instance, RT's timeline of the Ukrainian "coup" of 2014 mainly leaves the impression that Euromaidan was the product of violent right-wing nationalists rather than conniving American bureaucrats. While equally untrue, here at least Ukrainians are left with the dignity of independent thought.
Actually, many of the boldest lies written in English about Euromaidan have come not from Kremlin propaganda factories, but ostensibly respectable and well-regarded western writers, just like the man before me. For example, according to Seamus Milne, as prestigious a journalist as one can find, and now the British Opposition Director of Communications, Euromaidan "was triggered… via an explicit anti-Moscow EU association agreement. Its rejection led to the Maidan protests and the installation of an anti-Russian administration-rejected by half the country [Ukraine]."
Noam Chomsky, the world's most cited intellectual, tiredly recycles the kind of thing he has been saying for decades: "So yeah you can give arguments against Russian interference in eastern Ukraine after the coup that took place there, but it's a complicated story and the west is not without its significant initiatives there." My italics.
For many people living in rich liberal democracies, even educated and decent people, these kinds of statements are considered reasonable or sometimes axiomatic. Trusting ostensibly reputable sources, people fall innocently into the way of thinking that they could just as easily have reached reading nothing but Russian propaganda.
As the freelancer before me shows, four years after Euromaidan it is still necessary to dispel a few lies and replace them with truths.
Undoubtedly America has strategic interests in Ukraine (ones it has done, if anything, very little to advance) but merely because one has chosen to make themselves the ideological enemies of the American government does not mean they should also make themselves the enemies of the Ukrainian people.
The Ukrainian people wanted Euromaidan. The Ukrainian people are responsible for Euromaidan.
There was no coup
The idea that Ukraine suffered a coup in 2014 has lodged itself so firmly into international discourse that the word is routinely used without hesitation, and usually without challenge. A coup has negative stigma, for it differs from a revolution in that it involves seizure of power by political elites rather than ordinary people. Calling Euromaidan a coup achieves three things: it portrays the Yanukovych government as legitimate, the revolutionaries as illegitimate, and ties Euromaidan to American-backed coups in South America and elsewhere.
An article recently published on Polygraph directly addressed this exact issue, refuting Russian President Vladimir Putin's claims that Euromaidan was a coup supported by the West. Of course, if anyone was interfering with Ukrainian sovereignty during Yanukovych's presidency it was Russia, whose army medals officially dated its operation to annex Crimea from February, 20, 2014, while Yanukovych's police were still killing protesters in Kyiv.  
Indeed, a short history of Euromaidan leaves little capacity for even a propagandist to construct a coup narrative.
The initial catalyst for the revolution was the EU-Ukraine Association Agreement, which had been discussed in some form since at least as early as 2007. This work continued upon the election of President Yanukovych in 2010, and promised visa free travel and free trade between Ukraine and the EU.
Like all such agreements with the EU, it depended on minimum democratic standards which Yanukovych routinely undermined, most notably through the 2012 imprisonment of his chief rival, former Prime Minister Tymoshenko. This led to the Council of the European Union reiterating that "electoral, judiciary, and constitutional reforms in line with international standards are integral parts of [the Association Agreement]."
Nevertheless, the negotiations continued and a signing ceremony was organised for November 28, 2013. Yanukovych announced that he would not sign the agreement, and though he attended the ceremony he kept this promise. Simultaneously he concluded several deals with Russia.
Activists, political parties, ordinary citizens converged on Independence Square in Kyiv. Attempts to suppress protests only strengthened their resolve, and by November 31st hundreds of thousands of Ukrainians had joined the protests.
By mid-February 2014 many protesters were already dead. But then, in just three days, from February 18th to February 21st, sixty-eight protesters were killed by Yanukovych's snipers. Note that in this time the army was mobilising only against protestors, leading to the resignation of the Armed Forces Deputy Chief of Staff.
As would be expected, the international community, including the United States and the EU, responded with diplomatic pressure against Yanukovych to stop the killing. But the people who organised the protests were not Americans, and the people standing and dying in the streets were not Americans.
On the 21st of February, the Ukrainian parliament unanimously voted to restore the 2004 constitution, which had been dismantled by Yanukovych. More importantly, they voted to demobilise all soldiers and police. Protestors were now safe in the square.
President Yanukovych signed the deal with the protestors. Then, on his own volition, he fled to Russia, and it was only after this willing departure that his impeachment secured by the Ukrainian legislature. More importantly, a fairly contested election was held, which resulted in a peaceful exchange of power from the interim president, Turchynov, to the current president, Petro Poroshenko. Such democratic elections surely do not fit into any definition of the word "coup."
Indeed, to call Euromaidan a coup is a deliberate political statement, and a symptom of either a person's vulnerability to lies, or a willingness to themselves tell lies.
Pining westward
An important, missing piece from the above story is why Ukrainians so passionately demanded a closer association with Europe.
It is this emotional aspect that is the hardest for those living in liberal democracies to identify with: people in the United States or the European Union or wherever can see the problems that plague their own countries and wonder why someone would risk their life to obtain the same thing.
But of course, we all know that these countries have more money, a higher standard of living, and stronger democratic institutions. It is almost condescension to mention this point.
Nevertheless, it is worth stressing that life in the European Union really is easier than life in Ukraine, or almost anywhere else in the world. It is worth stressing that Ukrainians are educated and politically conscious; that Ukrainians know about democracy and free speech and the rule of law.
It is worth stressing that Ukrainians know that just a few hundred kilometers away there are hundreds of millions of people just like them living in relative luxury and comfort, most of whose governments usually respect their human rights, whose politicians usually do not outright steal billions of dollars from the national coffers. Ukrainians know about the success of Poland and Romania and other neighbors who have thrived since accession to the EU.
And Ukrainians knew about all of this in 2014.
Sean Eriksen is an Australian/American writer living in Ukraine. He studied law and history/international relations and runs a blog designed to inform outsiders about Ukrainian politics.
Read also:
Tags: EuroMaidan, Op-ed