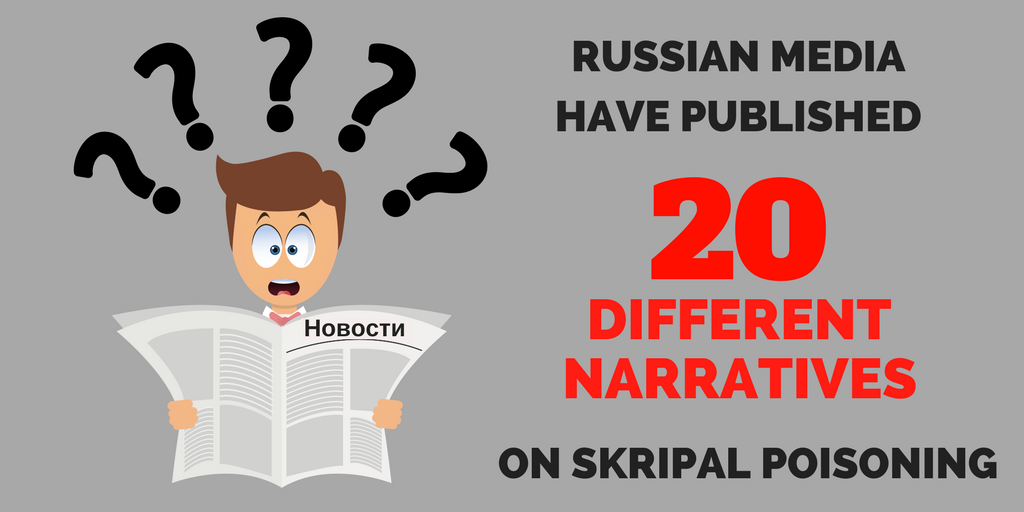 As British investigators probe the poisoning of ex-Russian spy Sergei Skripal and his daughter, international consensus continues to grow that Moscow was behind the attempted assassination.
EU Heads of State and Government have voiced their support for the United Kingdom in its standoff with Russia, with European Council President Donald Tusk saying the Council "agrees with UK government that highly likely Russia is responsible for Salisbury attack and that there is no other plausible explanation."
Sergei and Yulia Skripal remain in critical condition in Salisbury, southwest England, and one police officer is recovering in hospital. More than 130 people may have been exposed to the nerve agent Novichok.
Read also: Litvinenko murder was 'act of nuclear terrorism,' his widow reminds the world
In Russia, by contrast, fingers are pointing in all directions but the Kremlin. Two dozen different narratives surrounding the Skripal case have appeared in the Russian media so far, prompting British Foreign Secretary Boris Johnson to accuse Moscow of seeking to
"conceal the needle of truth in a haystack of lies."
Watch also the Euromaidan Press video "A guide to Russian propaganda. Part 3: Rapid fire conspiracy theories"
Russian talk shows may have produced 24 or 234 versions of Salisbury attack, but British press sticks to ONE, unsupported by any facts. So much for free and independent media holding government to account. pic.twitter.com/862TfBVkxC

— Russian Embassy, UK (@RussianEmbassy) March 29, 2018
Here are 20 different narratives offered by Russian media and officials for the poisoning:
The United Kingdom did it to fuel anti-Russian sentiment (source: Russia 1 TV channel)
Ukraine did it to frame Russia (Russia 1)
The United States did it to destabilize the world (Russia 1)
Theresa May helped orchestrate the attack because she is a friend of CIA director Gina Haspel (Zvezda)
It was an attempted suicide (Russia 1)
It was an accidental overdose (RIA Novosti)
It was due to accidental exposure from Britain's Porton Down research facility (Russia 24 TV channel)
The Porton Down lab carried out illicit human testing and is lying about not producing Novichok (RT)
Skripal's future mother-in-law did it (Moskovsky Komsomolets: mk.ru)
Terrorists did it (Russian ministry of foreign affairs spokesperson)
American-British financier Bill Browder — blacklisted in Russia for denouncing corruption — did it (Russia 1)
A drone did it (Zvezda and Russian defense ministry)
Skripal was a chemical weapons smuggler (Pravda)
The West is using the case to deflect attention from Russia's successes in Syria (Russian ministry of foreign affairs spokesperson)
Britain is using the case to deflect attention from Brexit (Russian Foreign Minister Sergei Lavrov, Russian UN ambassador, Russian OSCE ambassador)
The attack was an attempt by a rival faction to undermine Vladimir Putin (state TV)
Russia has destroyed all its stockpiles of Novichok (Sputnik)
Russia never developed Novichok (Interfax)
Only the Czech Republic, Slovakia, and Sweden have Novichok (Russian ministry of foreign affairs spokesperson). All three countries have denied the claim.
There is no evidence that the nerve agent used against the Skripals was Novichok, Porton Down lab is struggling to identify the substance (RT)
Further reading: Behind the smokescreen: who are the actors spreading disinformation on ex-Russian spy Skripal
This is how the Russian state is spreading disinformation following the Salisbury attack. We know the tactics they use, but they don't change the facts. pic.twitter.com/rnCtETv7rg

— Foreign Office (@foreignoffice) March 29, 2018
---
Read more:
Tags: chemical weapons, European Union, murders, Putin, Putin regime, Russia, Russia's confrontation with the West, Russian state terrorism, Salisbury poisoning, Sergei Skripal, Skripal