Only one person is serving a sentence in the Maidan Case, says Serhiy Horbatyuk, Head of the Special Investigation Department of the Prosecutor General's Office.
Horbatyuk added that, in the course of four years, 50 sentences have been issued, and 412 persons have been served notices of suspicion.
"To date, the investigations and examinations have resulted in 50 sentences. However, an appropriate measure of punishment has been imposed on only two people, and only one person is serving a sentence. 412 people have received notices of suspicion, and 258 people have been indicted." says Horbatyuk.
This is not what Ukrainian society expects, but a lot of work has been carried out to cross-check and prove these crimes, and nothing is over yet, stated Horbatyuk.
"Almost every week, we serve notices of suspicion, or we conclude an investigation, or we deliver indictments to the court. The process for finding and establishing the truth is ongoing."
Between November 21, 2013 and February 21, 2014, during the clashes between protesters and security forces in the centre of Kyiv, more than a hundred people died, most notably on February 20. Most of the protestors died from sniper bullets that hit them in the head, heart and neck. These innocent Maidan participants were named "The Heavenly Hundred".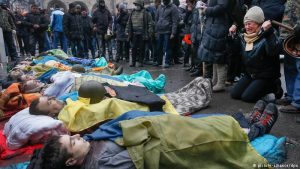 According to the Prosecutor General's Office, 2,500 individuals were injured during Euromaidan, 104 of them were killed.
Roman Tytykalo, a lawyer who represents several families of the Heavenly Hundred maintains that Ukrainians expect clear answers: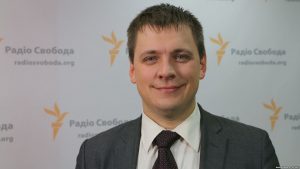 "The problem is that many of the accused are not in Ukraine. Everyone knows about the escape of a Berkut officer that the court released. Yanukovych himself isn't in Ukraine. There are a lot of questions about how fast these procedures are being processed, and when we will see the end of these proceedings. My clients aren't satisfied; they don't understand what's happening…"

A lot of investigation work has been done together with my clients (the victims) and by international experts under the surveillance of special law enforcement forces. But, there's no clear history chronicling the Maidan events, just as they happened, step by step… like, who gave the orders, who took part. As a lawyer, I know the answer to these questions, but Ukrainian society just can't understand whether Yanukovych gave direct orders or whether he gave tacit consent."
On May 4, 2017, the Obolonsky District Court began a trial in absentia of former Ukrainian President Viktor Yanukovych who is charged with high treason. The case concerning the Maidan killings is being investigated as a separate procedure.
Horbatyuk stated that prosecutors had appealed to the court for permission to start an in-depth investigation for an in absentia trial. According to the investigation, the crimes were committed by individual Berkut officers, or by internal troops, or by their leaders. Thus, proving that individual organizers are responsible for all the crimes is a long and complicated process.
However, a trial in absentia, as regulated by the Criminal Code of Ukraine, may raise complaints in terms of compliance with international conventions and practices of the European Court. In practice, this may mean that, even after such a procedure has been completed, the sentence may be lifted unequivocally by an international court. Ukrainian legislation must be changed, but for some reason or other, new bills have not even been introduced in the Verkhovna Rada.
Viktor Yanukovych, who escaped to Russia after the Maidan killings, denies these allegations.