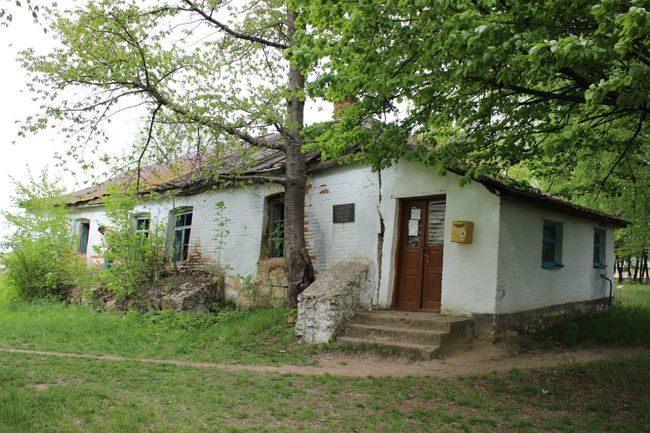 Many foreigners are still surprised when they find out that Shchedryk is a Ukrainian folk song that was put to music by Ukrainian composer Mykola Leontovych (1877-1921). When Shchedryk was first performed in Carnegie Hall, New York in 1921, Americans fell in love with the song and an English version appeared – The Carol of the Bells. When the 100th anniversary of Shchedryk was celebrated last year, the man who, in fact, created this all-time Christmas favourite, was finally mentioned. When Shchedryk lovers published photos of the house where the Leontovych family lived – village of Shershni in Vinnytsia Oblast – Ukrainians were shocked to learn that this house was on the brink of collapse.
"This is Mykola Leontovych's hometown, his childhood home where he took his first steps. I'm convinced that it was in this house that this unique Christmas carol was born in Leontovych's heart." says Nataliya Zabolotna, President of the Humanitarian Development Fund of Ukraine.
Concerned activists and citizens decided to save this historic monument. When Ilya Bondarenko, the 16-year-old Ukrainian violin prodigy, first heard about the Leontovych home, he knew that he too had to do something to preserve this heritage. In fact, Shchedryk had a special meaning and association for Ilya, who remembers playing it on the Maidan in Kyiv in 2014. Ilya underlines that only Shchedryk could convey his innermost feelings at that crucial time.
"For me, this melody is like a bearer of positive news. Every time I hear it, I associate it with good tidings arriving from somewhere, that something new is happening around me." says Ilya.
Then, there was the Christmas concert at the White House in December, 2016. Ilya and his musicians were personally invited by Michelle Obama, who was so impressed by the Jazz interpretation of Shchedryk. And finally, when the question of saving Leontovych's home arose, Ilya did not hesitate to take action.
"First of all, I'm Ukrainian. I can't just sit by the wayside… I'm a musician who has a large audience, so I can address people with my music, tell them about this project… and I believe people will listen." explains Ilya.
Ilya expresses his thoughts clearly, accurately and convincingly. In addition to performing at the charity concert Leontovych Heart in December in Kyiv, Ilya has appeared at ten other concerts in order to raise funds for the Leontovych home… No free weekends, no holidays, no rest for the young violinist who even agreed to play in the Kyiv subway to raise public awareness…
And, there's a lot to rescue… One part of the house has a roof full of holes, a crumbling wall and pieces of fabric cover the windows. The other part houses a rural post office. The local postmistress, Olena, points out that nothing remains from the olden days. The hallway to the main part of the house has been closed off by a large door, which was nailed shut.  It is namely in those rooms that memorabilia of the Leontovych family are closely guarded.
Many village events are associated with the Leontovych home. Olena says that her mother arrived in the village in 1973 and lived in this house. A village wedding was even celebrated here.
We meet villagers who remember stories about Mykola Leontovych.
"My husband's grandfather used to bounce Mykola on his knees. He says that Mykola was a smart and curious little boy; he wanted to know everything. He loved to sing… even as a child. When he was older, he sang in the church choir. For us, he's the most famous person in the village." says Shershni resident, Nina Bondar.
Nina's neighbour, local activist Valentyna Tchaikovska, is convinced the Leontovych home will be restored.
"We don't need large rooms, but we should restore the house exactly as it was. This year, the local Leontovych Park was cleaned up. Chairs, benches and tables were brought into the park, and our people suddenly realized how pleasant it was to have a nice place where they could walk, relax and meet friends."
The village council has also started thinking and talking more seriously about the restoration project. They say that if the house of the author of the legendary Shchedryk is restored, the village will be able to survive as more and more tourists will finally visit and tour the region.
"I'm sure our village will grow and prosper because many tourists will visit us. We'll open shops, cafes, and promote green tourism." explains the head of the village council, Nataliya Mykhailova.
One and a half million hryvnias are needed to restore the Leontovych home. 250,000 UAH have been collected thanks to the charity concert. Just a little more…and there will be a museum and a children's music school in Shershni.
Tags: charity, Ilya Bondarenko, Mykola Leontovych, Shchedryk, Ukraine