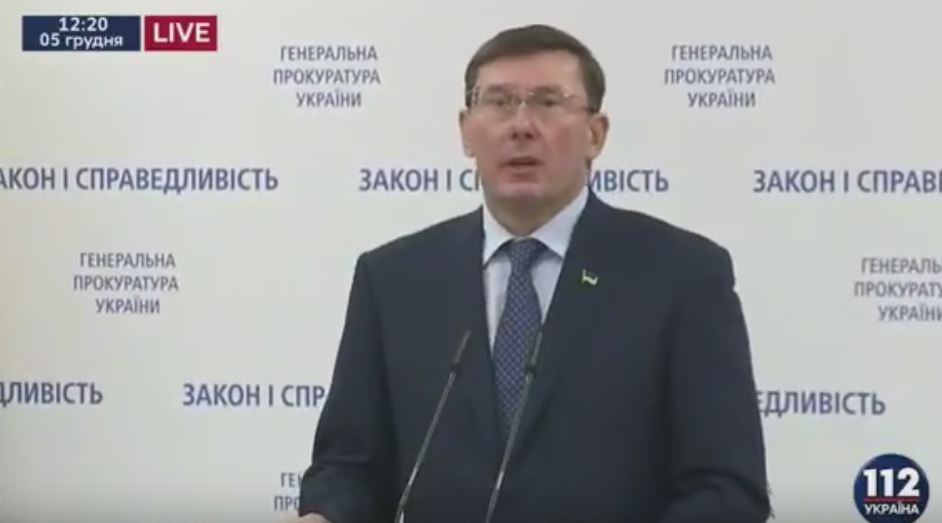 Prosecutor General Yuriy Lutsenko. Photo: screenshot from 112.ua 
Following the morning detention of ex-Georgian President and ex-Odesa Oblast governor Mikheil Saakashvili in his house in Kyiv, Prosecutor General Yuriy Lutsenko had a briefing with journalists. During it, he presented a video which allegedly proves Saakashvili and his allies were cooperating with Serhiy Kurchenko, a runaway oligarch from the entourage of ousted president Viktor Yanukovych. In particular, he released the video of the conversation between Saakashvili and Kurchenko.
Read about the detention of Saakashvili: UPDATING: Saakashvili detained in Kyiv for "supporting criminal organizations"
"I have business-interests in Ukraine, I have financial resources and I have the opportunity to enter different cabinets in Russia. I am interested to build some long story with you. Is it possible?" asks Kurchenko in the video provided by the Prosecutor General's Office (PGO).
The answer of Saakashvili was positive, he said that there are people  through which they can cooperate.
Lutsenko also stated that Saakashvili received $1.5 mn from Kurchenko in order to organize protests. Two days ago, a large Saakashvili-led rally was held in Kyiv in support of the adoption of a law on impeachment. For more than a month, a protest camp had been surrounding the Ukrainian parliament. The camp started out from a large rally organized by NGOs and political forces, led by Saakashvili. After a few days, the NGOs dropped out from the protest.
Lutsenko said that on Wednesday, a court hearing on the case will take place. Saakashvili ally Severyn Dogdadze, who the PGO also claims is heard on the wiretap, will be incriminated with high treason (article 110 of the Criminal Code) and also accused according the same article 256. Saakashvili will be accused only according to the article 256. Lutsenko said that the PGO will demand home arrest for Saakashvili with an electronic bracelet.
So far, the question of his deportation has not been raised.
Meanwhile Lutsenko these days became a central figure in another scandal. It related to the interference of General Prosecutor's Office and Security Services in spoiling special operations of the National Anti Corruption Bureau (NABU). Lutsenko's institution insists that they uncovered illegitimate actions of NABU. While representatives of NABU went to the US for the Global Forum on asset recovery. Lutsenko did not go there, justifying this by the need to be in Ukraine because of the cases of Saakashvili and his allies.
Later today the representatives of General Prosecutor's Office, NABU, and Special Anti-Corruption Prosecutor's Office will give speeches in the Ukrainian Parliament.
The situation with Saakashvili and fights within anti-corruption institutions affects Ukraine's perception abroad by the country's western allies.
After a several-hour long standoff between law enforcers and Saakashvili supporters in central Kyiv, Saakashvili managed to get out of the van and is now calling Ukrainians to come to the central square of Kyiv, Maidan, to "stand up against [President] Poroshenko."

Saakashvili was a leader of protests near the Ukrainian Parliament which started in October. Led by representatives of NGOs and politicians, protesters came out with the demand of a "great political reform".
It included three main demands: to change the election rules, to create an Anti-Corruption Court, and to cancel parliamentary immunity. Later the representatives of NGOs stated that they are going to continue the protest in another format, while the politicians lead by Saakashvili stayed in the street calling for impeachment.
Earlier this year, Saakashvili was deprived of his Ukrainian citizenship when he was abroad. Despite the lack of legal reasons to return to Ukraine, Saakashvili managed to do it with the help of protesters who helped him to cross the border.
Read more:
Tags: Kurchenko, Lutsenko, Maidan, Saakashvili