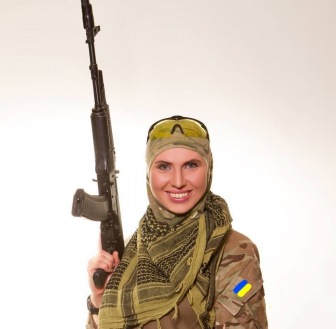 Amina Okueva  
The recent assassination of Chechen sniper Amina Okueva in Kyiv is proof that Ukrainian volunteers are in danger, and the Security Service of Ukraine (SBU) cannot provide them with security or guarantees, claims Mariya Berlinska, head of the volunteer organization – Centre for the Support of Aerial Reconnaissance, and aerial reconnaissance specialist in the war zone (ATO).
… Everything's very clear… we all know what really happened. (On June 1, 2017, Amina Okueva and her husband, Adam Osmayev, narrowly escaped death when Osmayev was shot  by a man who identified himself as a journalist of the French newspaper Le Monde in Kyiv. The attacker had a Ukrainian passport in the name of Oleksandr Dakar, but was later identified by journalists as Artur Denisultanov-Kurmakaev, a Chechen-born Russian citizen and notorious St. Petersburg gangster who was linked to Kremlin-backed Chechen President Ramzan Kadyrov. The assassination attempt did not succeed, and the attacker was shot and killed by Okueva-Ed) Everyone knew they'd plan another attack… Our special services are a sad pot-pourri of the worst Soviet-KGB traditions, an infiltrated network of Russian agents and simplistic security measures."
Ukrainian special services will now start telling us sad stories and try to put the blame on someone else… Why? Because they're too busy wheeling and dealing and pressuring political opponents. They didn't care about Amina. The officers of the State Defense Department chauffeur Heletey's children to school (Valeriy Heletey is a Ukrainian Colonel General who served as Minister of Defense from July 3 to October 14, 2014, currently head of the State Guard of Ukraine -Ed), stand guard over his lavish birthday celebration, and enforce extreme security measures around the wedding of the prosecutor's son (reference to general prosecutor Yuriy Lutsenko and his son's wedding on September 15, 2017-Ed).
We must understand two things:
ONE…The war's not only in the Donbas. The war's on the whole territory of Ukraine. Any one of us can be kidnapped, tortured, killed or abducted anytime and anywhere. Russian special services are hard at work; they're professionals and plan their operations rigorously… sometimes from within our own special services. If you're an activist or a volunteer, a person who publicly talks about Russian agents, corruption, political manipulation, announces names and facts, if you really start bothering them, you may as well be living your life as a "suicide bomber".
It really doesn't matter where or when they come for us – whether they're strangers or "one of our own" – but they will!
We all know that sooner or later they'll come…
TWO… No one will protect us. In a country where soldiers die every day, our death will hit the headlines for about half a day. Our politicians are focused on retaining or gaining power, and getting as much money as they can from the state. Special services linger like little lap dogs all around them, from time to time snatching a small bone from the political table. No one cares or gives a damn about us. If you're a public figure, important or not, and something happens to you, they'll just jump at the chance to blow their own horn, so they'll write a sad post and a tearful tweet, like your picture on social networks, and that's about it!
Seeing what happened with Amina and Adam, I demand that two actions be immediately implementsd by the heads of our law enforcement agencies, namely Hrytsak (Vasyl Hrytsak, head of the Security Service of Ukraine-Ed), Avakov (Arsen Avakov, Minister of Internal Affairs-Ed), Poltorak (Stepan Poltorak, Minister of Defence-Ed), Heletey and Lutsenko.
1. Transparency of investigation. We demand absolute transparency, and not your press secretaries throwing dust in our eyes. Who ordered the killing? Who executed it? A public hearing must be held.  Who, among all the representatives of Ukrainian special services, will answer for this "F*** up"?
2. You're not willing or not able to protect us… that's all very clear now. I demand that weapons be handed out to activists and volunteers who might be threatened by Putin's agents here in Ukraine. First, to those who've already been threatened. So that we can protect ourselves… I support the legalization of firearms, but we'll all be dead and gone by the time and if this happens. All of you have weapons, and you hand them out to your relatives, cronies, drivers, prosecutors and judges. In a country where there are more and more terrorist acts, civilian activists must be prepared for everything and anything. If you're threatened, you can only rely on yourself.
This is all I have to say about our f****** system in general. I said it a year ago, but it's still very true now… even more so.
Mariya Berlinska speaks out during a Ukrainian talk-show on November 25, 2016 (in Ukrainian, 6 min)
The Russian Trail: List of murders and assassination attempts allegedly committed by Russian special services in Ukraine
By an explosive device:
Ihor Mosiychuk, Deputy of Ukraine, wounded in Kyiv on October 25, 2017, two people killed
Timur Makhawri, native of Chechnya, Kadyrov's personal enemy, assassinated in Kyiv on September 8, 2017
Yuriy Vozny, colonel, SBU counterintelligence officer, assassinated in the village of Illinivka, Konstantynivsky Raion, Donetsk Oblast on June 28, 2017
Maksym Shapoval, Head of Intelligence and Special Operations, assassinated in Kyiv on June 27, 2017
Oleksandr Kharaberyush, Colonel of SBU Counterintelligence, assassinated in Mariupol on March 31, 2017
Pavlo Sheremet, Belarusian-Russian-Ukrainian journalist, assassinated in Kyiv on July 7, 2017
By a firearm:
Adam Osmayev, Amina Okueva, Chechen volunteer. Okueva was killed in Kyiv on October 30, 2017
Adam Osmayev, Amina Okueva, Chechen volunteers. Osmayev and the attacker were wounded, in Kyiv on June 1, 2017
Denis Voronenkov, Russian politician, ex-deputy of Russian State Duma, killed in Kyiv on March 23, 2017
Yevhen Sukhoveyev, former gunner, seriously wounded in Kharkiv on May 10, 2016
Ivan Mamchur, former commander of special forces of the Main Directorate of Intelligence, Major in the Internal Service of Rivne prison, killed in Rivne on September 16, 2016
By a grenade:
Family of paratrooper Valeriy Chybinyev and his friend wounded and hospitalized in Kyiv on August 24, 2014
Andriy Parubiy, First Deputy Chairman of the Verkhovna Rada in Kyiv on 24 December, 2014; one policeman wounded
Other:
Illya Bogdanov, ex-officer of FSB border troops, but joined the Ukrainian Army. Abducted in Kyiv on November 12, 2016, and freed by SBU specialops forces near Russian border
Vitaliy Rehor, OUN activist, war volunteer, attacked and suffered knife wounds, in Kyiv on September 5, 2016
Tags: assassinations, Donbas war (2014-present), International, Russia, SBU, security, Ukraine, Volunteers