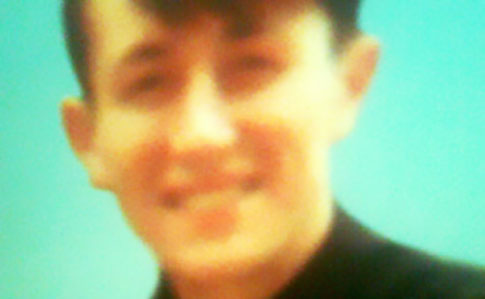 The family of Lemar Aliadinov, a Crimean Tatar who went missing in occupied Crimea in 2014, was informed of his death by the Russian occupation authorities in October 2017, Yevheniya Andreiuk from the NGO Crimea SOS told Radio Liberty's Crimean program.
Andreyuk said in a comment that the family of Aliadinov, who went missing without a trace in August 2014, received a notification that his body had been found in 2014 and was supposedly buried. According to her, the relatives had not received any corresponding documents yet.
According to the activists of Crimea SOS, 44 Crimeans had gone missing since Crimea was annexed by Russia in March 2014. 17 people were found, 19 are considered to be missing, 6 were found dead, two more are in jails. However, this list is not exhaustive – relatives of missing people often don't reach out to organizations and media for help, fearing retribution from the Russian authorities.
The Crimean human rights protection group supposes the abductions were committed by the Russian authorities or paramilitary groups controlled by them. The Crimean authorities de-facto recognize incidents of abductions but refute their involvement in them. Kidnappings have become a common form of intimidating Crimean Tatars, the majority of which oppose the Russian occupation of their homeland.
For 16 months, Crimea SOS has been holding monthly pickets at the Russian embassy in Kyiv, demanding to find those who went missing. The last one took place on 27 October 2017.
One of those is Ervin Ibragimov, a Crimean Tatar activist who was kidnapped on 24 May 2016. There are recordings showing that he was kidnapped by people wearing the uniform of the Russian State Inspection of Road Safety. The reason for his kidnapping could be his activity in the Bakhchysarai Mejlis, one of the representative organs of the Crimean Tatars. After the recently released Crimean Tatar leaders Ilmi Umerov and Akhtem Chiygoz were arrested in occupied Crimea, he basically started fulfilling their functions.
Criminal investigations have been opened in both Russia and the Ukrainian prosecutor's office for occupied Crimea, but the case hasn't moved anywhere.
Like the monthly protests, a video campaign launched by activists in 2016 attempted to pressure the Russian authorities into investigating the abductions.
Tymur Shaimardanov is another Crimean Tatar whose fate is unknown. He vanished on 26 May 2014. Tymur helped the Ukrainian military divisions, which were blockaded in the occupied peninsula. One day he simply didn't return home, Tetiana Bezruk writes for Ukrayinska Pravda. 
His mother gathered a whole package of documents about the abduction of her son. But, according to her, the investigation had not given any results, and the investigator dealing with the case doesn't know it's basic details and isn't interested in the investigation itself.
The European Court of Human Rights received a complaint against both Ukraine and Russia, as lawyers are convinced that both states don't conduct an effective investigation into Shaimardanov's case.
The activists are convinced that in case of abductions, every bit of publicity means more chances to keep the victims alive. In the case of the abduction of Renat Parlamov, who was abducted by men in FSB attire who broke into his house, and tortured to make him false testimonies incriminating himself and his friends.
The young man's relatives and friends were confident that if they hadn't made so much noise about the abduction, with multiple video recording and live broadcasts, Parlamov would be dead, as it had happened with other Crimean Tatars.
The Crimean Tatars, staunch opponents of the Crimean annexation, are being intimidated and imprisoned by the Russian occupation authorities, which have banned the Crimean Tatar representative organ, the Mejlis, conduct armed raids on Crimean Tatar homes. At least 23 Crimean Tatars are victims of religious persecution, being imprisoned on accusations of terrorism by participating in Hizb ut-Tahrir and Tabligi Jamaat, two Islamic movements which Russia classified as extremist organizations, despite there being no evidence of their extremist or terrorist acts. They are part of at least 50 Ukrainian citizens imprisoned by Russia on politically motivated accusations.
Related:
Tags: Crimea, Crimean Tatars, News