Who would have thought that Ukraine's modern history would inspire a young artist from the other side of the globe? Young Japanese artist Natsume felt deeply moved by the stories of Ukrainian soldiers defending their country in Donbas, and decided to start drawing them.
Japanese artist Natsume is visiting Ukraine for the first time. Shortly after arriving in Kyiv she decided to visit a weapons exhibit. This is no coincidence, Natsume's unique skill is portraying the military in a different light. Since early childhood she's been drawing servicemen and women. More recently, she found inspiration in the Ukrainian army. Natsume's interest in Ukrainian troops began when she was 14. The young artist watched the news about the events going on in the war-torn Donbas.
"I really liked the way soldiers carry themselves. I have never seen something like this in reality before. They leave a strong impression," she told in an interview with UATV. "I found photos of the Ukrainian military on the Internet: events and people… And I felt it all. I began to become more interested. I was touched by what I saw."
Natsume wanted her art to portray what she was feeling — this is when she started drawing Ukrainian soldiers using Japanese traditional cartoon style — which is often referred to as manga. The images became popular among young Japanese youth. Some even tried to imitate the Ukrainian soldiers' military style. As Natsume said,
"Among my friends there are already people who are interested in Ukraine. They share my interest in the country's history and culture."
The Japanese artist decided to bring her own vision of Ukrainian soldiers to Kyiv. In her work, she often draws parallels between Japanese samurai and Ukrainian Cossacks. She also tries to show the contrast between a peaceful life and wartime. The girl in ordinary Ukrainian clothes and in army clothes below is one example. "These are different versions of her future. This is deep message illustrates different life paths of the same person," Natsume explained.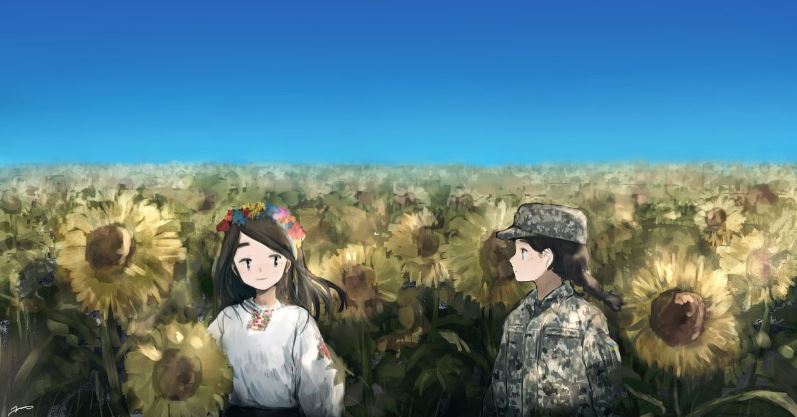 Natsume's drawings often portray Ukrainian fighters as beautiful, kind and young. Their expressions are often innocent. Her art attempts to dig deep into the soul of the Ukrainian soldiers. One of her main aims is to help others understand that soldiers are ordinary people.
Currently, Natsume's art is displayed in Kyiv. The exhibition was arranged by the Ministry of Information Policy. Marina Sobotyuk, Head of Media Communications at Ukraine's Ministry of Information Policy explained:
"We wrote to her on Twitter. She agreed to come and bring her pictures. She gave the Ministry the right to print them. This was our common idea with the embassy. This year Ukraine and Japan are celebrating 25 years of diplomatic relations. This is also Natsume's first trip abroad, and she decided to come to Ukraine."
Follow Natsume on twitter at
@msc_nm
, where she shares her latest drawings.
Tags: Japan, Ukrainian Army