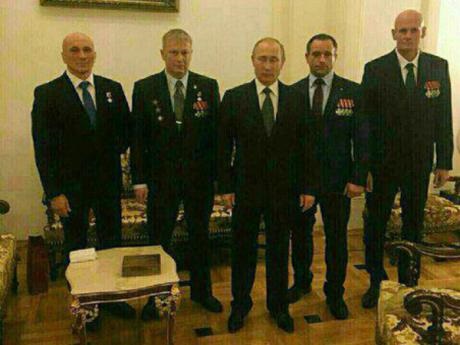 Russian president Vladimir Putin (C) pictured with head of PMC "Wagner" Dmitry Utkin (L). This image is believed to date from December 2016. 
Vladimir Putin's decision to allow foreigners to serve in the Russian military not only reflects Russia's demographic problems and his desire to rope in more people from the former Soviet republics but also and perhaps more important is part of his ongoing effort to hide Russian combat losses from the Russian people.
To the extent that the Kremlin leader succeeds, that will make his use of force abroad even more likely because it will remove one of the last constraints, admittedly already a weak one, on his actions — the feelings of the Russian people about the losses of their husbands and sons in Putin's foreign adventures.
One way Moscow has used to hide military losses is to simply lie about them. That is what many Russians appear to assume given the readiness of the Kremlin to disown those who are captured (babr24.com, graniru.org and polit.ru).
Another related technique is to employ a wide variety of mercenary groups whose subordination to the Russian military command can be plausibly denied (kasparov.ru). But neither of these tactics have stopped Russians from asking how many of their own have died in Syria?
In today's Novaya gazeta, Irek Murtazin addresses that question and says that Russian experts tell him that the numbers Russians have been given, a few dozen or even less, are implausible on their face, given the losses one would expect in any military operation of this size (novayagazeta.ru).
He discusses in detail the Wagner group, a mercenary outfit which the Russian defense ministry doesn't take responsibility for and thus whose losses, although they are very much part of the Russian effort, are things the Russian military isn't going to feel any responsibility for reporting.
According to Murtazin, there is a debate within the Russian defense establishment as to whether the Wagner forces should be legalized as part of the Russian military, something a 2015 law allows for. Opponents of doing that include a deputy defense minister and the FSB's military counter-intelligence branch. Backers are led by the head of the Main Intelligence Directorate of the General Staff of the Russian Armed Forces (aka GRU).
While this is being sorted out, Russian losses will continue to mount, "hybrid" losses as it were in yet another "hybrid" war. It seems likely that Putin will use any foreigners who join the Russian military in a similar way, giving him the kind of deniability of responsibility he has used since "the polite little green men" went into Crimea.
Related:
Tags: FSB (Russia's Federal Security Service), GRU (Russian Military Main Intelligence Directorate), International, KIA, Putin regime, Russia, Russian combat losses, Russian military, Russian private military companies