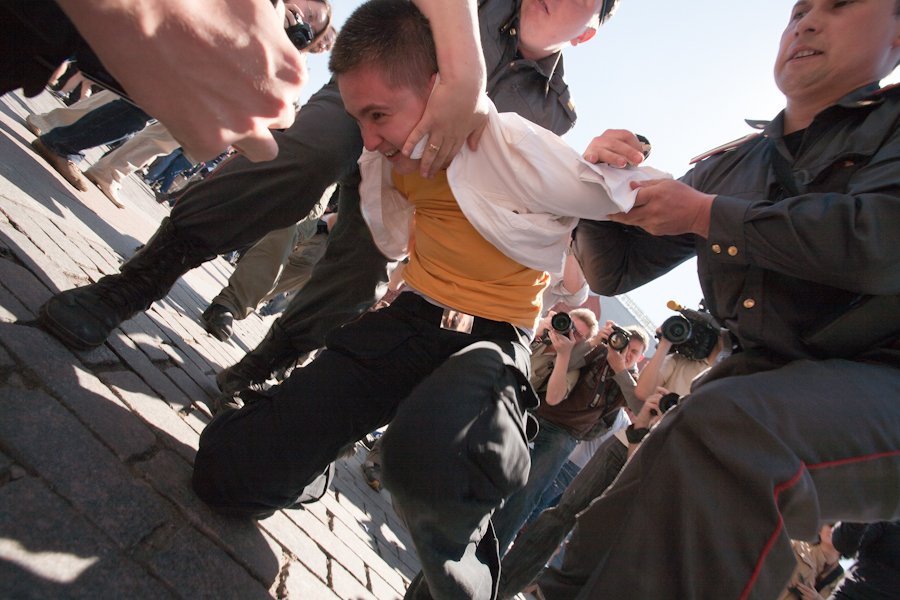 Authorities crackdown on a gay demonstration in Russia, 2011 (Image: newreportage.ru) 
Like many dictators before him and just as Pastor Niemoeller warned, Vladimir Putin tested various repressive measures on groups like LGBTs and religious minorities he assumed did not enjoy widespread sympathy within Russia or abroad before extending them to larger groups in the population.
When there was widespread outrage or active resistance, the Kremlin leader backed down or at least did not use the same methods against others immediately, a pattern that fully justifies resistance to illegal actions by the Russian authorities as now against the Alexei Navalny campaign, Aleksandr Khots says.
What the Putin regime is doing against its political opponents now, the rights activist and commentator says, "recalls in a surprising way the well-known system of the attack on the rights of the LGBT community earlier which … as a rule is 'a test group' for the breaking in by the regime of repressive scenarios for application to 'the majority.'"
For the 17 years of the Putin regime, officials refused tens of thousands of requests from LGBT groups for meetings and pickets and refused to offer alternative spaces, claiming such were "'occupied'" and thus violated both Russian law and the Russian Constitution, Khots continues.
But because few spoke out in the defense of these activists, Putin and his minions concluded that they could make use of the same tactics against others. At the very least, the failure of many to speak out in behalf of the LGBTs would make it more difficult for them to speak out in defense of other groups, including political ones.
There is another lesson to be learned from this pattern: When the Russian authorities began to restrict the public activities of LGBT groups, there was an intense debate within them as to whether they should simply go along with these restrictions or violate the illegal and unconstitutional orders in order to defend their rights.
Many felt that resistance would only make things worse, but that was the wrong conclusion then and it would be the wrong conclusion now for the Navalny campaign. Only resistance and acting on the basis of one's rights whatever the authorities say and so will allow for true forward motion.
Anything else, Khots concludes, would mean the acceptance by yet more Russians of "second class" status residents of their own country and an undeserved victory for its increasingly authoritarian and arbitrary government.
Related:
Tags: FSB (Russia's Federal Security Service), International, LGBT, LGBT in Russia, Opposition crackdown, Putin regime, Russia, Russian opposition