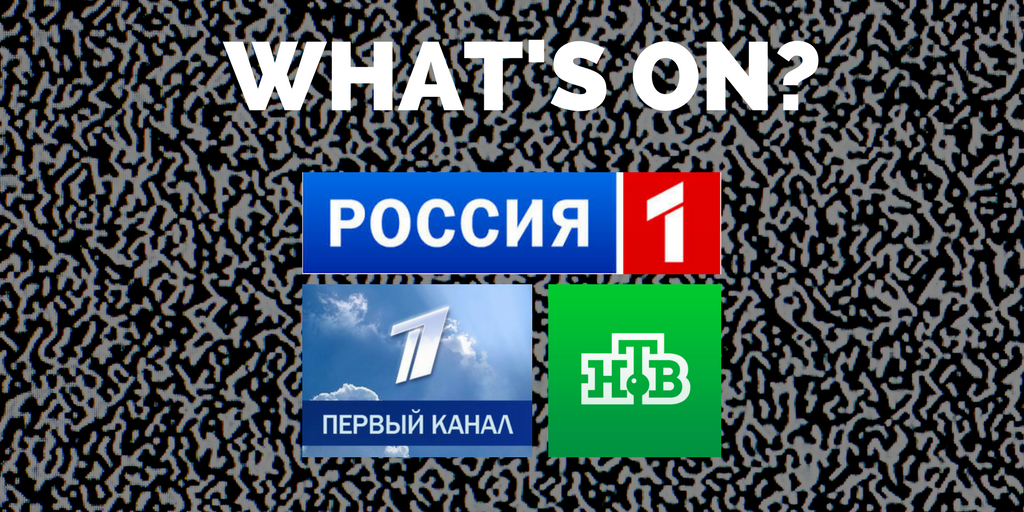 Below you find a summary of the main topics on Russia's most watched state TV news channels this week from the EU Eastern Stratcom task force, EU vs Disinfo.
The news shows' agenda in Russia is carefully attuned to serve the Kremlin's needs.
Therefore, following Russian state-controlled media sheds light on our understanding of how the Kremlin seeks to influence the Russian-speaking audience in Russia and beyond. Read EU vs Disinfo's story here.
Its monitoring of pro-Kremlin disinformation also reveals that many of the themes set out in Russia's most popular state TV news programmes find their way into European outlets.                                                        
"USSR was the only country of real democracy"
TV host Vladimir Solovyov, 17.9.2017
1. Threatening Ukraine with nuclear arms
The lion's share of prime-time content on Russian state TV news programmes this week was dedicated to the UN General Assembly in New York. It was presented mostly through the prism of war in Ukraine and the alleged "anti-Russian sentiment"  and "Russophobia" of the West.
One of the key themes was Russia's plan to send UN peacekeepers to the contact line in Ukraine – a plan that has drawn criticism from Ukraine, the EU and the US – and Ukrainian president Petro Poroshenko's own proposal for peacekeepers that would cover the whole conflict zone including the border with Russia.
The most extreme position came from Moscow State Institute of International Relations professor Oleg Barabanov on TV Centre. He alleged that the US pushes Ukraine towards a "major war" and called for Russia's reaction. Russia has to identify "military targets" in Ukraine for strikes by Russia's "tactical nuclear weapons", he argued. The aim, he said, was to make it clear to the "enemies of Russia" that Russia is not afraid to use nuclear weapons.
Read also: Russian war propaganda threatens to invade Warsaw, Berlin, London in 2015
Several examples of extreme targeting of Ukraine were present on this week's TV talk shows. Ukraine's "presidential clique" was accused of demanding "mass shootings","liquidation", and "mass murder of the people" in Eastern Ukraine.
2. Zapad 2017 exercise: The hysterical and aggressive West
Russia's TV news continued to focus on Europe's "hysteria" over the scope of the Zapad 2017 exercise. Reports followed Russia's official position that the drill was a defensive exercise and the number of troops did not exceed 13,000. Lithuanian president Dalia Grybauskaite was accused of lying to the UN General Assembly when stating that there were 100,000 troops taking part and another report labeled her as a "so-called president" (the same term being used for President Poroshenko).
There were some stories contradicting the official line. One report from an exercise in the Leningrad Oblast, a region surrounding St. Petersburg, stated that the drill "differs little in scale from a major military operation."
TV Centr took a few steps forward from the storyline of a "defensive Zapad 2017" and went as far as stating that Latvia and Estonia have territorial claims for Russia, that Poland has them for Ukraine, and Romania for Moldova. "This is aggression against Russia," we heard.
The same concept of Russia as a besieged fortress was repeated on Channel One, which described Russia as being under military pressure "unprecedented in the last 500 years," stating also that "military bases are converging on our borders."
3. Catalonia emerging on the agenda
During the week, reports from Catalonia and its request for an independence referendum (considered as a violation of the law by the Spanish Government) started to appear. They concentrated on protests against the authorities in Madrid. TV Channel Rossiya 1 claimed that the Spanish authorities are taking extreme actions against the 1 October referendum.
The coverage on Catalonia was still moderate in quantity. On social media, pro-Kremlin accounts have been promoting hashtags "1oct", "Rajoy", "Catalonia" and "defenderlademocracia".
4. "USSR was the only country of real democracy"
A talk show on TV Channel Rossiya 1 sketched the Russia's point of view on democracy. The angle was formulated with the question: is democracy a "political system or an excuse to invade other countries"? TV host Vladimir Solovyov added that it was actually the USSR that was the "only country of real democracy."  Guests' views on democracy were negative: they either didn't believe in it, or stated that Russia doesn't need democracy "so that the West would like us" and accused the US of attempts to privatize democracy.
---
Read more: