Mikheil Saakashvili, the former Georgian president, former governor of Ukraine's Odesa Oblast, and leader of the Ruh Novyh Syl political party announced his intention to return to Ukraine. Last week President Petro Poroshenko stripped Saakashvili of his Ukrainian citizenship. In the past, the two used to be old buddies, but in the last year and a half, they became political foes.
Journalists crowded in the office of Ruh Novyh Syl in anticipation of the Skype press conference with Saakashvili. He received the news about losing his only citizenship while on a trip to the United States, where he's currently staying.
Saakashvili's team representatives said they had never seen so many eminent journalists come to the office. Ruh Novyh Syl has previously complained that oligarch-owned media were ignoring them.
Frustrated with technical glitches that continued for about 40 minutes when setting up a conference room, the team speculated that this could be sabotage to disrupt the press conference.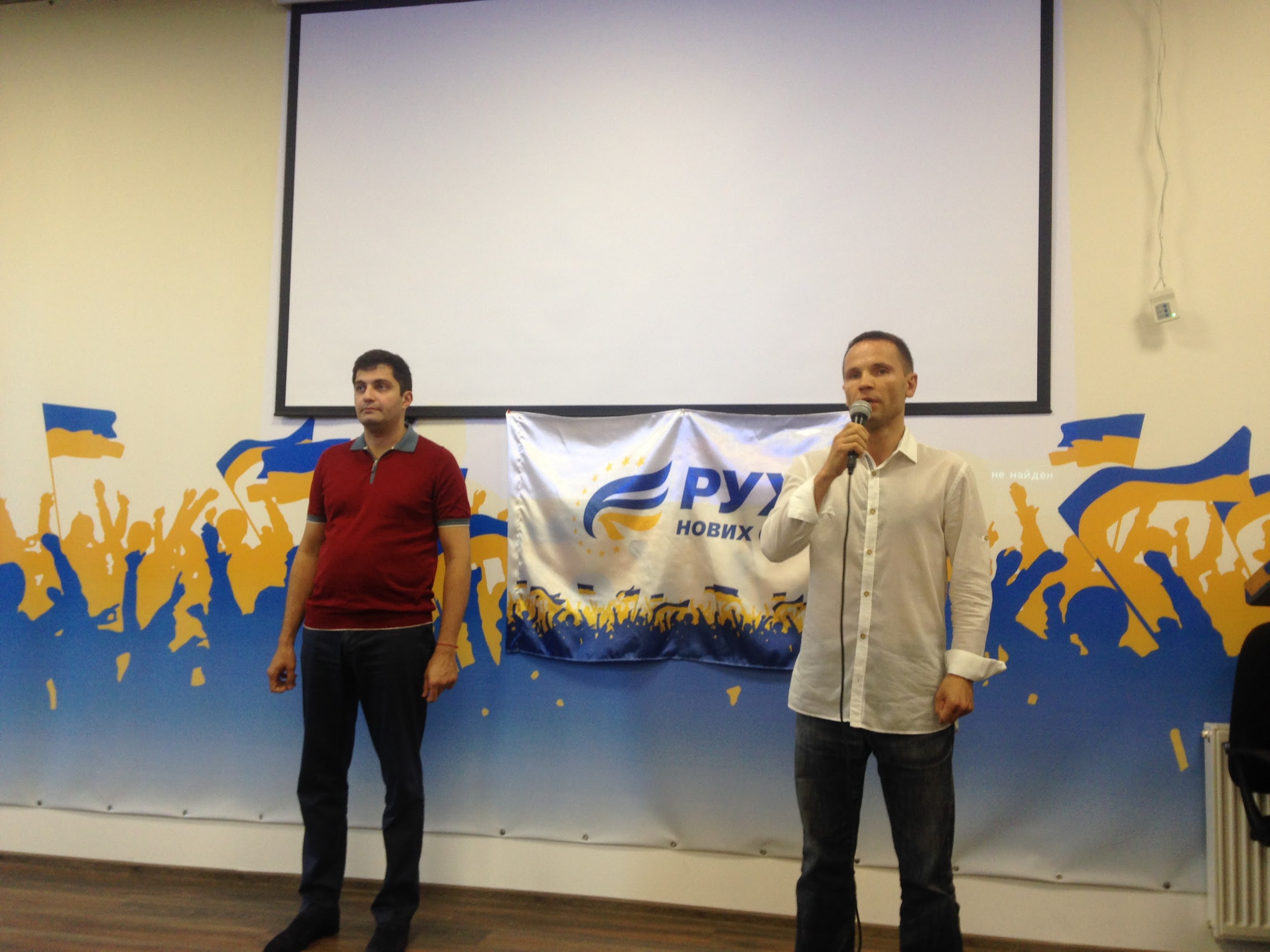 David Sakvarelidze, ex-Deputy Prosecutor General, who recently came back to Ukraine, and Verkhovna Rada MP Yuriy Derevianko spoke first. They stated that they would do everything possible to return their leader to Ukraine. Their confidence gave the impression that Saakashvili and his team underestimate the fact that the Ukrainian government could extradite the opposition politician to Georgia.
Poroshenko's motives
Preparing for the press conference, Saakashvili's team compiled the evidence showing that Saakashvili's Ukrainian citizenship was annulled illegally. To them, Poroshenko's motives are clear. He sees in Saakashvili a strong opponent and is afraid of him.
"With this move, Poroshenko recognized his own helplessness," says Saakashvili.
Ruh Novyh Syl relates the political attack on Saakashvili to their recent activities.
Yuriy Dervianko explains that just before the recent events happened, Saakashvili called on all democratic political forces in Ukraine to create a headquarters of common actions to implement the 70 days (or 5 sessions weeks) reforming program of the new parliament. The very first step of the program is to prepare a law on the impeachment of the president.
As Derevianko told, Poroshenko's swift reaction came after their appeal was supported by a large number of political forces. He also said that the president's actions were prepared in advance.
"It started with the visit of the president to Georgia where all the details of this special operation were discussed," says the MP. He went on explaining that the messages of Poroshenko to Georgian media were that if the Georgian side will apply with a request to extradite Saakashvili and will append the necessary amount of documents to it, the Ukrainian side will consider this question again.
Decision is illegal, Saakashvili's party says
Here are Ruh Novyh Syl's arguments to back up their case of Saakashvili being illegally stripped of citizenship:
The copy of the statement on receiving citizenship which an MP from Petro Poroshenko's Bloc Volodymyr Ariev uploaded to facebook and which became the reason to rescind Saakashvili's citizenship contains a forged signature of Saakashvili. Also, the statement was published in social media in violation of Ukrainian legislation on the protection of personal data.
Ukrainian authorities are lying in their official legal reason Saakashvili was stripped of a Ukrainian passport: "providing untruthful information or fake documents" when receiving Ukrainian citizenship. In particular, Saakashvili is accused of hiding the fact that he was under trial and prosecution in other countries. However, Saakashvili had not hidden that fact and repeatedly stated that he is under criminal prosecution.
The team also backed up their statements by citing the 25th Article of the Constitution of Ukraine which does not allow to deprive Ukrainian citizens of citizenship, the European Convention on Nationality which says that statelessness should be avoided and the Universal Declaration of Human Rights which says no one can be arbitrarily stripped of citizenship.
Saakashvili said that he would defend his right to Ukrainian citizenship in court.
The future
The politician in exile has clearly stated his desire to return to Ukraine:
"Ukraine is my home, I want to go back home and help free it from oligarchs and corrupt officials."
He said that he would publicly announce the date of his return. "The mobilization is planned for fall. We are actively making preparations. The real unification of democratic forces has been unleashed," Saakashvili said.
He also emphasized that he has no intention to receive citizenship of any other country and that when he was offered an American green card, he refused.
When asked by Euromaidan Press about the legal status of his stay in the United States, Saakashvili answered that he has a working and tourist visas. He did not explain the details of how these visas work, but his Ukrainian passport has already been revoked.
As stated by the politician, he has no intention to become the president of Ukraine:
"I do not need positions. I am an ideal candidate to support the unity. I have the ambition to change the political class."
The main intrigue now is whether Ukraine will really let him just to come back. Official Georgia has already expressed its hopes that as soon as Saakashvili comes back to Ukraine, Kyiv can start the process of his extradition to Georgia.
"Back in 2015, the Ukrainian government said that they couldn't extradite Mikheil Saakashvili because they thought that he wasn't legally prosecuted [but his case was politically motivated – ed.]. It seems that today they changed their position," said Teya Culukiani, Georgian Minister of Justice.
In addressing Ukrainian journalists, Saakashvili reiterated that this is not just about him, saying that "by such actions, Poroshenko opposed democracy in general." Saakashvili is also confident that the wave of negative coverage of Ukraine abroad caused by Poroshenko's decision corresponds to Putin's plans in Ukraine.
No matter how the story with Saakashvili ends, Poroshenko has already endangered himself. Stripping Saakashvili of citizenship is one authoritarian step too far. The environment in Ukraine has changed after the Euromaidan Revolution, such mistakes are likely to be unforgivable.
Read also: