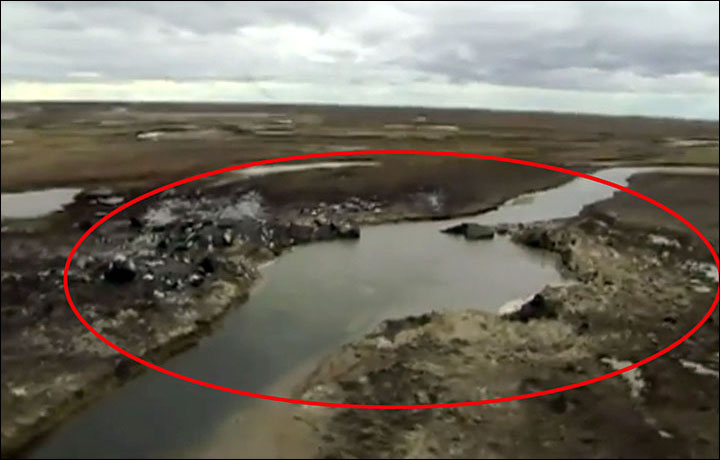 New river funnel that formed on 28 June 2017. (Image: Yamal Region via siberiantimes.com) 
Because permafrost underlies two-thirds of the territory of the Russian Federation and because two-thirds of that is projected to melt before the end of this century, Russian scholars and officials have long been aware that this trend represents a serious threat.
That is because such a large percentage of the country's natural resources is located in permafrost areas or must be transported through them for use in the Russian economy or export and because many of its military facilities are in this region as well, and the melting of the permafrost could lead to the collapse of infrastructure, including pipelines and powerlines.
But now it appears that these problems which most commentators have suggested are decades away are appearing now and in a far more explosive way than anyone expected thanks to the release of methane gas which is leading to explosions in Russia's Far North.
In the Yamal Peninsula alone – the name means "end of the earth" in the language of the local population – there have been dozens of methane explosions over the last three years and "more than 700" other sites are displaying warning signs, such as the swelling of the ground or cracking of the earth, that explosions may occur in them as well in the near future.
As The Siberian Times points out, "Yamal has the biggest concentration of natural gas fields on the planet, and these can be threatened by exploding ground." And officials are worried: Aleksandr Mazharov, deputy head of the Yamalo-Nenets Autonomous District, notes that such explosions can occur "anywhere."
One "might hit a technological facility, a residential settlement or a linear object (a pipeline or a railway)," he adds. Assuming that happens, Moscow's ability to extract resources from the region or maintain military facilities in it would be compromised far sooner than anyone had expected.
Related:
Tags: environmental catastrophe, global climate change, International, permafrost melting, Putin regime, Russia