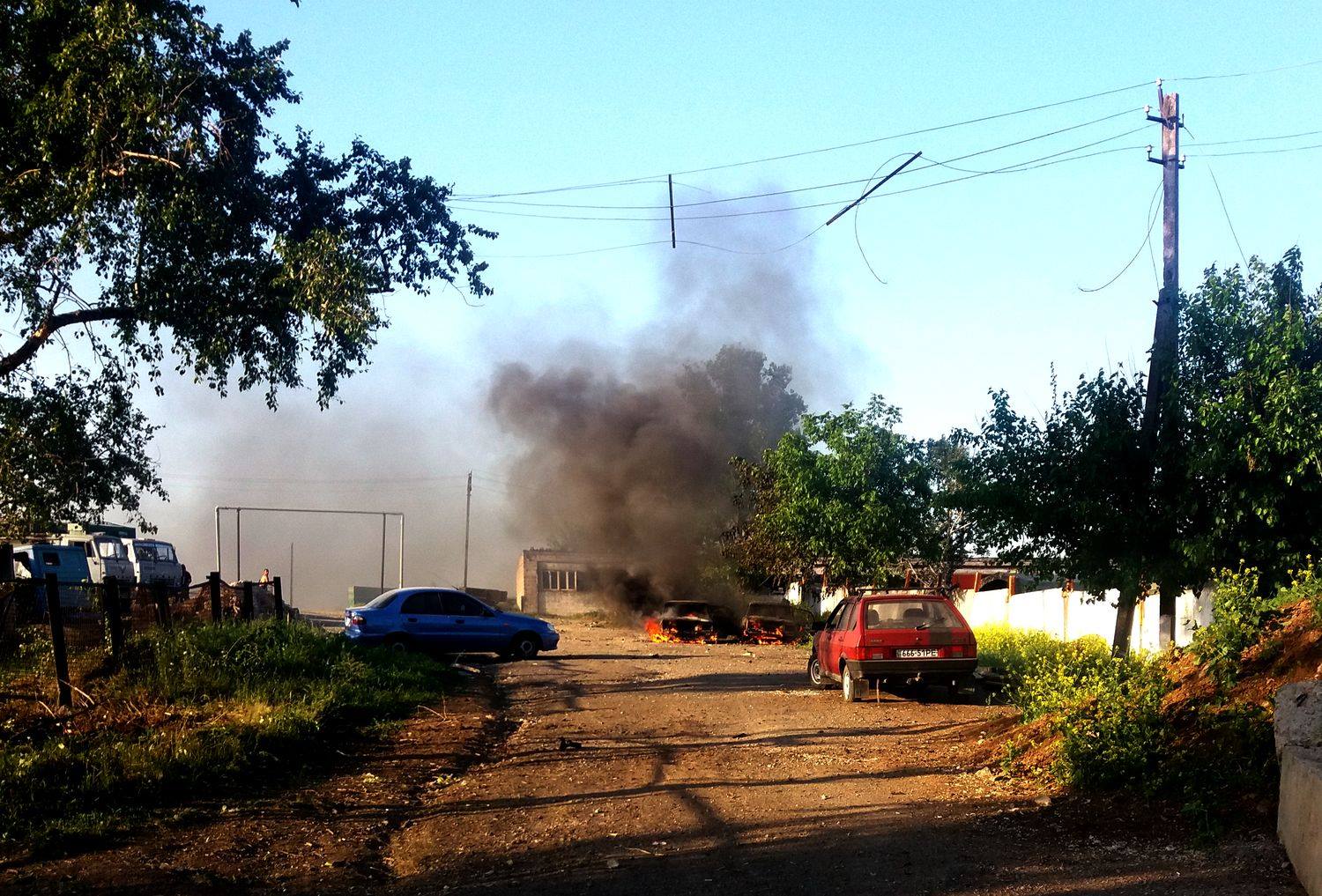 Cars in Sartana, a suburb of the seaside city of Mariupol, set ablaze by the shelling of Russian-hybrid forces. Photo: FB ato.news 
On 11 June Ukrainians officially gain visa-free travel to the European Union. On the eve of this day, President Petro Poroshenko has said that he believes Ukraine will become a member of both NATO and the EU, he welcomed the visa-free regime as a final "goodbye" to the Russian empire. But the empire doesn't let go of Ukraine so easily. At least 11 Ukrainian soldiers were killed in hostilities in the first 10 days of June, four of them perished yesterday, hours before the visa-free regime came into effect. Two civilians wounded in a frontline town yesterday. Meanwhile, Lithuania continues to treat wounded Ukrainian soldiers and the Russian opposition leader Alexei Navalny wants to withdraw Russian troops from the Donbas but doesn't consider Crimea to be Ukrainian. 
"Farewell, farewell, unwashed Russia"
On June 10, during the ceremony of the visa-free regime introduction between Ukraine and the EU, President Petro Poroshenko said: "This is a final "goodbye" to the Russian empire and the words "back in the USSR" will be heard only listening to Beatles." Later in the evening of the same day, Poroshenko, in Russian, lines from the famous Russian poet Mikhail Lermontov:
Farewell, farewell, unwashed Russia,
The land of slaves, the land of lords,
And you, blue uniforms of gendarmes,
And you, obedient to them folks.
However, the Russian forces are not willing to say goodbye to Ukraine.
Meanwhile at the frontline
In the Eastern Ukraine, hostilities escalated on June 6. Until today, clashes escalate and cease in both the Donetsk and Luhansk oblasts.
Zholobok
On 6 June hostilities escalated in Luhansk Oblast near the village of Zholobok on the Bakhmut road, P-66 highway. Before the war, this highway connected Luhansk with Pervomaisk and Lysychansk. According to the Minsk-2 agreements, Zholobok is Ukrainian territory. But having destroyed the 31st checkpoint of the Ukrainian armed forces on the Bakhmut road in January 2015, the Russian-hybrid army occupied the settlement. Since then the village became an "Luhansk People's Republic" ("LNR") stronghold at a salient of the frontline.
On June 5, hostilities in Luhansk sector started after 14:00 and continued till late night. Russian-hybrid troops used mortars six times and barrel artillery once in the Krymske-Novotoshkivske frontline. They fired over 50 mortar rounds from several positions at once.
On 6 June, Russians escalated hostilities in all sectors, actively using large-caliber weapons. Unusually many attacks were conducted on Ukrainian positions in the area of Krymske, a Ukraine-controlled village facing occupied Zholobok. The ATO Staff reported: "In the area of Krymske and Novotoshkivske, militants held several heavy shellings using 120mm mortars and powerful 122mm and 152mm artillery systems."
On 7 June, the Trilateral Contact Group on Donbas held its another meeting in Minsk.
From 6 a.m. on June 7, the Russian-hybrid forces started pounding at Ukrainian positions using 152mm artillery, 120mm and 82mm mortars. AGS automatic grenade launchers and SPG-9 cannons, TOW, heavy machine guns and assault rifles were also actively used against Ukrainians, the ATO HQ reported. The situation in the area of Bakhmut road (P-66 highway) as of 17:00 of June 7:
Two Ukrainian soldiers were killed in June 7 clashes, 11 more were wounded.
Yurii Butusov, the editor-in-chief of CensorNet online newspaper, wrote in his post on Facebook, referring to soldiers of the 93rd Brigade who participated in the battle and SBU servicemen in Lysychansk, that 19 soldiers were wounded on that day. However, Butusov's figures are unconfirmed.
According to Butusov and Russian media, the Ukrainian army assaulted Zholobok on 7 June. The ATO Staff refutes this claim, stating that "in the course of the day, Russian-terrorist illegal armed formations attempted to capture the strongholds of the ATO forces, expanding their bridgehead near Zholobok."
On the next day, June 8, Ukrainian troops reportedly incurred no casualties in the Donbas. On the next day, 2 soldiers were wounded. On June 10, 4 servicemen were killed in mortar bombardments, 3 of them due to a direct hit of a shell. Four soldiers sustained gunshot wounds, 3 more were injured in action in 73 attacks on Ukrainian positions.
11 Ukrainian soldiers were killed, 57 wounded in 617 attacks in 10 days of June 2017 https://t.co/vGhPBfsy8v pic.twitter.com/a6zFrxWgke

— Liveuamap (@Liveuamap) June 11, 2017
Besides everyday attacks on Ukrainian positions in all sectors, residential areas of frontline cities were also attacked.
Novoluhanske
On 6 June about 18:30, the Russian forces attacked households in the village of Novoluhanske at Svitlodarsk bulge near the road to occupied Debaltseve using an anti-aircraft gun Zu-23-2. Reportedly, a household outbuilding was damaged on Kosmonavtiv Street. A barn, garage, and fence were hit on Michurina, roofing slate was broken. On Serhiyenka Street, a home and a cattle-shed were hit, some livestock was killed. No local resident was injured.
Zaytseve
On 7 June, a residential house was hit on Manuilskoho Street in Zaytseve, a Ukraine-controlled settlement in north Horlivka. Shrapnel broke the roof. No one was injured.
Read also: Russian-hybrid forces kill four civilians in Donbas amid Eurovision grand final
Maryinka and Krasnohorivka
Ukraine-controlled southwest suburbs of Donetsk regularly come under shelling. Russian-hybrid forces attack Ukrainian positions near both towns every day. Sometimes the towns are also attacked amid hostilities.
On June 7 at 22:30, several shells hit the area of the school no.1 came in Krasnohorivka. Also, a household on Heolohichna Street was hit. Fortunately, civilians were not injured.
On June 8 about 13:00, residential neighborhoods of Maryinka came under fire, a 50-year-old woman got a shrapnel wound.
Overnight into June 10, a residential house on Zhovtneva Street in Marinka was hit, a 52-year-old man and 53-year-old woman got wounded.
Daily life in the #Donbas. Russian artillery again hit Marinka nr #Donetsk. 2 civilians hit, 1 lady badly > https://t.co/FfGrHb6Tlc #Donbass pic.twitter.com/bR8GWv8xxK

— Glasnost Gone (@GlasnostGone) June 11, 2017
About 1 a.m. on June 10, four 122mm artillery shells hit Krasnohorivka.
Read also: Russian-hybrid attack on civilians in Krasnohorivka is a form of psychological warfare
Sartana
In the evening of June 8, residential area of Sartana came under fire amid escalated hostilities. A grain truck and garages of state-owned agricultural enterprise Illich-Agro were damaged in a shelling. A gas pipe and gas distributing station were hit. Several projectiles hit the local cemetery. The building of the Border Service office was also damaged. Reportedly, no one was injured.